With the booming of social networking service (SNS) platforms like Twitter and Me2Day in the last couple of years in Korea, many Korean SEO's and Social Media Marketers might be interested to know the differences between the two. These two platforms are similar yet very different in terms of their user bases and membership participation levels with such differences being relevant for marketers in Korea. Let me start by introducing, from a Korean perspective, the two different social networking service platforms or micro-blogging platforms most commonly used in Korea; Twitter and Me2Day.
Twitter
Twitter started to become popular in Korea after the South Korean election in 2008 when it was used by candidates to get their message out and by voters to make their own commentary on the elections. The most active Twitter users in Korea now include many celebrities, 'chae-bol' (Korean conglomerates) executives, writers, athletes and social figures. Like in the west their presence on Twitter has resulted in them becoming very influential, with many of their followers and fans joining Twitter, too.
Me2Day
Me2Day is a Korean social networking/micro-blogging platform started in 2007 and is run by NHN Corp. which also runs Naver, Korea's biggest search engine. Unlike Twitter, which limits posts to no more than 140 characters, the posts on Me2Day can be as long as users want. Me2Day adopts a more managed approach to promoting itself unlike twitter which is more organic. Me2Day holds Q&A sessions with famous athletes and entertainers and recently held a Q&A event with Korean football legend Cha Bum-Keun, a.k.a. Cha Bum, during the World Cup period and a previous MLB player Bong Jung-Keun while he participated in the 2010 Guangzhou Asian Games.
Comparison of Twitter and Me2day
One important initial distinction between the two different platforms for Korean SEO and Social Media specialists to note is that Me2Day is only available for use within Korea whereas Twitter has a global user base. In terms of popularity and awareness, while Twitter of course is very well known because of its global platform and high profile "Tweeters", Me2Day actually has a substantially higher number of users across all age groups. For marketers trying to create awareness about their products or services with Korean citizens Me2Day should be the initial go-to platform. This is demonstrated by the below two tables comparing user volumes and age-groups across the two platforms.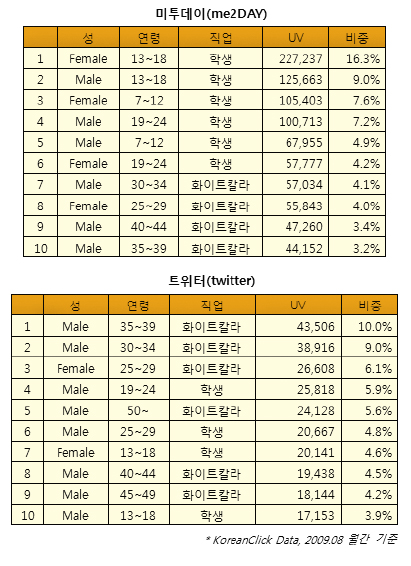 Key Points to note:
The Me2Day table does demonstrate a predominantly higher number of users in the younger age brackets.  This might suggest it should be used by marketers for products or services aimed at those groups.
Even in the older age groups, Me2Day still has a higher user base in Korea than Twitter.
Twitter is predominantly used by people in their mid 20's to late 30's and has low numbers of younger users compared to Me2day.
These two SNS platforms can be useful for Social Media Marketers with focus depending on what age group is being targeted.  If the target audience is in the mid 20's to late 30's then both platforms should be used. If the target is teenagers then only putting effort on Me2Day might be sufficient.