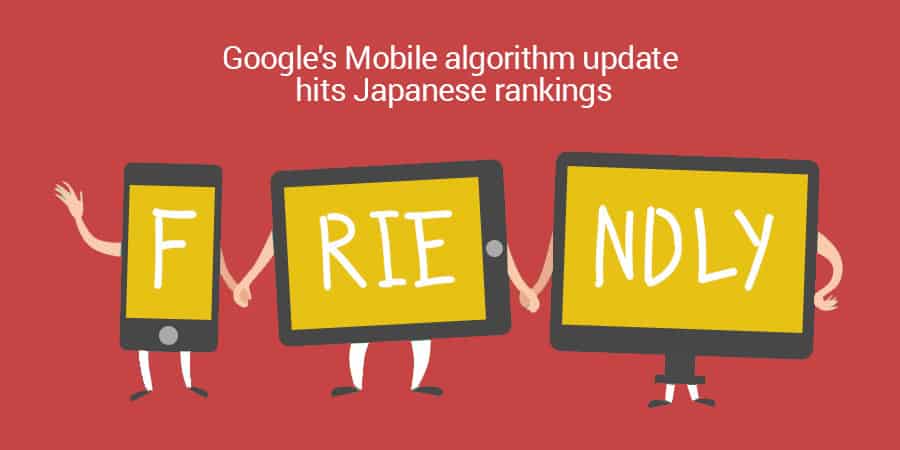 There has been ongoing speculation in Japan about the aftermath of Google's mobile-friendly algorithm which rolled out on April 21st. The mobile-friendly update is staggering not only because both desktop and mobile sites will be evaluated and ranked respectively, but also because the search algorithm built exclusively to filter out 'spamdexing' doorway pages would be incorporated into the search engine.
After the update, SEO practitioners have reviewed the outcome and speculated the following 3 reasons behind the ranking change for some websites:
1) Panda Update
Core Inc. reported in their blog that Matome sites' (UGC curation sites) – both desktop and mobile website – rankings dropped after the update. However, social media sites presumed that the mobile algorithm may not be the reason behind the drop. Some SEO specialists in the United States argue that a Panda update may have played a role since the ranking fluctuation pattern mimics the pattern that occurs with traditional Panda updates. Google, on the other hand, denied the claim, stating that no Panda updates were rolled out in that period, according to Search Engine Land. Core Inc concluded that the ranking drop for Matome sites in Japan could have been caused by the mobile algorithm, a Panda update, a bug or a combination of all three.
2) Expertise Counts More
Rankings for content-driven sites run by experts or professionals improved, according to content writers and SEO specialists. High-quality, specialized content are more likely to get positive rankings as a result of this update.
3) Mobile Unfriendly Penalty
Most Japanese ministries and government agencies official sites ranked lower after the update, suggesting that they failed to modify their websites according to Google's mobile-friendly criteria, which was also confirmed by DOMO Inc through their research.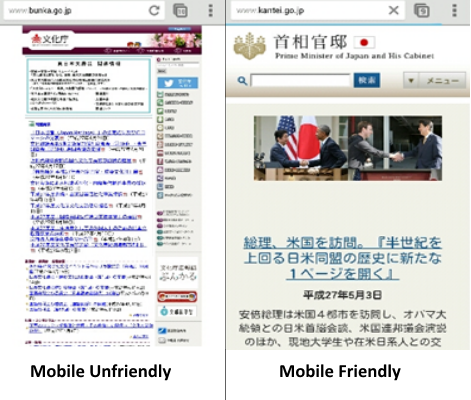 Out of 33 ministry sites, only a small portion of them, 9 specifically, were made mobile-friendly. Most of those 9 websites have responsive design, whereas one has a separate mobile site. Although they are considered mobile-friendly, some links on those websites led to PDF files which mobile users may find difficult to read and one website was noted to be only partially responsive. Ultimately, these websites still require further improvements to enhance user experience on mobile devices.
Overall, there has only been minor ranking fluctuations in Japan after the update, Devo Inc's SEO Pack blog reported. The majority of ranking changes took place on the 22nd and 23rd of April, and largely stabilized after the 24th.
Meanwhile, according to the DOMO Inc. report, 510 out of 1873 public listed companies have made their sites mobile-friendly, similar to the proportion of mobile-friendly ministry websites. We will stay updated on further speculation on why Japan's unpreparedness for the mobile update created little impact in the aftermath of its roll-out.
In line with the mobile update, Google announced on May 8th that they have introduced a Search Analytics report in place of the Search Query report in Google Webmaster Tools. In order to boost the precision of traffic analytics, the site's search data are distilled and sorted to enable detailed analysis. In the updated report, you can sort search data on your site by queries, pages, countries, search type, dates and most importantly, device.
This function of presenting category-specific data will be useful in comparing and contrasting PC and mobile search results for those seeking to pinpoint the cause of site ranking fluctuations. You can explore how mobile-friendly your site is and what else you can do to optimize your sites for mobile.