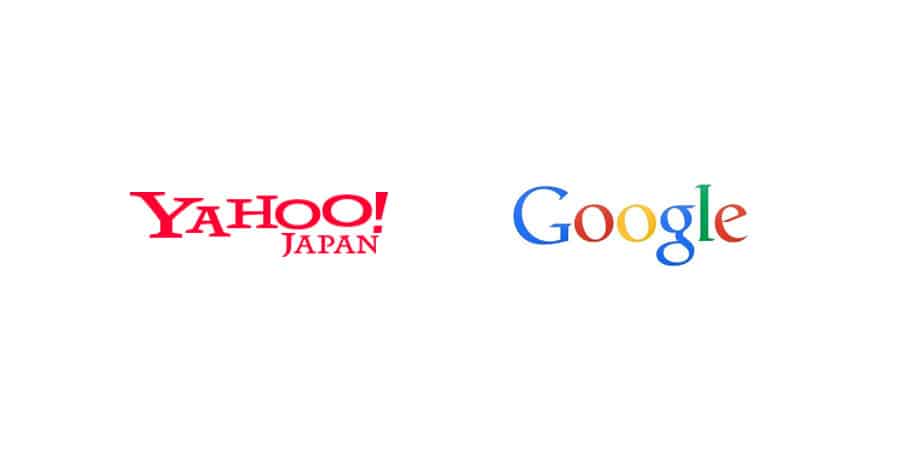 It has been over 3 months since Yahoo Japan announced that they will adopt Google's search engine technology. Yahoo Japan has said it hopes to fully integrate Google's search technology by the end of the year which will have a major impact for the business, Japanese SEO and search engine marketers in the Japanese market.
Microsoft is opposed to the alliance in Japan and is currently in talks regarding this opposition with Japan's Fair Trade Commission ("FTC"). Additionally, Japan's largest online retailer, Rakuten, has just launched a petition with the FTC also opposing the alliance and has requested the FTC to review the original decision to allow it to go ahead.
Assuming the deal does go ahead as planned, here are the relevant facts from an SEO and content marketing perspective.
Partnership Facts
The Yahoo Japan and Google partnership involves the integration into Yahoo Japan's search platform of Google's Web, Images, and Video Search Technologies, as well as its Mobile and Pay for Performance Technologies.
Also, as Yahoo Japan announced, although they will be adopting Google's search and advertising technology, they will customize their search results to Yahoo users and people will continue to experience a difference when searching on Yahoo compared with Google.
The integration of Google's search technology into Yahoo Japan's portal is currently under testing with certain specified users being granted special access to the new system for testing purposes.
One such privileged person is Kenichi Suzuki, an SEO specialist in Japan, who has published the following results on his blog for the generic search term "Overseas Travel".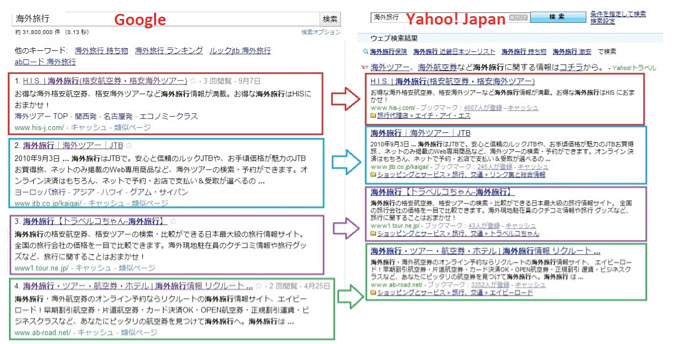 The results in Fig 1 demonstrate a 100% match appearing on both Google and Yahoo Japan for the search term "Overseas Travel".

However, as Yahoo Japan has specified, they will still be intending to present results in a customized way to their users which will be different from Google's. As the integration will be only for those 5 sections mentioned above, the integration therefore will not include maps or other localized search functions used to rank websites.
Therefore, I believe that searches for brand keywords may well show different search results as the different localization functionalities take effect. No exact measurement of the differences can be calculated at this moment as the integration is only open to specified users as mentioned above.
Below is another example from Kenichi Suzuki's Blog, where localized searches for a particular term continue to show their own different results on Yahoo Japan and on Google: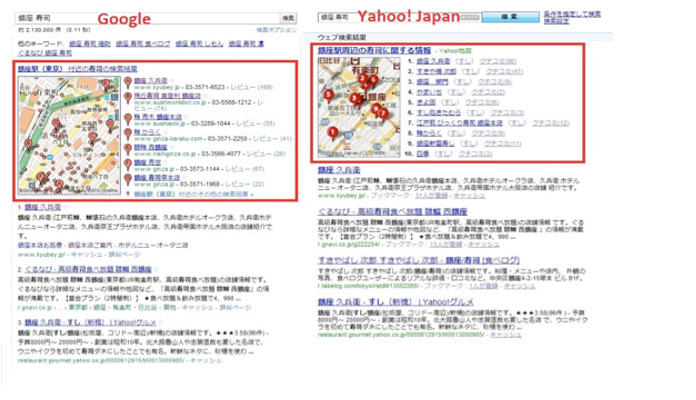 Conclusion
The results for generic searches appear to be the same and those for local searches appear, at this stage at least, to be a little different. We can't speculate about how much customization will occur as Yahoo! Japan has announced will be the case. However, overall I would say that the above results may well be very good for many multinational companies engaging in Japanese SEO.
As it would appear at this stage at least that they will be able to adopt similar optimization strategies for their websites in Japan to be deployed across both Yahoo Japan and Google.
Of course, if the challenges to the alliance now coming from both Microsoft and Rakuten, about which I shall discuss in my next blog post, come to any fruition and the deal is ultimately blocked then the above conclusions may well turn out to be ineffectual. We shall have to wait and see!
UPDATE: 2 Dec, 2010
The FTC has now dismissed any objections to the partnership and has now formally approved it. Bloomberg