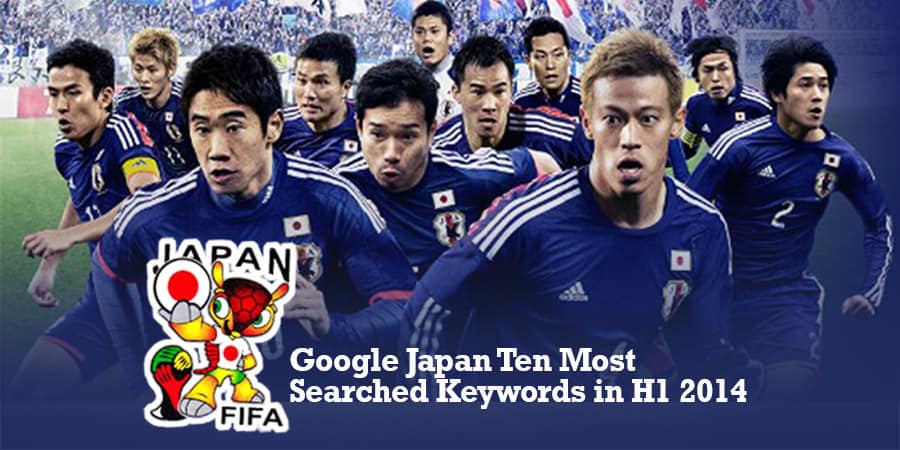 Google Japan released the top ten search terms for the first half of 2014. As Yahoo Japan is using Google's search index as well, the table below is basically showing the top ten organic search terms for pretty much the whole country considering that these two search engines have a combined organic market share of approximately 90%.
The overview contains the overall top 10 search terms between January 1st and July 30th 2014. Not surprisingly, the two biggest sport events in this period, namely the Sochi Winter Olympics and the FIFA World Cup, have been the most popular keyword terms in this period.
Besides that, almost all remaining keywords, except Malaysia Airlines and Yokai Watch, are about people and celebrities. The reasons why these people made it into the top 10 are either due to their success or scandals in their respective fields.

| | | |
| --- | --- | --- |
| Ranking | Overall Top 10 | Translation |
| 1 | ワールドカップ | World Cup |
| 2 | ソチオリンピック | Sochi Olympics |
| 3 | 羽生結弦 | Yuzuru Hanyu (Ice Skater) |
| 4 | 小保方晴子 | Haruko Obokata (Biologist) |
| 5 | 妖怪ウォッチ | Yokai Watch (Computer Game) |
| 6 | 塩村文夏 | Ayaka Shiomura (Politician) |
| 7 | 野々村竜太郎 | Nonomura Ryutaro (Politician) |
| 8 | マレーシア航空 | Malaysia Airlines |
| 9 | 橋本環奈 | Kanna Hashimoto (Singer) |
| 10 | aska | Aska (Singer) |