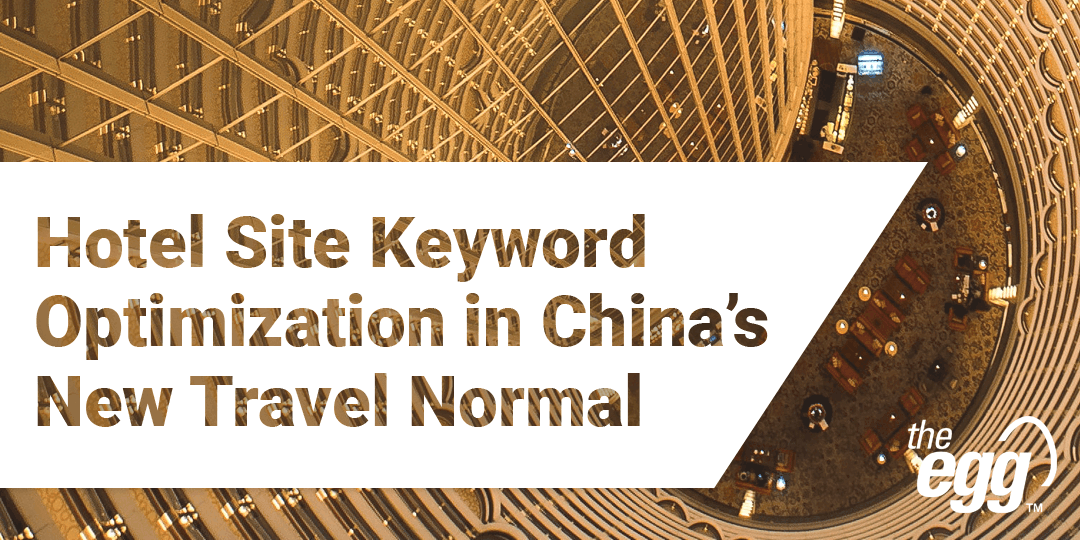 Even as restrictions lift and life moves into a new normal, COVID-19 has left B2C brands reeling; for example, tourism, restaurant, and transportation industries continue to suffer heavy losses.
However, as pandemic prevention and work resumption progresses, the operations of China's tourism industry have gradually improved.
From total lockdown during the Spring Festival to gradual recovery during the Qingming Festival, May Day and Dragon Boat Festival, domestic tourism is recovering generally linearly in China.
And since entering the summer months, many high-end hotel buffets and gyms have reopened, and hotel occupancy rates have also increased to approximately 60% for Accor, Hyatt, and other top hotel groups.
In this article, we'll discuss how hotels can plan their keywords to maximize SEO in China's new travel normal.
Hotel Site SEO in China
SEO is one of the most critical digital marketing methods, particularly for the long-term, which is where many brands are refocusing post-pandemic. Some companies have even reduced PPC budgets to focus on SEO and content marketing on Baidu, China's #1 search engine.
Keyword planning is an essential step in SEO work—it can make or break a hotel's SEO strategy. Hotel customers will use myriad keywords to search on Baidu for relevant information about myriad accommodations and offers. As a hotel marketer, you must capture those critical keywords in your content so that customers can find your website—not your competitors'.
This becomes a classification problem to solve by optimizing for the search intent behind the keywords used to find your content.
In terms of search intent, hotel keywords can be divided into brand keywords and product/service keywords.
Hotel Site SEO in China: Brand Keywords
For many established hotels, their brand names are recognizable and often searched. If people are searching for your brand or hotels by name, they're likely deeper within your sales funnel. Branded keywords have higher conversion rates when compared to non-branded terms.
For brands or hotels well-known enough for branded search terms to be relevant to users, it's critical to understand exactly how users discover your hotels—which terms they use in their local language to find your brand name—so you can target these branded search terms in your content.
Below are some examples of Chinese-language keywords used to find English-language hotel brand names.
| | | |
| --- | --- | --- |
| Keyword | Translation | Baidu Monthly Searches |
| 上海w酒店 | Shanghai W Hotel | 4,839 |
| 上海四季酒店 | Four Seasons Hotel Shanghai | 3,035 |
| 上海外滩悦榕庄酒店 | Banyan Tree Shanghai On The Bund | 2,387 |
| 上海香格里拉酒店 | Shangri-La Hotel Shanghai | 2,119 |
| 上海浦东文华东方酒店 | Mandarin Oriental Pudong, Shanghai | 1,131 |
Brand Keyword Examples
Hotel Site SEO in China: Product/Service Keywords
Product or service keywords are those related to specific products or services sold by a hotel.
For example, if a traveler wants to stay at a hotel in Tokyo for a business trip, he/she may directly search for "Tokyo business hotel" on Baidu. This is a generic product/service keyword. Such keywords can be among the first considerations for hotel site SEO, as they cast a wide net for potential customers.
Hotel product/service keywords can be divided into 4 categories:
Property type
Location
Hotel amenities
Exclusive features
Property Type
In a post-COVID-19 China, people are preferring high-quality hotels for business trips and travel. High-quality means better service and hygiene, making people feel more at ease and safer as they are staying outside of their homes.
In China, the quality of a hotel is generally expressed by stars, and the more stars, the better the hotel. In recent months, keyword phrases that include "five-star hotels" have attracted more attention with higher search volumes.
Ensure that your hotel website includes compelling content with keywords about your hotel's property type (i.e. luxury, resort, star level, etc.) to get more traffic.
| | | |
| --- | --- | --- |
| Keyword | Translation | Baidu Monthly Searches |
| 上海五星级酒店 | Five Star Hotels in Shanghai | 2,153 |
| 上海四星级酒店 | Four Star Hotels in Shanghai | 298 |
| 上海三星级酒店 | Three Star Hotels in Shanghai | 253 |
| 上海豪华酒店 | Luxury Hotels in Shanghai | 217 |
Property Type Keyword Examples
Location (Cities & Popular Business Districts)
People tend to want to stay near popular attractions and business areas. If your hotel is nearby to these, you can cover location-related keywords, which bring a higher conversion rate and thus better SEO.
Take Shanghai as an example:
The Bund is a very popular area. Many people will search "Shanghai Bund hotel" or "hotels near Shanghai Bund."
Disneyland also receives significant search attention for people who wish to stay near the attraction in Shanghai; people often search for "hotels near Disneyland," for example.
Even if you're not in close proximity to tourist destinations in your area, you may wish to still include how the distance your hotel is to these locations, for example, a quick 15-minute taxi ride to the Bund in Shanghai or an easy 20-minute train ride to Shanghai Disneyland.
Capturing locational keywords in your content not only helps your audience understand your proximity but more importantly shows that you understand your audience's needs by clearly articulating that proximity.
| | | |
| --- | --- | --- |
| Keyword | Translation | Baidu Monthly Searches |
| 上海外滩酒店 | Shanghai Bund Hotel | 1,317 |
| 上海外滩附近酒店 | Hotels near Shanghai Bund | 1,174 |
| 浦东机场附近酒店 | Hotels near Pudong Airport | 544 |
| 上海迪士尼周边酒店 | Shanghai Disneyland Hotels | 513 |
Location Keyword Examples
Hotel Amenities
Hotel amenities that receive significant search attention include weddings, conferences, and family-friendliness. In fact, there is significant demand for family travel at the moment, as many families travel with their children during the summer, autumn, and winter holidays.
Summer vacation is in July and August. Autumn vacation is during Golden Week (the first week of October). And winter vacation is in February.
If your hotel has family rooms, kids' clubs, family dining packages, etc., include these keywords in your content.
| | | |
| --- | --- | --- |
| Keyword | Translation | Baidu Monthly Searches |
| 上海亲子酒店 | Shanghai Family Hotels | 1,218 |
| 杭州亲子酒店 | Hangzhou Family Hotels | 803 |
| 北京亲子酒店 | Beijing Family Hotels | 767 |
Parent-Child and Family Keyword Examples
Unfortunately, the search demand for wedding and conference hotels has decreased during the pandemic. It is worth noting, however, that as work resumes and the pandemic eases, at the end of the year, many large companies may choose to hold their annual meetings in-person, and they will need hotels with large meeting rooms.
If your hotel provides such services and conference rooms, you can also target these amenity keywords.
| | | |
| --- | --- | --- |
| Keyword | Translation | Baidu Monthly Searches |
| 上海婚宴酒店 | Shanghai Wedding Hotel | 268 |
| 上海商务酒店 | Shanghai Business Hotels | 265 |
| 上海会议酒店 | Shanghai Conference Hotel | 118 |
Wedding and Conference Keyword Examples
Exclusive Features
Some hotels offer exclusive features, such as spas or hot springs. And people choose these hotels not only to have a vacation, but also to have a relaxing experience. For example, when the weather is hot, many people tend to go to hotels with swimming pools, and when the weather is cold, many people tend to go to hotels with hot springs.
If your hotel offers these types of exclusive features, it's critical to include related keywords in your content so that your target customers can find you.
| | | |
| --- | --- | --- |
| Keyword | Translation | Baidu Monthly Searches |
| 上海温泉酒店 | Shanghai Hot Spring Hotel | 185 |
| 上海Spa酒店 | Shanghai spa hotels | 68 |
| 上海泳池酒店 | Shanghai Hotels with a Pool | 84 |
| 北京温泉酒店 | Beijing Hot Spring Hotel | 553 |
| 昆明温泉酒店 | Kunming Hot Spring Hotel | 1,139 |
Exclusive Features Keyword Examples
It is worth noting that the search volume examples in this article represent data taken from mid-August 2020 through the Baidu keyword planner tool; this data is constantly changing. It's also important to consider the hotel business cycle (low season and peak season) to find the most suitable terms. Finally, while finding the right keywords for your hotel is critical, it is also critical to create corresponding compelling content so that users can find your website, want to click on it, and convert into guests.
***
In a post-COVID-19 world, hotel digital marketers should plan, research, and optimize keywords within the above-mentioned categories to not just capture traffic but give relevant information to potential guests.
It's particularly important to find diverse ways to drive traffic and conversions for the travel industry, as it has struggled in the wake of COVID-19, but there is still tremendous opportunity in China's new normal.
Need help optimizing your hotel site to reach Chinese travelers?