How to Optimize .cn Domain Migration (in post-pandemic China)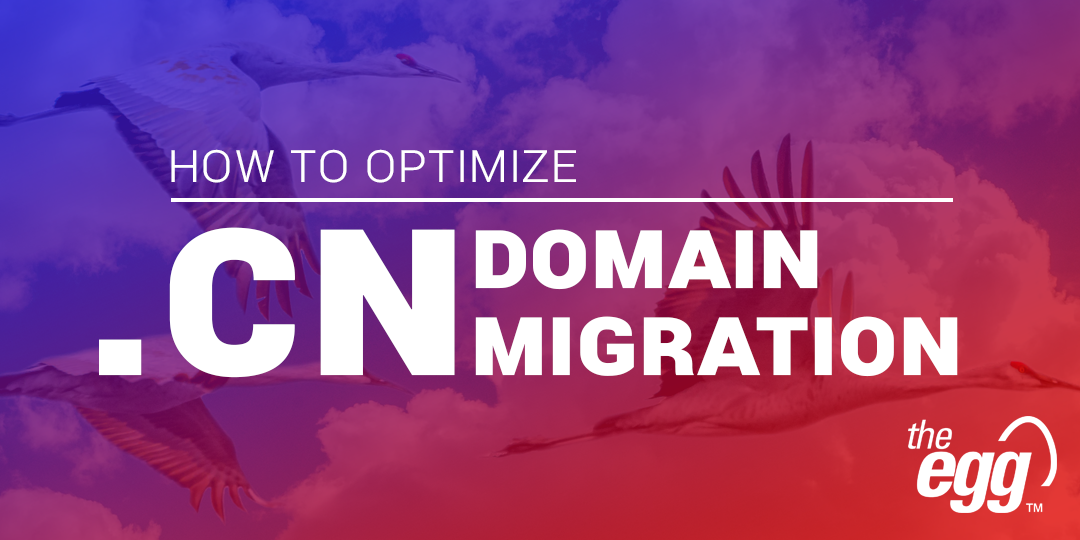 China's economy is gradually recovering from the COVID-19 pandemic. According to tourism market data from this year's Golden Week holiday (released by the Ministry of Culture and Tourism), China saw 637 million domestic tourists who contributed RMB ¥466.56 billion in tourism revenue.
This shows great potential in China's domestic tourism market and a strong opportunity for brands to use SEO to reach their target markets in China—whether travel-related or not, as the entire economy is in recovery mode.
In this article, we give a step-by-step guide on how to optimize your .cn domain migration for better speed, ranking, and authority on China's search engines and within China's massive online marketplace.
Domains Hosted in China
Many global brands have Chinese sites. They are presented as either an additional category within their global sites—for example: https://www.microsoft.com/zh-cn—or they have a separate CN domain—like: https://www.apple.com.cn/, https://www.amazon.cn/, and https://www.ikea.cn/.
The Chinese government requires CN domains to be hosted in China. There are many benefits of this:
Domestic servers can be used
Internet speed is faster (which positively affects website indexation and ranking)
Domestic website filing also makes the site look more professional and trustworthy.
As such, we advise brands to transition their sites from additional categories within their global sites to be CN domains hosted in China.
This will involve website migration, which brings significant SEO considerations and consequences as old URL pages must be transitioned to new, server technical issues must be navigated, CMS template settings must be optimized and more.
The following step-by-step instructions will help you maximize SEO value during your site migration to a CN domain and ultimately rank higher on China's search engines.
.cn Domain Migration Step 1: Crawl your site and save data before migration
Before migration, you need to back up your site data. You can crawl your website with a tool like Screaming Frog and save the crawl data for later. You should also save a copy of all pages: URLs, page titles, meta data, headers, redirects, broken links, etc.
Pages cannot be crawled if they cannot be found on your website due to robots.txt or other indexation issues. Fix these pages if you'd like them to be crawled and included in your migrated site.
During migration, if you find any orphan pages, make sure you link them somewhere, so that they are not stand-alone, which makes it difficult for crawlers to navigate to and from.
Pro-Tip: Keep a copy of the crawl data for a few months, just in case you need it after the new site has gone live.
.cn Domain Migration Step 2: Establish a redirect map from old to new webpages
This is the most crucial step of the site migration. Search engines need explicit instructions on the change of URL pages. Based on the content of your pages, you should map every URL on your existing site to a corresponding URL on the new site. You should also have a spreadsheet that lists every old and new URL.
Legacy site URL –> new site URL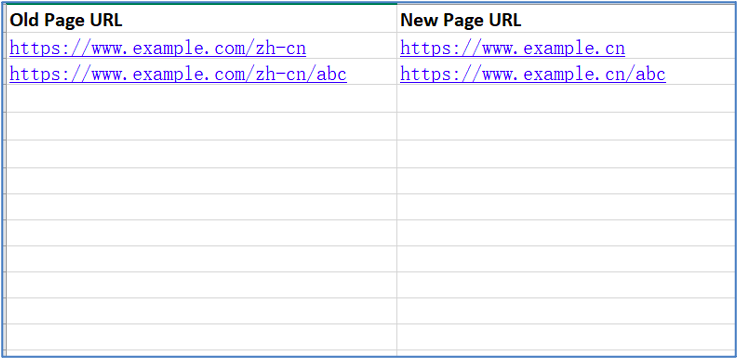 Example of a Redirect Map
You will use this document to apply 301 permanent redirects on all of the old pages, so that they will send both users and search engines to the new pages.
Pro-Tip: Make sure you are not using 302 temporary redirects, which will tell search engines that you want to keep all rankings and links of the old pages and only want to send traffic to the new pages for a short period of time. Do note that this process is important during migration.
.cn Domain Migration Step 3: Create your XML sitemap and submit to webmaster tools
Submitting an XML sitemap will help Baidu and other search engines discover the pages of your new website. You can also use the XML sitemap to provide other information about your website, such as timestamp of the latest update, the frequency of sitemap updates, and more. Be sure to make all changes to the sitemap quickly, so that search engines can promptly start indexing the new URLs.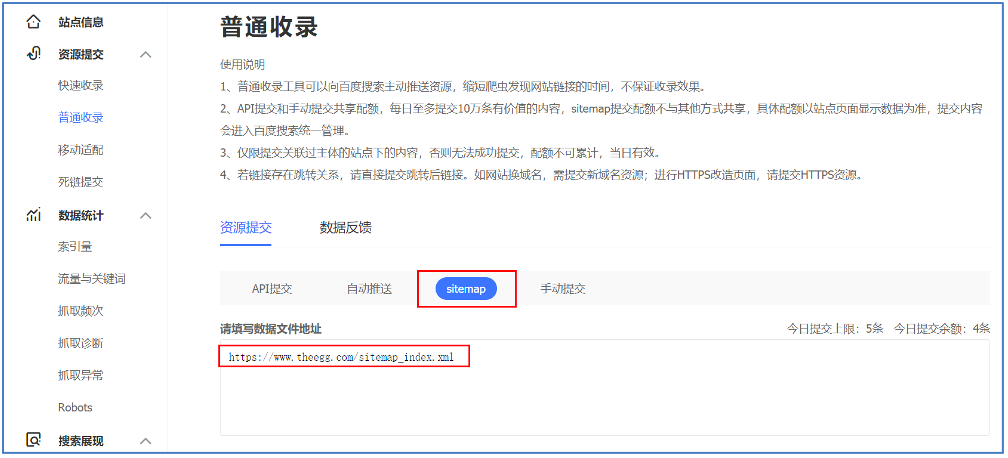 Example of an XML Sitemap Submission
Pro-Tip: The file format for the sitemap should be .txt or .xml. Each file can contain up to 50,000 URLs, and the file size must be less than 10MB. Do not submit an indexed sitemap as Baidu does not support it.
.cn Domain Migration Step 3: Use site migration assistance from Baidu Webmaster Tools
Baidu Webmaster Tools will notify Baidu when you've moved to a new domain or shuffled content around your site using the site migration tool. The tool supports three types of migrations:
Change of Domain
This method is only suitable for a change in a site's domain name, and there are no changes to the site architecture. For example: from [www.a.com] to [www.a.cn].
URL Pairing
This is suitable for webmasters who have encountered updates to a specific set of URLs that can't be described by the above two methods. You can submit a document of updated URLs to Baidu.
Document Format
2 URLs per row, the first URL being the old URL, and the second URL being the new URL.
2 URLs are separated by a space
You can upload as many as 50,000 pairs of URLs per document or 2,000 pairs of URLs by directly inputting them to the text box.
Rule Migration
This is for structural updates with no changes to the root domains. For example: [ww.a.com/a] to [www.a.com/b] or [www.a.com/c] to [c.a.com].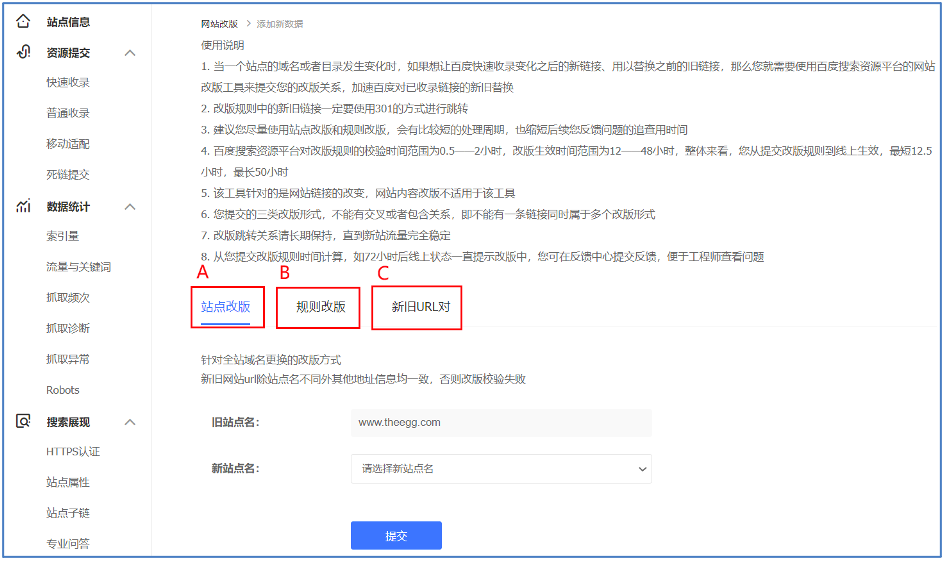 The Three Migration Types
For the remainder of this tutorial, we will cover change of domain (站点改版) and URL pairing (新旧URL对), because these are the two situations that might occur during your .cn domain migration:
If only your domain name needs to be changed while the URL structure will remain unchanged, then change of domain applies, and you can jump to step 4a.
If there is to be a change in your domain and URL structure, then URL pairing applies, and you can jump to step 4b.
.cn Domain Migration Step 4a: Change of Domain Tool
Use Baidu's domain change tool to take the following actions:
Input old site's domain name.
Input new site's domain name.
Submit.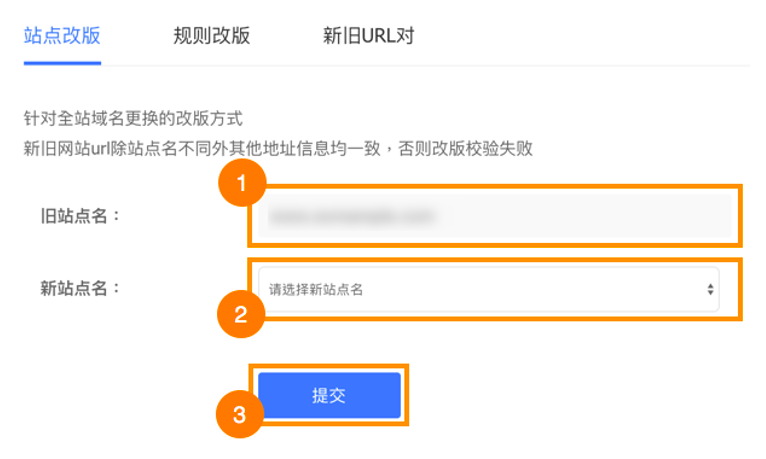 Change of Domain Tool
.cn Domain Migration Step 4a: URL Pairing Tool
Use Baidu's URL pairing tool to take the following actions:
Input old site's domain name.
Input new site's domain name.
Upload URL pairing document or paste pairs of URLs.
Browse files.
Submit.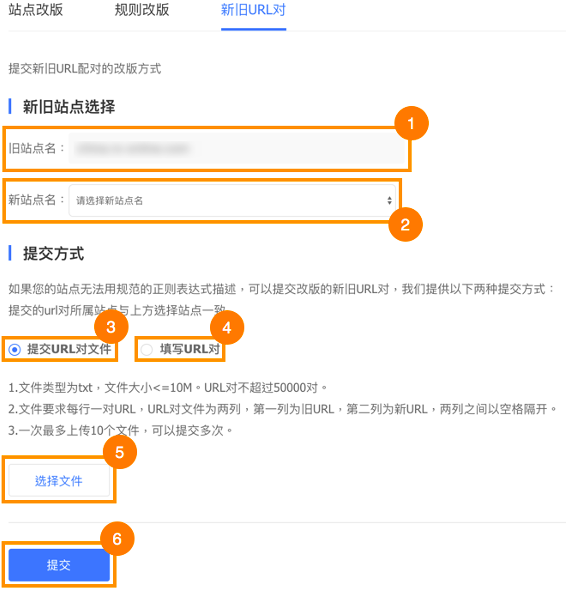 URL Pairing Tool
Pro-Tips

Both old and new websites must be verified in Baidu Webmaster Tools.
Ensure your old site has been redirected to the new site using 301 permanent redirects.
Once the migration is complete, do not delete your redirection files immediately. In case of verification failure, please keep the redirection files for at least three months.
***
After completing your site migration, you need to conduct a site audit for the new website to identify any problems that may have occurred during the migration process.
Before moving to your new domain, it's important that you monitor and benchmark keyword rankings and organic search traffic, so that you can see the impact of your site migration. However, do note that some volatility and fluctuations are expected in the initial stage of your site migration. But following the steps above will minimize any negative effects of your .cn site migration on your SEO, particularly as economies and brands move from crisis into recovery and adaptation mode.
Need help migrating to .cn?