How to Change Your Domain URL Without Hurting SEO on Baidu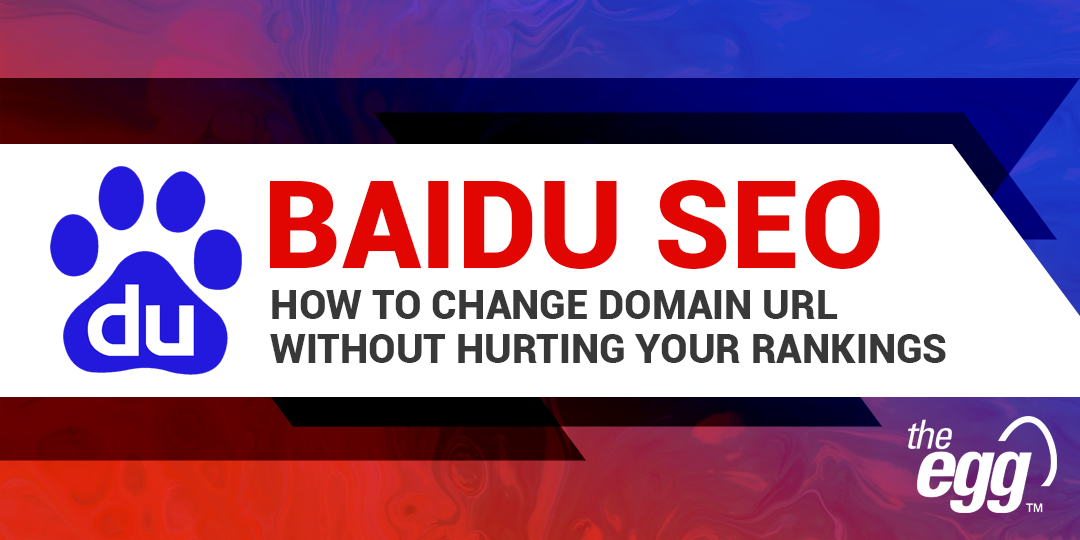 When optimizing your site structure or as part of a site rebuild, updating your website URLs, URL directories, and even your domain name—while not recommended due to its potential impact on your rankings and site indexability—is sometimes required.
The good news is that there are measures you can take to do so on Baidu with minimal SEO impact—here are two key rules to follow.
Note: The mention of website revamping in this article does not refer to simple page style changes but only to changes in the URL of the original page, such as domain name changes or modifications to the URL structure.
Set Migration Rules for Your Old and New URLs
If you wish to change your domain name or URL structure, you should first set a migration rule on Baidu Webmaster Tools to inform Baidu of the change and help it index your new pages faster.
You should also set a 301 redirect from your old URL to the new corresponding page rather than redirecting them back to your homepage to facilitate a seamless user experience and pass on any ranking signals from your old page to the new one. So, say your old URL is "www.a.com/2016/123.html": It would be better to keep the ID of the new URL unchanged, like "www.b.com/2016/123.html".
Once you've set the migration rule, your new URLs should be indexed in a few days, assuming Baidu had already indexed your old URLs in the first place.
Note that there are three methods on Baidu's site revision tool to inform it of your site/URL changes. Here's a quick overview of them:
Domain name revisions: This method is used to replace the website's domain name only when the new URLs will still exactly match the old ones apart from the domain name change.
Site-wide URL folder revisions: This method is used for updating URLs to different folder names, regardless of whether your domain name changes. Use regular expressions to set the rules.
Individual URL revisions: This method is used to change only specific URLs across your site.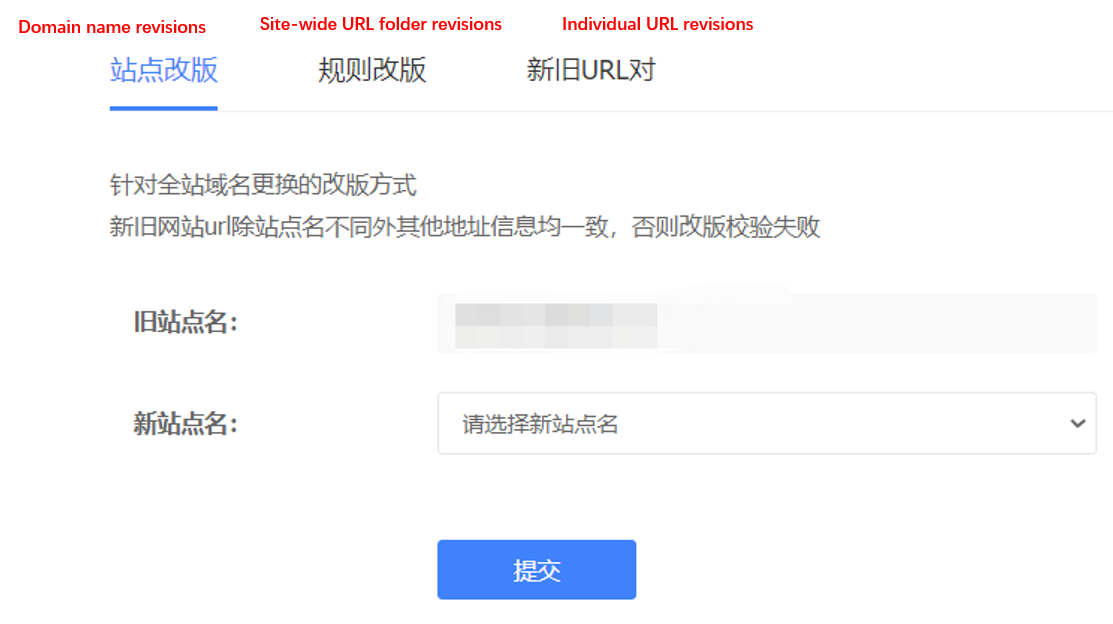 Baidu Webmaster Tools: Submit Website Migration Rules (Three Methods)
Diagnose Page Crawling Problems and Submit Broken Links to Baidu Webmaster Tools
Broken links, such as 404 pages, may be inevitable when you change your domain name or URL structure and can hurt your SEO: The more there are on your site, the more likely they will affect how your pages perform when Baidu's spiders crawl your site and, in turn, how well you rank.
As such, we recommend using a page-crawling diagnosis tool, like Baidu Webmaster Tools', to crawl your entire site and find all broken links. Next, you can place them in a new TXT or XML document, upload the document to your server to generate a file link address, then submit it to Baidu Webmaster Tools to prevent those links from getting indexed.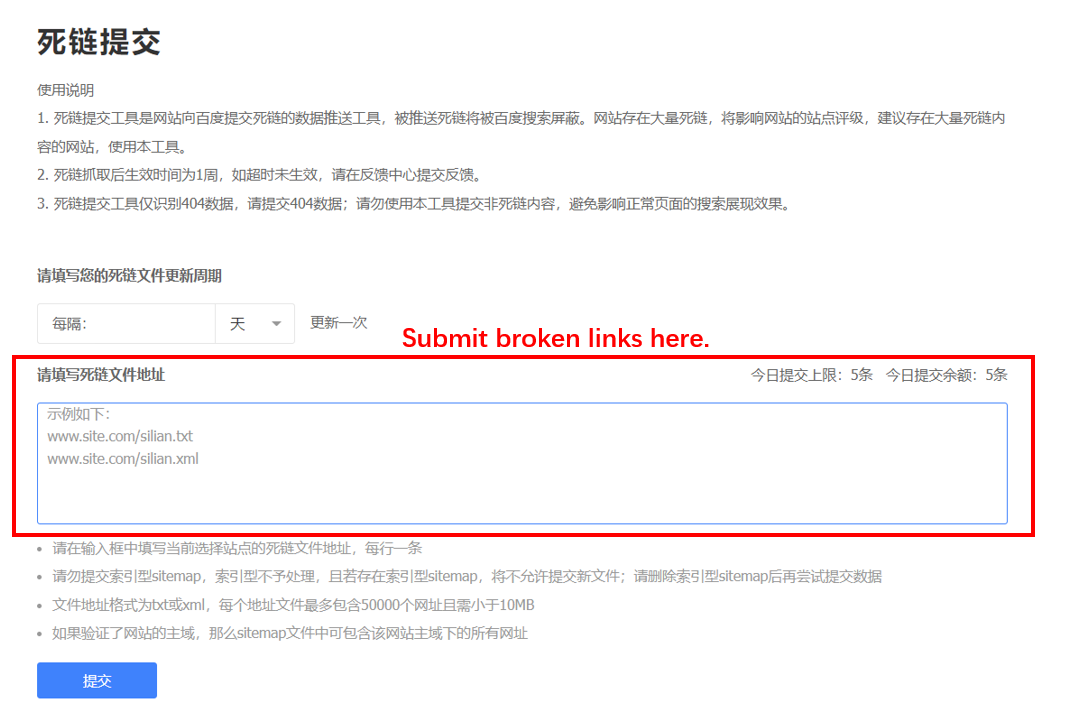 Baidu Webmaster Tools: Broken Links Submission Page
***
The time needed for a 301 redirect to work can vary from immediate to a matter of days, but it will take longer for entries to get updated in search results as it is entirely at the discretion of Baidu. But be patient! So long as your website traffic remains level or higher than before your URL change, there is no need to worry.
Ready to maximize your digital marketing in China?