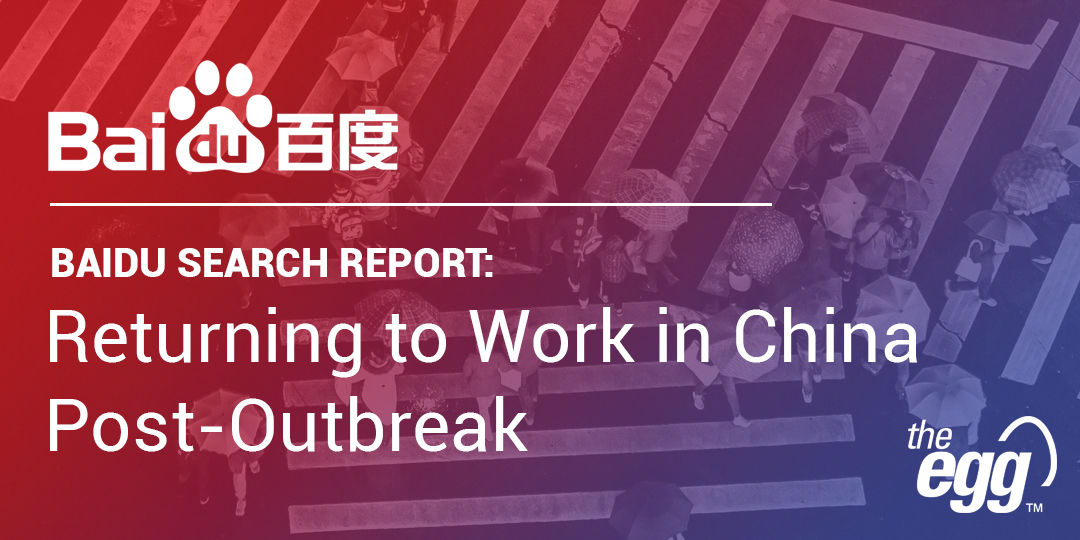 While businesses in China have resumed work, the prevention and control of COVID-19 cannot be relaxed.
In response to the COVID-19 outbreak and the new normal it brings in China, which social changes are erupting? How are companies evolving? And which industries are ushering in new opportunities?
To find out, let's look at the Baidu search big data report on the resumption of work under COVID-19.

Baidu released its "Search Big Data Report for COVID-19 – Resumption of Work" in February.
Baidu COVID-19 Report: Key Takeaways
Search interest related to "resumption of work" and "start of school" multiplied by 8 times month-on-month.
Regarding "resumption of work", employees pay most attention to information about COVID-19 prevention at work.
Affected by COVID-19, SMEs are more concerned about cost-saving, telecommuting, and government policy support.
Since January 18, interest in the four major industries of online education, online healthcare, online entertainment, and fresh-food e-commerce has increased by more than 100% each month-on-month. These industries have grown not despite but likely due to COVID-19.
Searcher Hot Topics: "Resumption of work" and "start of school"
The search for content related to COVID-19 began showing significance on January 18 and has continued to rise even up to today. As most businesses are resuming work, related searches multiplied by 8 times month-on-month.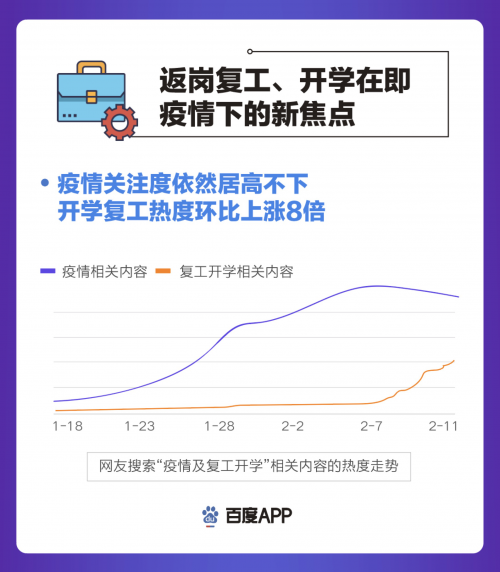 Search trend for resuming work and starting school
The report also found that the search demand for "telecommuting" increased by 663% month-on-month over 30 days. Users in first-tier cities, such as Beijing, Shanghai, Guangzhou, and Shenzhen, are most interested in the topic of telecommuting.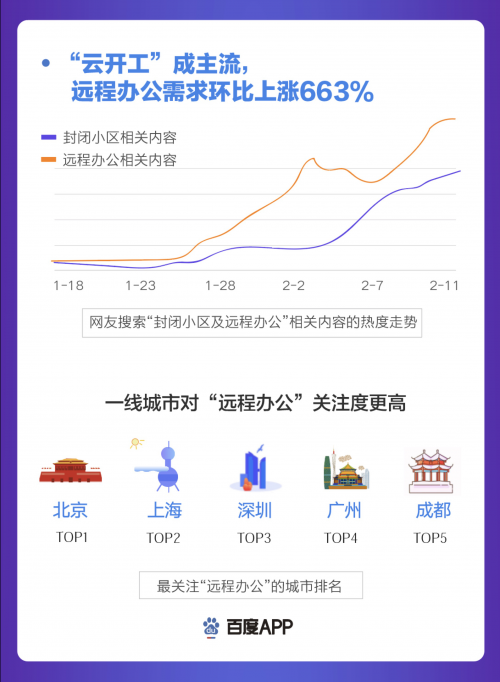 Interest in telecommuting
During the return-to-work period, attention has been focused on the protection of health and personal rights. The report shows that about 70% of users have a strong sense of health protection and are most interested in information on COVID-19 prevention at work.
Employees are also highly interested in information about resumption-of-work safety policies. They want to know how to protect their legitimate rights and interests. The more popular topics of concern are:
Infection of COVID-19 as a work-related injury
Enterprises distributing masks for employees
Staggering commute during peak hours
These concerns reflect the current needs of returning employees.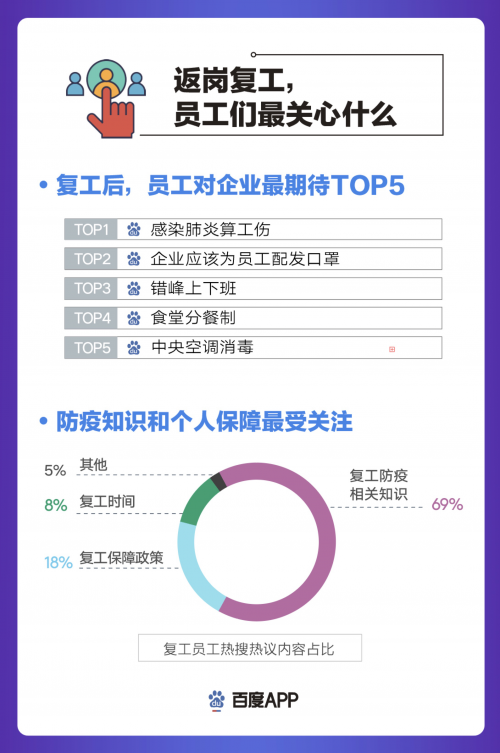 Hot topics among employees
Impact of COVID-19 on SMEs and Offline Industries
Unlike employees, SMEs are more concerned with business survival solutions. In terms of recent search hot topics for small- and medium-sized enterprises, "enterprise throttling method" accounted for up to 27% of all searches, "telecommuting" accounted for 22%, and "expanded sales realization" accounted for 19%. Most companies are actively seeking effective ways to combat economic fallout.
It is worth noting that due to different industry attributes, the impact of COVID-19 varies. The report found that COVID-19 has a greater impact on offline industries, such as real estate, interior design, hotels, and tourism. Among these, searcher interest in "tourism" has fallen the fastest: 71% in the past two weeks.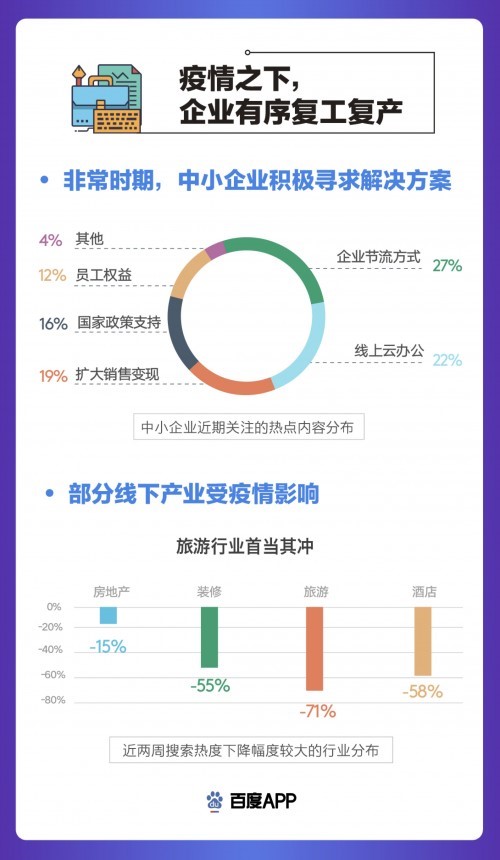 Hot topics for SMEs and offline industries
Growth in Online Business
The epidemic stimulated the growth of online business. Since January 18, the search interest for four major industries—online education, online medical care, online entertainment, and fresh-food e-commerce—has grown by more than 100% month-on-month.
Among the sub-categories, online education, K12 education, and foreign languages have experienced the greatest demand. Henan Province with a large education population is most interested in "online education".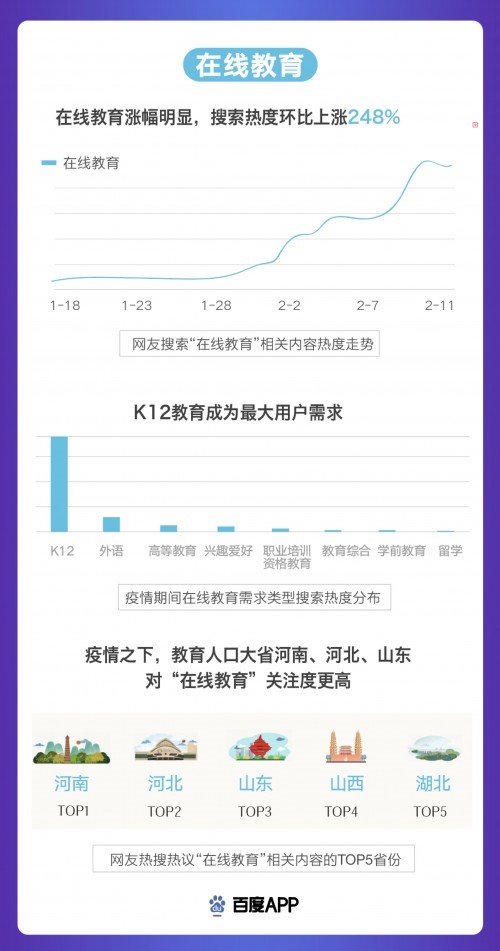 Search interest in online education
In terms of entertainment, "online reading", "movies", "online movie animation", and "games" are popular search topics. Compared with the period before the Spring Festival holiday, the search for "online entertainment" content has increased by more than 100%.
In terms of fresh-food e-commerce, the frequency of searching for "fresh-food e-commerce brands" increased significantly. Second and fourth tier cities showed higher demand for "fresh fruits", solidifying "fresh fruits e-commerce" as a hot topic in the country.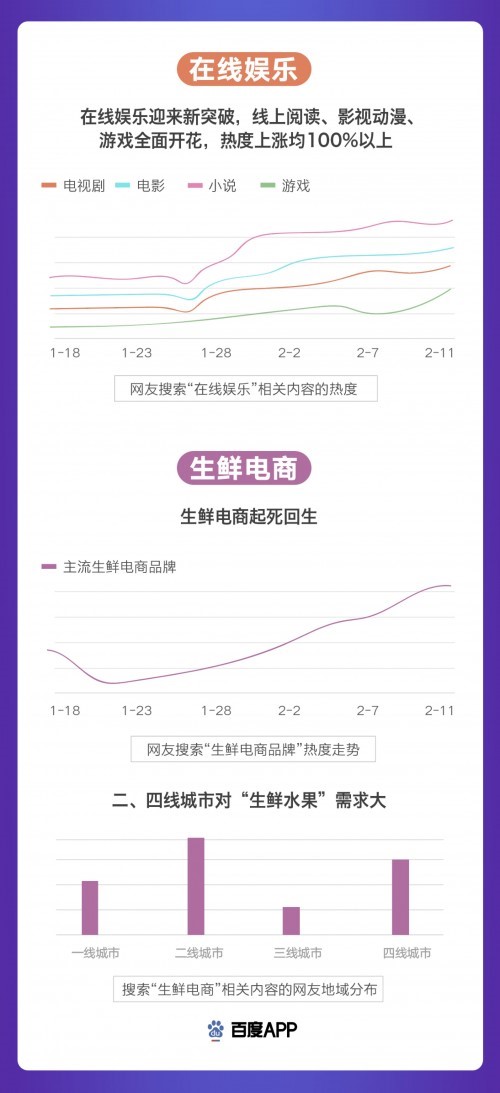 Search interest in online entertainment and fresh-food e-commerce
In small and medium-sized cities, there is an outbreak of demand for "online medical care" and "internet + medical". In fact, during the COVID-19 outbreak, online medical care has helped to alleviate the shortage of medical resources and public demand for medical treatment.
Online medical information-related interest has increased geometrically, and young people between the ages of 20-49 have shown a higher acceptance of it.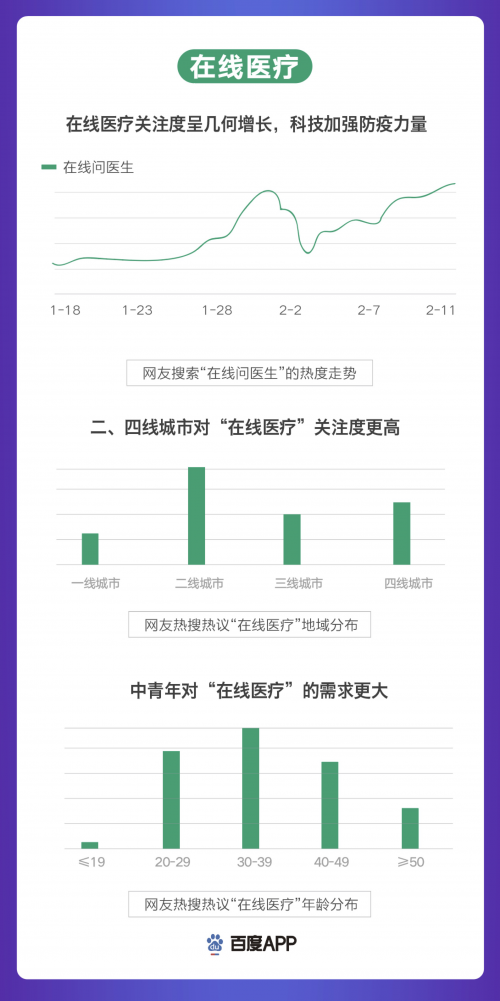 Search interest in online medical information
***
As an unprecedented global emergency, COVID-19 affects all aspects of economic and social life. Baidu's report—COVID-19 Search Big Data Report – Resumption of Work—provides a reliable reference for people to understand the status of various industries, the real needs of employees and enterprises, and industry development opportunities–and perhaps what the rest of the world can expect when returning to work post-outbreak.
Need help reaching your audience online in China?