Analysis: The China Search Engine Market
China Search at a Glance
Internet users in China grew to over 771 million
55% internet penetration rate
Mobile's share of internet usage increased
China's internet growth has certainly been influenced, in a small part at least, by the emergence of high-growth internet applications, including exciting new technologies in the bike sharing and takeout delivery industries. However, the majority of internet usage still occurs on China's major search engines, with 639 million active search users, 97% of whom engage in mobile search.
However, understanding the popularity and usage of the different search engines has become increasingly difficult over recent years. While once we were able to compare market share data across iResearch, CNZZ, Enfodesk, and others, now these platforms have either long stopped recording the data, changed business focus, or a mixture of the two.
As such, when compiling the market share data for 2018, we looked at 2 primary sources: StatCounter and CNNIC:
StatCounter offers the percentage share broken down by search engine and device.
CNNIC operates from a top-level user behaviour standpoint.
Note: The CNNIC report is presented on an annual basis, and thus typically offers retrospective data points rather than the current state of affairs. By combining the two, we are able to understand the Chinese search engine market from a more nuanced and considered footing.
Chinese Search Engine Market Share on Desktop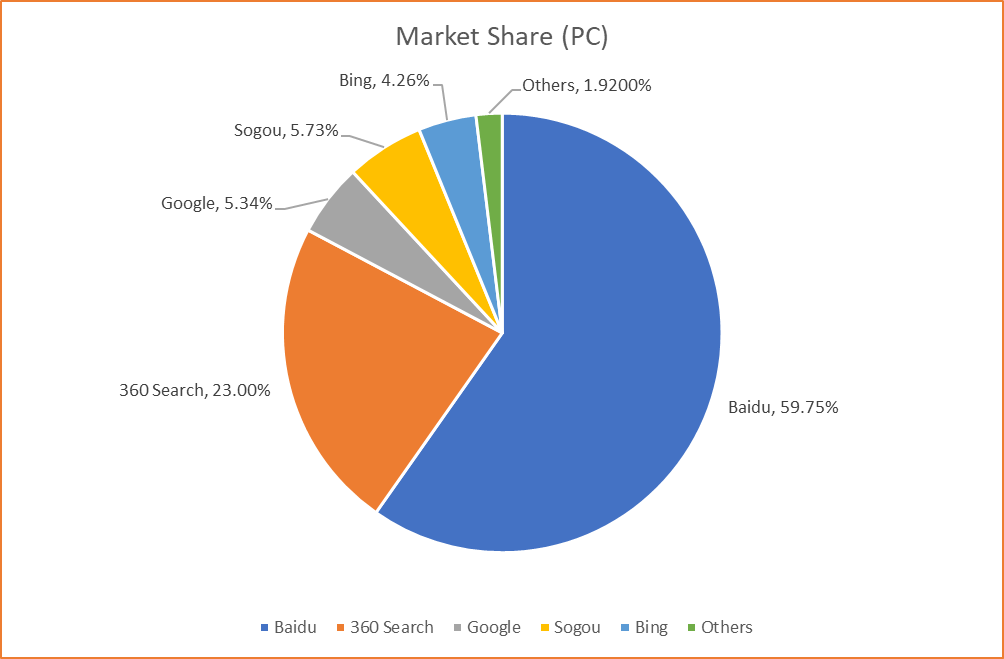 Chinese Search Engine Market Share for Desktop (Source: StatCounter)
As would be expected, Baidu maintains a strong hold on the Chinese search engine market, with just under 60% of active search users on desktop. 360 Search has cemented its place as China's second favourite search engine with a 23% market share.
Interestingly, Google has retained a foothold of just over 5% in the market where they were famously banned from in 2012–most likely due to the high VPN usage within China. Sogou and Bing also score around 5% of the market share.
Chinese Search Engine Market Share on Mobile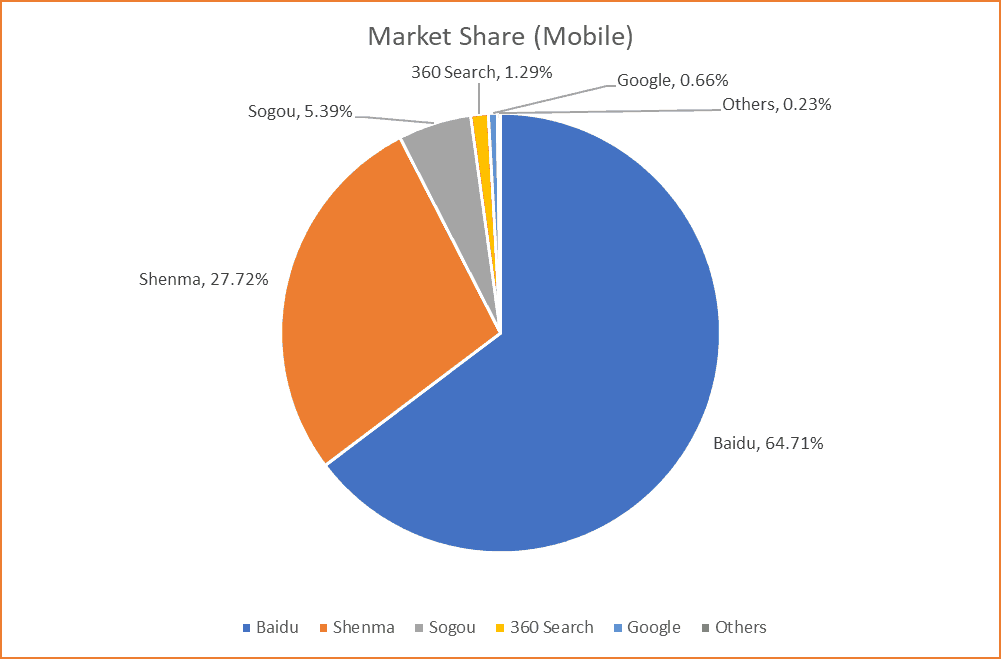 Chinese Search Engine Market Share for Mobile (Source: StatCounter)
When we look at the growing mobile market, 360 Search's poor mobile performance has split the mobile search market wide open:
Baidu's market share increased from 59% to 64% across desktop and mobile.
360 Search fell over 21% to below 2% on mobile.
This extraordinary difference in performance can be attributed to 360 Search's mobile browser being significantly less popular than UC and Baidu's alternative among mobile users, limiting 360's reach.
Alternatively, Shenma has really exploded into the Chinese mobile search market. Their focus on clean UX and shopping solutions has resulted in an estimated 27% share. If Shenma doesn't sound familiar, it is the default search engine for the UC browser, a very popular mobile browser among Android users in China. Shenma was also acquired by the Alibaba Group, giving it a significant financial footing in what has always been a highly competitive market.
On the lower end of the scale, Sogou has been fighting an uphill battle against the other search engine platforms. They've increased their market share over the past year, but have been unable to grow beyond a few percentage points due in part to their late entry to the search market.
What does 2018 have in store?
Moving into 2018, there are simply a great deal of unknowns in the Chinese search market that need to be kept in mind as marketers allocate their budget for China:
Baidu
Baidu has been investing a lot in promoting their mobile app, voice recognition, and AI technologies – Will these technologies allow them to innovate and either grow or maintain market share?
WeChat
WeChat has entered the search market by incorporating search functionality into their hugely popular app – Will users start to use WeChat to search website content over Baidu, 360 Search, and Shenma?
360 Search
360 Search market share has shown a decline, especially for mobile – Will Sogou and Shenma be able to grow into this void?
Lastly, we want to wish everyone a very happy Chinese New Year, and a prosperous year of the dog!
Want to grow your business in China? Contact us today!