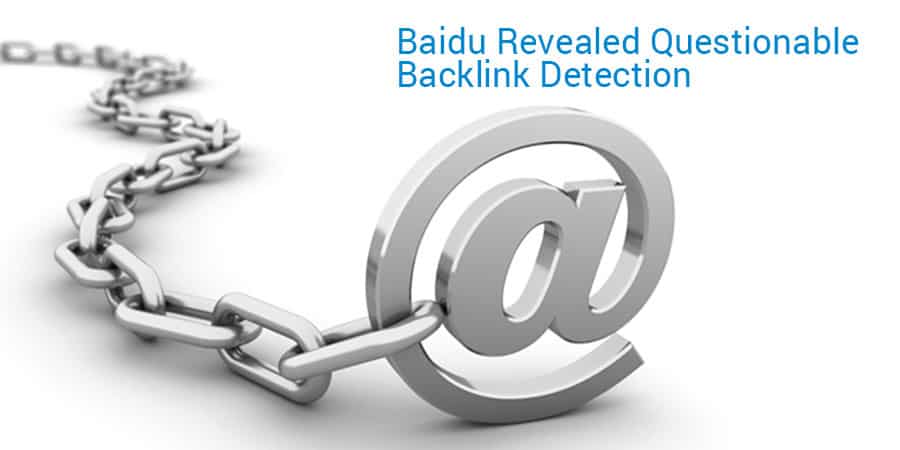 Baidu published an article on 25 April discussing the recent addition of a link disavow tool into its webmaster tool. The move mirrored a recent Google development, designed to improve the efficiency of its quality backlink detection.
We translated the key points of Baidu's article below for your reference:
Rule of thumb
The only criterion Baidu considers in determining whether a backlink is questionable is if it represents a true recommendation from the linking website to the target website.
2 Types of Questionable Backlinks
Baidu considers questionable backlinks in 2 categories: garbage backlinks, and backlink spam.
Garbage Backlinks
These links do not represent true recommendations, and are not intentionally created by the target website. Examples of such links include but are not limited to: search engine result pages, automatically generated pages from webmaster services, and links automatically collected/created by garbage websites.
Baidu claims that 98% of such links can be identified by Baidu and will be filtered in backlinks calculation. Under normal circumstances, these links will not cause adverse effect to the target website.
Backlink Spam
These links are created by the target (benefiting) website either manually or programmatically, with the main purpose of deceiving search engines and interfering with search engine rankings.
Examples of such links include, but are not limited to: anchor text spam, paid links, black hat links, bulk increase of low quality backlinks, link wheels, etc.
In addition to detecting and filtering these links, Baidu will also process the target website to cause direct negative impact for ownership of such backlink spam.
Classic Spam Techniques
Baidu identified several common backlink spam techniques as negative examples:
Anchor text spam
Examples are deceptive anchor texts such as those claiming to be the official website, or a different website with more authority.
Backlinks with the sole purpose of increasing authority
Such as links obtained from black hat techniques, paid links, link farm or link wheels.
Bulk acquisition of backlinks
Web 2.0 bulk link creation (obvious anchor text insertion, BBS signature, and other obvious machine- generated bulk link building), reciprocal links and link wheels.
Cloaking
Website or backlinks engineered to return different content to Baidu spider that are unrelated to content presented to normal users. This is not technically categorized as backlink spam, but it is a severe cheating behaviour and will attract penalty from Baidu.