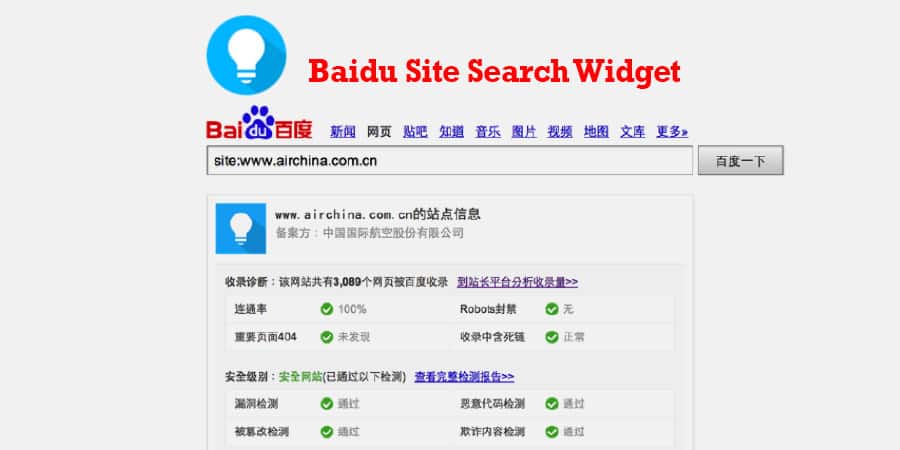 Baidu has launched a new Site Widget to its search results. This special widget can be triggered by performing a "site:" search and exposes data previously only available in Baidu Webmaster Tools.Besides returning indexation numbers, often the objective of a "site:" search, the Site Widget also provides information on website uptime, robots instructions, as well as 404 pages and broken links.
All of the above links to the relevant sections within Baidu Webmaster Tool if further details are needed. Below is a sample Site Widget when performing a "site:" search on Baidu's Webmaster Tools site.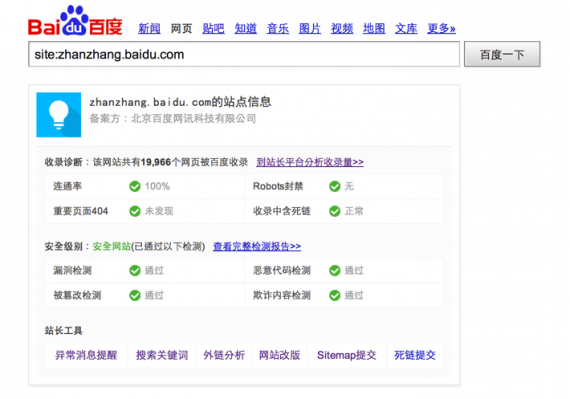 The new widget allows easier diagnosis of website indexation problems, where previously the results of "site:" searches were only estimates and webmasters must set up Baidu Webmaster Tools to gain access to accurate indexation figures. Perhaps the most direct impact is that SEOs can now conduct more reliable analysis on competitor's website, as the widget is freely available with no log in or site verification required.
Of course, the data available is still limited to the fixed format of the widget, so website owners are still encouraged to set up Baidu Webmaster Tools as always. The widget also include links to various tools that require login, so as to further educate and promote their usage.
The Site Widget could also include a site security section provided by 安全联盟 (Web Security Alliance). This section lists whether a website is affected by any vulnerabilities, contains malicious code, has been hacked, or is known for scams. While the typical layman user is unlikely to perform any "site:" searches, it does provide convenience for SEOs and webmasters when auditing a site.
All in all, the Site Widget is a great addition to Baidu's SERPs.