Baidu Updates: SERP Display and Site Links Testing
SERP Display: Last Modified Date
Baidu has updated its SERP to show the last modified date of results instead of content cached dates. Previously, webmasters would use cache dates as a measurement of Baidu's crawl frequency to their sites. However, Baidu's cache dates were not accurate, especially when redirects were involved. For example, Apple's official website showed a few years old cache date, whereas the title, snippets, and thumbnail were current.
Now, instead of showing the rather confusing cache date, which served an arguable purpose to end users, Baidu displays the date on which the content was last modified. This creates a better user experience for those looking for time-sensitive information or for those who simply want the most up-to-date information on a certain topic.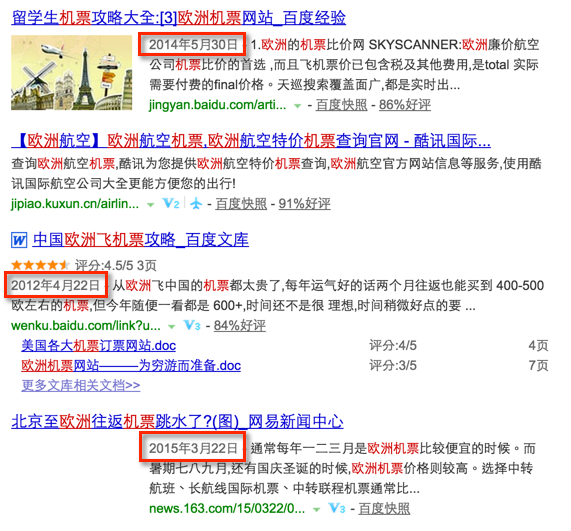 We expect this to impact publishers most dramatically. Baidu does appear to make an exception for pages with static content, such as company website pages, from showing modified dates.
Site Links Testing
Baidu is testing site links with a new site links management feature in Baidu Webmaster Tools. Baidu's site links format can be seen when searching for "Baidu" as a keyword, which would hopefully provide similar benefits to brands as on Google and Bing platforms.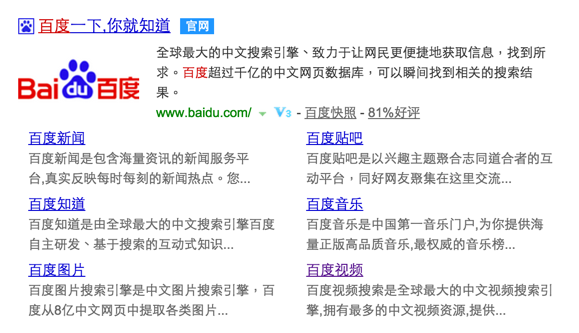 Currently, there is no way to opt-in to displaying site links, as Baidu is testing the feature in Baidu Webmaster Tools under closed beta. According to Baidu, the site links result format supports 2, 4 or 6 sub-links, and as a result webmasters with access to this site links management tool should submit at least 6 sub-links. Webmasters will also be able to edit the title and description, even the order of the sub-links.
All data submitted to Baidu will be taken for consideration, but Baidu does not guarantee the display of site links or using all the data submitted by webmasters.
Currently, site links appear to be in the early testing phase, as searching the brand terms of many large companies does not return site link results except in the case of Baidu.
Want to grow your business in China? Contact us today!