Wix vs WordPress: Which Platform Is Better For You?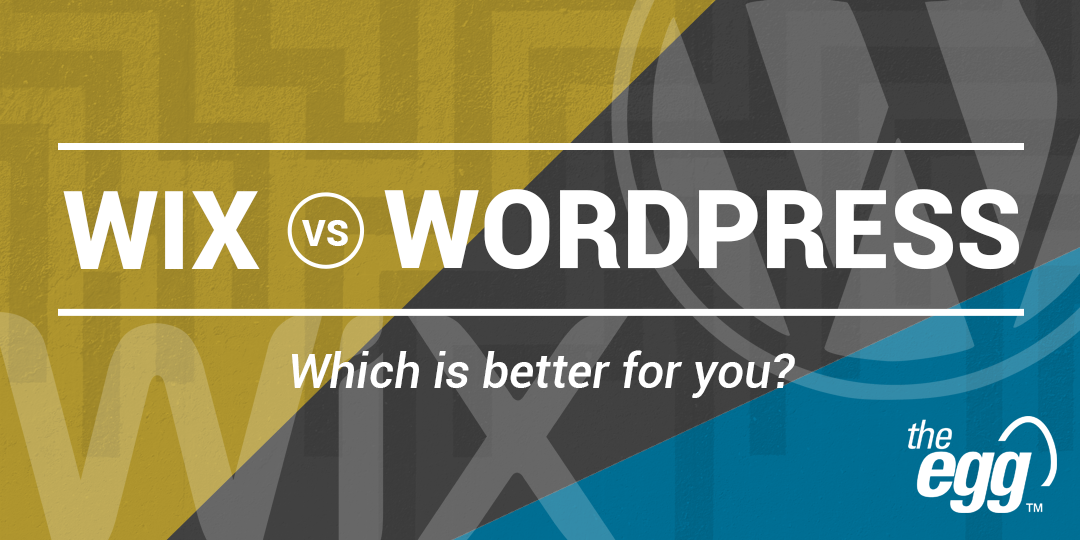 Are you struggling to decide between Wix vs. WordPress for building and running your website?
While WordPress is arguably the world's most popular content management system (CMS), Wix—which you've probably heard of through its massive advertising campaigns—has branded itself as a flashy and user-friendly website builder used by companies large and small.
With both platforms offering plenty of value, how do you decide which one is right for your brand?
In this article, we've compared Wix vs. WordPress on five dimensions and picked out a winner for each to help you decide which is better for your website-building needs:
Ease of Use
Design & Layout
Extensibility (Plugins & Apps)
SEO-Friendliness
Help & Support
Wix vs WordPress: Ease of Use
 Winner: Wix
Both Wix and WordPress offer easy, code-free ways to help you format content, rearrange elements, add various media and more to optimize your webpages.
But perhaps the biggest advantage Wix has over WordPress is its user-friendliness—which is actually its biggest selling point among newbies. Wix has a simpler "What You See Is What You Get" (or "WYSIWYG") interface than WordPress, allowing users to preview their webpages and easily customize elements with a drag-and-drop function.
While WordPress comes with a powerful block editor that lets you edit and layout common elements—like text, headings, buttons, and background images—on your pages with a live preview, beginners may initially struggle to familiarize themselves with WordPress' interface and navigation.
Wix vs WordPress: Design & Layout
 Winner: WordPress
Your site's design and layout play a critical role in its visual appeal and user-friendliness, which can help you stand out against competitors and improve your search ranking performance.
Both Wix and WordPress provide templates for quickly creating websites from scratch—but WordPress has a much larger range of themes and design layouts than Wix.
Although Wix has templates suited for different categories like business, eCommerce, personal interests, and more, you cannot switch to another template once you have selected one. And while you can customize the default templates on Wix, you can only do so with its built-in tools.
By contrast, WordPress users can switch or customize themes more freely with little to no restrictions. Furthermore, learning to code on WordPress—even on a rudimentary level—opens the door to even more customizations.
Wix vs WordPress: Extensibility (Plugins & apps)
 Winner: WordPress
The overwhelming selection of plugins on WordPress makes it the clear winner in this category—at the time of writing this article, there are a whopping 59,000+ free plugins on WordPress!
This owes much to WordPress being an open-source platform, where developers can upload their own plugins—whether for creating a contact form or setting up Google Analytics for WordPress, there's likely already a plugin for that.
By contrast, Wix comes with 200+ plugins (or apps, as called in their ecosystem), but options are limited compared to WordPress, primarily since Wix tends to more closely control its app features to ensure they work properly.
Pro tip: Whether on Wix or WordPress, remember to test your plugins correctly to prevent site speed or site crash issues.

WordPress has a collection of 59,000+ free plugins
Wix vs WordPress: SEO-Friendliness
Winner: WordPress
Due to the vast selection of plugins, WordPress offers more options and tools for SEO, like adding open graph meta tags, advanced XML sitemaps, on-site SEO analysis, and more.
Yoast SEO, for instance, is a free and powerful WordPress plugin that can automate optimizations to your website content and keywords, with the end goal of improving your search rankings.
And although Wix's built-in tools like SEO Patterns come in handy, like for auto-generating meta titles and descriptions, its main drawbacks are its lack of URL slug customization and canonical tags, as well as being unable to let users access or customize their sitemaps.
Overall, with the right plugins, WordPress offers a bit more in terms of organic SEO, but Wix is still a really good option for most SEOs.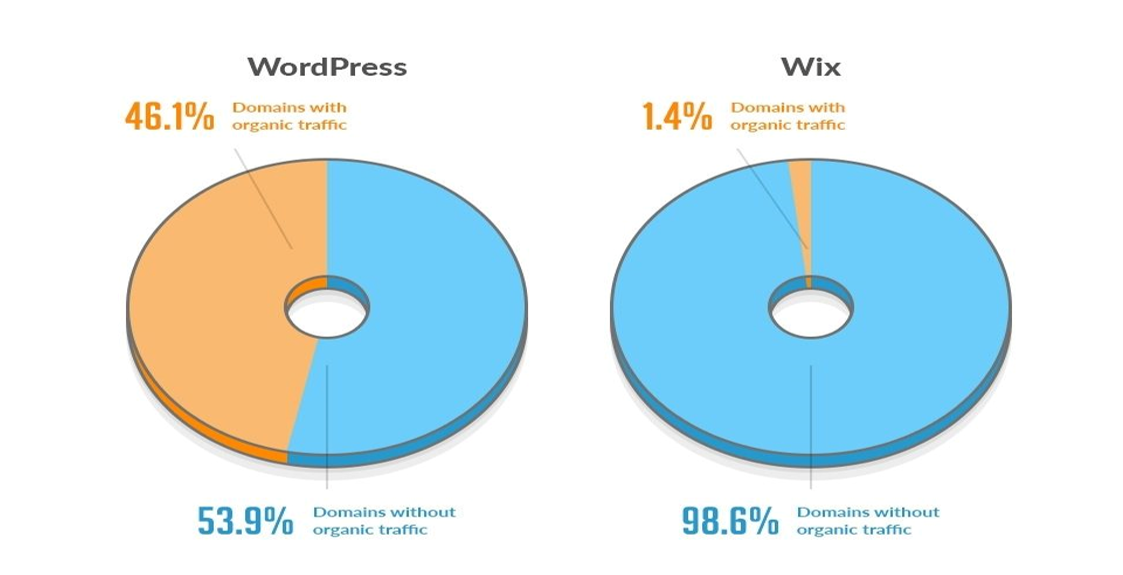 A larger proportion of domains on WordPress drive organic traffic than on Wix (Source: Ahrefs)
Wix vs WordPress: Help & Support
Winner: Wix
Wix and WordPress both have forums where users can discuss their experiences and FAQs, which is useful for beginners starting out on either.
However, Wix places a heavier emphasis on its help and support since its main target audience comprises users who are less tech savvy. If its users have any inquiries, they can conveniently phone or chat—in some cases, with 24/7 service—with the customer care staff at Wix to get an official answer to a query.
And while WordPress provides paid Care & Maintenance Packages ranging from US$79 to US$447, the customer care experience is more akin to getting your issue resolved by an IT team than a dedicated support team.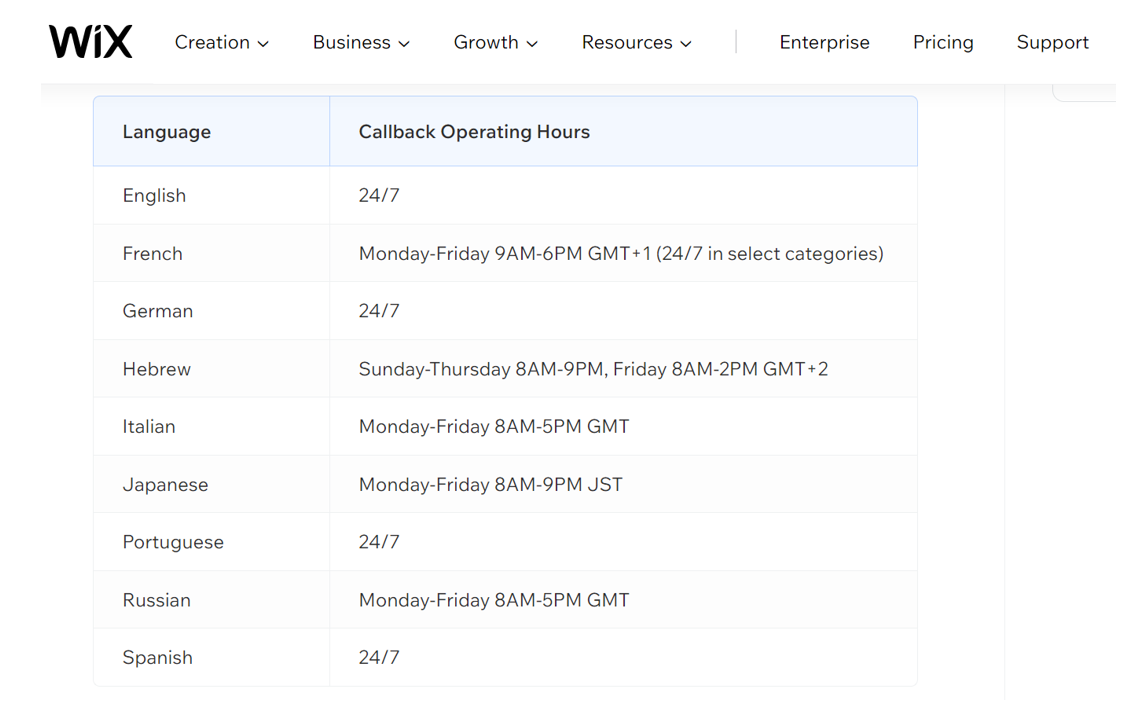 Wix offers Customer Care in various languages and either 24/7 or on most days of the week
***
Conclusion
Whether you pick Wix of WordPress will depend on your website-building needs.
Wix is an easy-to-use website builder with flexible designs and functionality, ideal for informative or portfolio-type websites with smaller target audiences. Small online stores and booking-based services, for instance, can be run completely through Wix.
Alternatively, if web traffic is your main priority, WordPress—albeit requiring some technical know-how—is ideal for creating larger and more intricate websites from the get-go, such as online magazine publications, multilingual sites, and online community websites.
Ready to maximize your digital marketing in Asia?
Trusted by world-renowned brands