Subdomains vs. Subdirectories: What Are They & How Do They Affect SEO?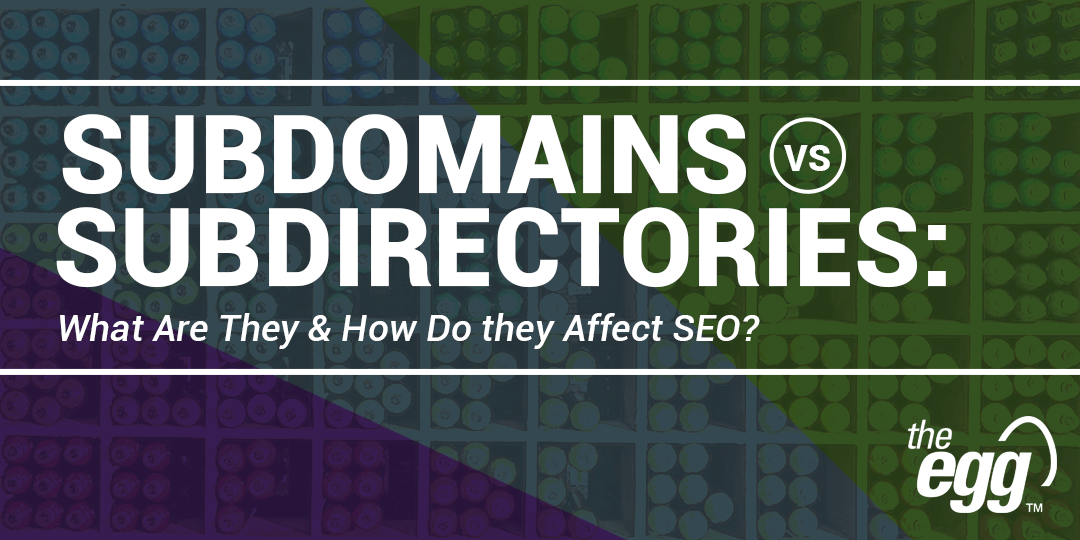 Subdomains vs subdirectories – a hot topic that sparks fervent discussion in SEO circles. More than just a choice about website structure, it's a decision which could significantly impact your SEO performance. In this post, we dissect these two strategies. We'll explore their strengths, weaknesses and ultimately, their impact on SEO.
What is A Subdomain?
A subdomain is an addition to a URL that subdivides and structures a website. Take, for instance, a URL such as news.example.com – 'news.example.com' is a subdomain under the root domain 'example.com.' Essentially, it serves as a distinct yet associated website linked to the primary site, maintaining its unique character and specialized content.
Subdomains are implemented for various reasons. For instance, when your site hosts a lot of content that exceeds the capacity of a single manageable site, or when you aim to run extensive, recurring campaigns that require unique landing pages. In such scenarios, creating a subdomain distinct from your root domain are the most practical solution.
When Should You Use a Subdomain?
There are several cases where the use of a subdomain is befitting. Here are the most common ones:
To Separate the Blog Section from the Main Site
If your blog section houses a vast amount of content, or if your blog is charting its growth trajectory independently, a subdomain could be used to separate it from your main site. Take, for instance, HSBC Business Go, the content marketing segment functioning under hsbc.com. With its distinct offerings (SMB business strategies and insights) compared to the main site's services (SMB financial management tools), it's logical to isolate it from the primary site.
To Build an Ecommerce Store
If your company sells merchandise in addition to the main products and services, it would be beneficial to build a separate eCommerce store separate from your main site. For instance, City Bus HK's main site primarily revolves around providing information about bus services, routes, and schedules, while a separate Estore has been built up to sell bus-related merchandise such as models and postcards. This way, both the root domain and the subdomain can concentrate on their respective lines of business.
To Separate Business Units
If you're managing a website for a substantial corporation with separate business units, using subdomains for each unit might be advantageous. For instance, cars.disney.com and movies.disney.com are two distinct subdomains under the parent domain Disney.com. They offer completely different content and cater to distinct audience groups.
To Separate Sites by Language and Region
If your operations span multiple languages or regions, subdomains serve as one of the efficient strategies to target diverse audiences. Although subdomains may signal geo-targeting less effectively than ccTLD, they offer considerable benefits owing to their easy implementation and manageable nature. For example, major websites like Wikipedia and LinkedIn utilize subdomains for their international targeting.
What is a Subdirectory?
Also known as subfolders, subdirectories represent a website's hierarchy using folders to organize the site content. An exemplar of a subdirectory is the URL like example.com/article/, where 'article' is a subdirectory nestled under the web root.
Unlike usually one-layered subdomains (where you can't encase a subdomain within another subdomain), subdirectories function like nested Russian dolls, accommodating smaller ones within larger ones. For instance, theegg.com/seo serves as a subdirectory for theegg.com, and theegg.com/seo/apac resides beneath the directory of theegg.com/seo. While it's feasible to keep adding layers to subdirectories, it isn't advisable due to the over-complication and elongation of the URL, which confuses users and can obstruct search engine crawlers from effectively navigating your site.
WANT DIGITAL INSIGHTS STRAIGHT TO YOUR INBOX?
How Does Subdomains and Subdirectories Affect SEO?
From the perspective of search engines, content on different domains or subdomains are treated as content from different websites. And content on the same domain or subdomain is treated as content from the same site. For example, content on example.com, news.example.com  and  buy.example.com is treated as coming from different sites. Content on example.com/news/ and example.com/buy/ is treated as from the same site example.com.
As subdomains are seen as distinct websites from the root domain, it is often argued that subdomains diminish the SEO value of the main site by splitting the content. This separation could potentially lead to lost ranking opportunities and reduced traffic for the domain site. More alarmingly, it might induce a cannibalization issue where the subdomain's target keywords start competing with those of the root domain.
Additionally, your SEO initiatives on the subdomain might be slow to influence the root domain. For instance, the backlinks developed for your subdomain won't necessarily pass thelink juice to the root domain. Also, the links created between the subdomain and root main won't be recognized as internal linking for either domain. Hence, if your goal is to build a unified website, consolidating all your SEO endeavors, then it's preferable to use subdirectories. Subdirectories are understood as part of the same domain as the root and can more easily transfer SEO impacts to the root domain.
However, there are still positive impacts from subdomains for SEO. Firstly, they offer an enhanced user experience, especially in the case of large websites. By organizing content associated with different topics or purposes under distinct subdomains, you give users a clearer site structure and smoother navigation, thus increasing their likelihood of staying on your website longer. Secondly, subdomains can be utilized to capture a niche market which the root domain may not cater to. Let's revisit the example of The Hong Kong City Bus website. Its main site, predominantly focused on bus services and routes, would never rank for keywords related to toys or home decorations. In contrast, its subdomain, highlighting these elements, stands a significantly higher chance of ranking for these keywords. Hence, the strategic use of subdomains can serve as a hidden ace to boost your SEO game.
Subdomains or Subdirectories?
Choosing between subdomains and subdirectories will entail several considerations. First of all, since all subdomain pages are treated as independent sites from each other and from top-level domain sites, they won't affect the search engine ranking between each other. But if your primary goal is to create more content to generate more traffic from search engines, you should try to take advantage of existing resources. Search engines tend to give higher ranking to pages from old sites that are trusted or have higher weight and reputation.So if you have a good old site and consider adding more content on same topic, using subdirectories may make the new pages get good rankings more quickly.
However, if the content you are going to add is rich enough to support an independent site or the subject is new content which is not relevant to the existing content, then you should consider using subdomains to organize it.
Another thing to consider is whether it is convenient for you/your company to maintain the sites, because sites using subdirectories just often put the code in same space but subdomains might not and might require different codes or CMS and sometimes might even be hosted on different servers. Content in subdirectories is much easier to edit or change and content entered into different subdomains is a little more difficult to manage.
In the end, the choice between using subdomains or subdirectories will depend on your business needs and available resources. It's crucial to continuously update your SEO knowledge so you can implement the best strategies, regardless of the path you choose.
In summary – Best Practice
If the content is not rich enough to support a new site, put it in subdirectories under the old site to make it get good rankings quickly; when the content is rich enough, then consider transferring it to a subdomain for easier management.
Use subdomains to organize content which is different from content on other pages.
Avoid distributing duplicated content between different domains/subdomains.
Avoid abusing subdomains. Do not use subdomains to set up a large number of sites if you don't have enough content to support the sites' topic.
Ready to maximize your digital marketing in Asia?