Site Migration Checklist: 10 Steps to Safeguard your SEO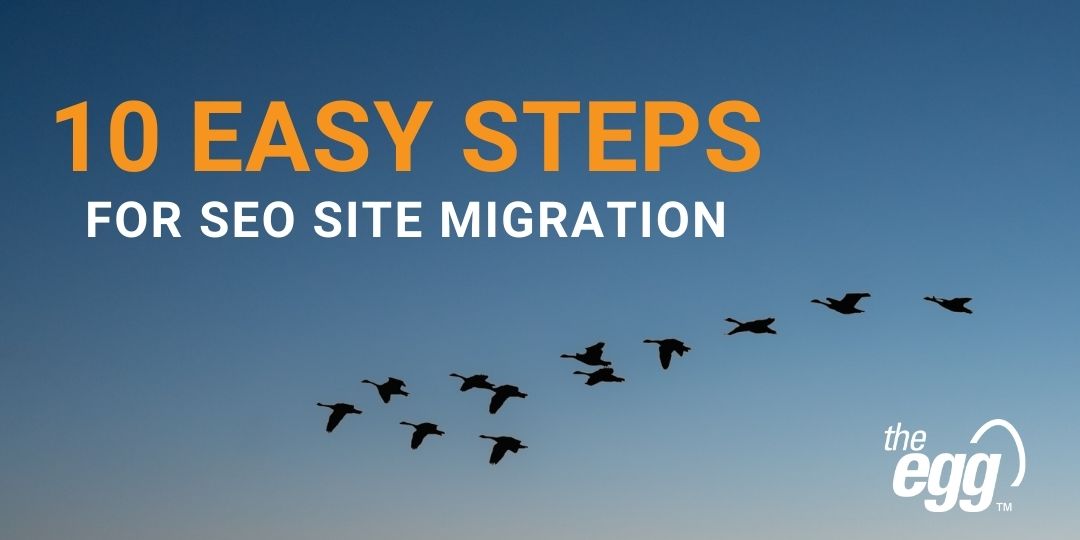 With the internet constantly evolving, it's inevitable that every site will at some point need to undergo a migration.
However, if SEO is not taken into consideration when conducting a website migration, you risk incurring traffic and revenue losses. Depending on the severity of the errors as well as the effectiveness of the recovery plan, an unsuccessful site migration may take months for a business to recuperate its losses.
In this article, we'll cover 10 key steps for pre- and post-migration to help you mitigate any negative impact of site migration on your business.
But first! Let's define site migration:
What is a site migration?
The term "site migration" (or "website migration") is widely used amongst SEO professionals and refers to redirecting pages to a new location, usually with regards to domain, structure, content, design interface, and/or user experience.
A site migration can come in many forms, and it is often a complicated and technical process. Therefore, it is critical to develop a detailed action plan for tackling a site migration.
Site migrations can be categorized into the following types:
Protocol Migration (HTTP to HTTPS change)
With Google using HTTPS as a lightweight ranking signal, webmasters are seeing an increased urgency to secure their websites with SSL certificates. Depending on the size of your website, it can take Google quite a while to reindex all your new HTTPS pages once you've migrated from HTTP. During this process, you may experience volatility in your organic traffic or keyword ranking.
Domain Name Migration
Common reasons for a domain name migration include rebranding or switching from a generic domain (like ".com" or ".net") to a region-specific domain (like ".uk" or ".fr"). Before executing a domain name migration, you must consider—and prioritize—transferring as much of the existing domain authority from your old site to your new site. Otherwise, you risk losing all the domain authority you've built.
CMS Migration
Business growth is among the primary motives for a content management system (CMS) migration. For example, a new e-commerce website may not find more sophisticated CMS features—like abandoned cart recovery or bulk stock management—necessary for their operations. However, as the business grows and expands into international markets, there will likely be an increasing need for more CMS functions that would require migrating to another CMS that better fits the needs.
Moreover, operating on an outdated CMS platform can limit your site's functionality and prove disruptive for your visitors; this can be negated by migrating to a more sophisticated CMS platform.
Site Structural Changes
A website's hierarchy refers to its internal links, URL structure, and site taxonomies. If this is not all migrated correctly and your new hierarchy is not as SEO-friendly, your site's organic ranking may drop. Anything from the addition of subfolders, removal of SEO keywords, or a poor 301 redirect process can negatively affect your website.
Why is a site migration important?
To illustrate how crucial site migrations are, let's assume you own a bakery and decide to relocate.
How will your existing customers know that you've relocated? Well, you could:
Set up a "We have moved" sign outside your former shop location
Update your Google My Business listing
Run an email campaign to announce your relocation
Set up mail forwarding for physical posts
This analogy can be similarly applied to your website: If you migrate your website, can search engines still find your pages and index them properly? That is where the following 10-step site migration checklist below comes in handy.
10-Step Website Migration Checklist
A website migration checklist can be broken down into 3 main stages:
Scope & planning
Pre-launch
Post-launch
Site Migration Checklist: Scope & Planning
This initial stage involves setting up goals and deadlines as well as identifying performance metrics to measure the impact of your site migration.
1.       Define Project Scope & Migration Objectives
Before embarking on any site migration, you must first determine whether it is absolutely necessary, as site migrations carry a high risk of negatively affecting your website—if not executed properly.
Once a website migration is deemed necessary, you can proceed to define the project scope, which helps establish the responsibilities for all internal stakeholders and outlines the deliverables required to achieve the migration objective.
2.       Involve All Stakeholders
A website migration is a large-scale project that typically involves the following stakeholders:
SEO specialists
SEM specialists
Web developers
Web designers
Content writers
Data analysts
By involving all internal stakeholders in your project's preparation stage, they each have the opportunity to raise concerns or highlight potential challenges ahead of time. This will help facilitate a smoother site migration with a lower likelihood of last-minute hiccups.
3.       Identify Performance Metrics for your Migration
Establishing measurable objectives is essential for assessing the impact of your site migration post-launch. Examples of these SEO metrics include:
Organic traffic
Organic keyword rankings
Coverage errors (Coverage Reports under Google Search Console)
Engagement metrics (i.e., dwell time and scroll depth)
Site speed
Number of pages indexed
Number of internal links
Number of backlinks
Domain and page-level authority scores
These metrics serve as a benchmark for evaluating your site migration, and any large deviations from your original data could indicate potential issues that need to be rectified.
Site Migration Checklist: Pre-Launch
The pre-launch stage involves creating assets to mitigate potential adverse effects of a site migration on your website's SEO.
4.       Create a Backup of the Entire Site
Before migration, ensure that you backup your entire site, particularly the files you'll be migrating over to the new site. If you encounter a corrupt, incomplete, or missing file during migration, you can easily retrieve the original backup files without fear of losing any data.
5.       Create a Content Inventory
Before launch, it is also ideal to compile all your assets—including pages and blog files—into a content inventory. Organized in a spreadsheet, the content inventory serves as a reference list for comparing data and identifying discrepancies between your old and new site.
A content inventory spreadsheet should include:
URLs
Meta titles
Meta descriptions
H1 headers
Page categories
Page word counts
You can easily create a content inventory using Screaming Frog, a website crawler that analyzes your website and lets you export those findings as a spreadsheet. It can even pull granular data like meta title character counts and headings, which may be useful when conducting a content audit.
Additionally, you can use analytics tools, like Google Analytics, to track user engagement and whether a particular page is underperforming post-migration.
Engagement metrics in a content inventory spreadsheet can include:
Pageviews
Length of stay
Bounce rate
Clicks
Goal completions
6.       Track Valuable Ranking Keywords
After the site migration, you'll likely want to maintain your keyword rankings for queries your visitors previously searched to find your website. Thus, be sure to track your current ranking keywords so that you can identify and rectify pages with significant drops in keyword ranking.
However, since it is highly impractical to track 1,000+ keywords pre-launch, pick your best-performing keywords in terms of traffic and monitor:
Related keywords
Ranking positions
Ranking URL(s)
7.       Pull Data from Backlink Profile
Site migrations often modify a site's structure and may cause external sites linking to your page to show a 404 error page instead. Consequently, your new site may lose some link equity (or link juice) from those external sites.
Maintaining a comprehensive list of all relevant backlink data will let you quickly identify pages that lost backlinks post-migration and speed up your link reclamation process.
8.       Create a Redirect Mapping Sheet
An essential part of a site migration is mapping and implementing redirects. A redirect mapping sheet facilitates this process and serves as a reference list to help you easily identify the source (old) and destination (new) URLs.
To create a redirect mapping sheet, you need to first obtain a full list of all URLs from your old site. At the same time, retrieve another full list of every URL from your new site, which can be done using Screaming Frog.
Then, match the old URLs with the new corresponding URLs for your webpages. For example, your old Contact Us page should redirect to the Contact Us page on your new site. Despite being very time-consuming, this simple process will help you prevent traffic loss or potential disruptions in user navigation.
9.       Run a Technical Audit
Conduct a technical audit of your new site within the staging environment to check for major technical issues that might affect your website's accessibility. Here are some of the most common aspects of an SEO technical audit.
Robots.txt file
Developers usually set a "disallow: /" directive on the robots.txt file when a new site is still in the staging environment. If this directive is found on the robots.txt file when the new site goes live, it will block crawlers from accessing pages that should be indexed.
Remember to include an XML sitemap of your new site in your robots.txt file. The robots.txt file is usually the first place a crawler visits when accessing a website, so having an XML sitemap in the robots.txt file will indicate which of your webpages to crawl.
XML Sitemap
Create two different sets of XML sitemaps—one that includes all indexable pages on your new site and another for your old site. The first helps search engines identify new pages to crawl, while the second informs them that these old pages have been redirected to new locations. This speeds up the indexation process, updating the search engine results page with your new pages.
Canonical Tags
After a site migration, you may end up with duplicate versions of the same page. To avoid this,  ensure that canonical tags point to your new, post-migration pages so that search engines prioritize the canonical URLs when determining your site's ranking.
Mobile-Friendliness
Mobile usability issues may surface with design and structural changes to your website. And with Google's Mobile-First Indexing update, mobile usability has become even more imperative.
To diagnose any mobile usability issues on your new site, you can run a check on Google's Mobile-Friendly Test.
Site Speed
Evaluate your new site's loading speed for desktop and mobile with tools like Google's PageSpeed Insights or GTmetrix. With Google prioritizing site speed as one of its key ranking factors, rectifying slow loading speed is a must to safeguard your traffic and, subsequently, conversions.
Site Migration Checklist: Post-Launch
The post-launch stage focuses on benchmarking and reporting. Once the migration is complete, you'll want to review traffic and ranking data to assess the migration's impact.
10.   Measure Site Migration Performance
Do you remember the metrics we established under Scope & Planning? Now it is time to compare your old site's performance with your new site to measure the success of your site migration.
Traffic and keyword rankings will naturally be volatile over the first few weeks post-migration. This phase may last up to 4 weeks for smaller sites and 2-3 months for larger sites. Hence, for a more accurate analysis, you should wait for your data to stabilize before benchmarking your new site's performance with your old site.
The primary performance metrics to measure should be traffic and keyword rankings. However, as mentioned under Scope & Planning, there are several other metrics to consider when measuring the success of your site migration. To recap, these include:
Engagement metrics
Site speed
Number of pages indexed
Number of pages submitted (in XML sitemaps) vs. number of indexed pages
Number of internal links
Number of backlinks
Domain and page-level authority scores
***
How to Execute a Successful Website Migration
Successful site migration requires rigorous planning, execution, and monitoring of key SEO factors, which can make or break your website. Without taking SEO into account when conducting a site migration, not only do you run the risk of losing search traffic, but you may also tarnish your brand's reputation and lose revenue in the long run.
Be sure to stay on top of your SEO with this 10-step checklist for site migrations!
Ready to maximize your digital marketing in Asia?