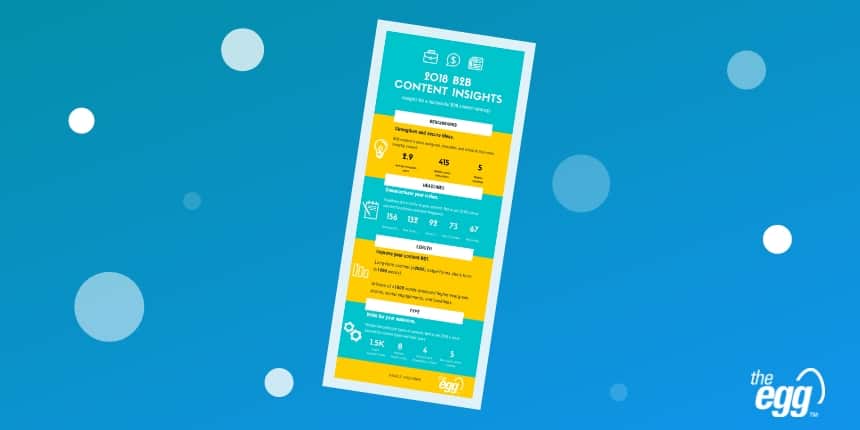 One of the most effective B2B content marketing tactics is to write for your audience. Rather than creating self-serving content, like advertisements or company profile copy, create value-added content. Value-added content gives B2B readers quality information that helps them do their job.
In this article, I pull together the most compelling insights from BuzzSumo's recent research on 2018's top-performing B2B content, and then I give 3 tips for making content development more efficient for your business in 2019.
Discussion of B2B Content Insights
BuzzSumo analyzed 52,892 B2B articles and discovered trends and success factors for B2B content. Below are the key takeaways.

B2B Content Benchmarks
B2B content is generally more evergreen, shared more often on social, and linked to more often than content from other industries.
BuzzSumo gave B2B content an average evergreen score* of 2.9, 1.52 points higher than the evergreen score of the next highest industry content: news at 1.38 points.
*The evergreen score is a proprietary ranking system by BuzzSumo that considers timing, social engagement, and backlinks.
The median number of social interactions for B2B content was 415. Compare that to other content, which has a median number of social shares at just 4.
The median number of backlinks for B2B content was 5. The median number of backlinks for other content was 0.
For the future: BuzzSumo recommends to aim for 689 social shares and 3 or more backlinks as a benchmark for each article. Do this by creating high-quality evergreen content, targeting your audience on LinkedIn, and staying relevant with latest trends and news.
B2B Content Headlines
Headlines drive traffic to your content. The headline phrases below appeared most frequently in BuzzSumo's top performing content:
"The Future of" – used 156 times
"How to use" – used 132 times
"Need to" (without "Know") – used 92 times
"How to Create" – used 73 times
"Here's How" – used 67 times
"You Need to Know" – used 52 times
For the future: Try to write headlines that incorporate these types of phrases that draw in your readers and indicate that they'll learn something from your content.
B2B Content Length
Long-form content (>2000) outperforms short-form (<1000 words). Articles of >1000 words produced higher evergreen scores, social engagements, and backlinks. Surprisingly, B2Bs still write short-form content.
For the future: Invest the time and indeed improve your ROI by writing keyword-rich longer-form content of value to your audience.
B2B Content Type
People like particular types of content. Below are BuzzSumo's best performing types.
Content with "Success" in title – ~1500 shares
Content with "Guide" in title – ~8 backlinks
Infographics and videos – achieved ~4.0 evergreen scores, higher backlinks, and more social shares
Lists – 5 is the most popular number
How-to – continues to perform well, as it has historically
For the future: Try to create these types of content. They show your array of expertise in mediums that your audience wants and responds to well.
B2B Content Development
Whether it's giving industry stats and insights (like BuzzSumo's article), creating a how-to on one of your products, or writing a guide on navigating a complexity in your industry, the content you create should become a win-win for you and your audience: They get valuable information, and you get brand awareness, content engagement, and ultimately conversions.
But don't just start and stop at writing. There is a whole host of ways to make the process significantly more efficient. Here, I'll talk about my favorite 3 content development hacks:
B2B Editorial Calendar
Create an editorial calendar to keep yourself on track. Plan which topics you'll write about and when. It can be based on seasonal trends and keywords specific to your industry. Then block the time out in your calendar at regular intervals that you can actually achieve. Block out time for content development and make sure you put the scheduled publish date in your calendar, too!
There are great tools—you can create a spreadsheet, use Trello, or even just use your email calendar function. The important thing is to carve out time for writing. You'll feel much better when it becomes a part of your schedule—you can see in advance rather than write ad hoc.
But wait: Of course, the more you write, the better your results, but even if you can sneak in 1 post/month, it'll help build brand awareness. Don't forget to share on social for maximum amplification!
B2B Newsletter
Cull your content into newsletter form, and promote it to your contacts. Again, there are great tools that you can use, like MailChimp, to make a professional newsletter that tracks clicks and open rates, etc. Or it can be as simple as using your regular email with a short intro and then bulleted headlines that link back to your blog posts.
Either way, email newsletters give you yet another touchpoint with an audience who has at least some awareness of your brand (or else why would they be in your contact list?).
But wait: Just want to mention that of course there are different email/spam regulations and legislations in different countries. Make sure to follow the rules of the country you're sending to.
Existing Content
Repurpose existing content for a new audience and/or medium. We don't always have to reinvent the wheel with new content. We can use existing content in a new way.
Take for example what I did with BuzzSumo's content. They did a longer-form post that I summarized and converted into an infographic. I credited them as the source, of course, and added my own spin by making the content more visual and providing 3 new efficiency tips.
You can do something similar with existing content from other sources or with content you've created. Turn a how-to article into a video. Build a case study around a client testimonial. Turn a 5-step beginner's guide into a 10-step expert guide. It's about building out what you've already got so that you don't have to start from scratch.
But wait: Again, just want to mention that it is key that you credit the source of any external content that you're building upon. And Google looks at straight copied content as duplicate content—not good—so make sure that you're adding new value when repurposing existing content.
Of course, through all of this writing and content development, you'll need to make sure you're optimized for search engines to find you. And luckily we can help with that!
Hit us up for a short brief on how we can help your business target the ultra-lucrative and opportunity-rich Asian market.
Want to take your SEO to the next level across Asia?