How to Set Yourself up for Successful Backlink Outreach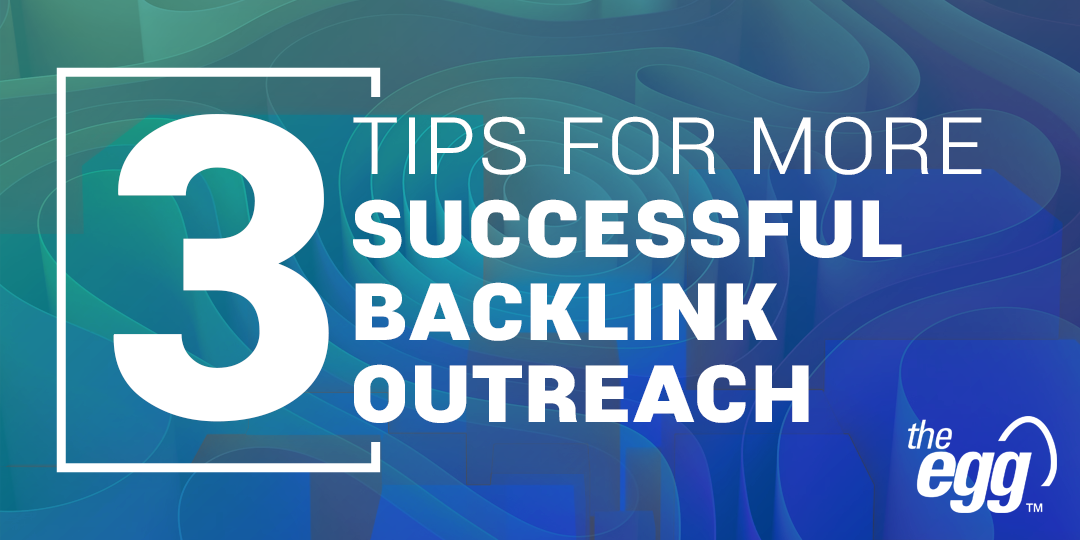 Backlinks, or inbound links, are among the holy grails of off-site SEO—why? The more high-quality ones you have linked to your site, the more they signal to search engines that your content is considered trustworthy by users.
Think of them as votes of confidence in your content and the value and quality they offer for a particular search query.
If your site contains more backlinks, search engines can infer that your content is worth linking to, and therefore, also worth ranking higher on its search engine results pages (SERPs).
But how do you obtain more backlinks? That is where backlink outreach (or link building) comes into play—i.e., getting high-domain authority external websites to link to target webpages on your site that you want to rank for on SERPs.
To help you succeed with backlink outreach, here are three tips to keep in mind when deploying this tactic in your marketing strategy.
What is a common pitfall in most backlink outreach efforts?
An outreach attempt can be sending cold emails to external site owners asking if you can write a guest post for their blog in return for a backlink, or letting them know that a resource on your website could provide their readers more insight.
But while most marketers know the benefits of backlink outreach, many won't help but feel discouraged when they receive no reply from site owners to whom they reached out. The simple truth is: As strangers, they do not, and will not, care about your SEO performance, but that is only natural.
Instead, you should embrace the fact that backlink outreach is a long game—here, patience is truly a virtue. After all, most website owners are busy with their own schedules and will prioritize their work and personal needs. On top of that, you're likely not the only person sending emails to them for backlink opportunities. So, if it takes a while for them to get back to you, don't take it too personally.
With that said, let's now delve into how you can set yourself up for more success in your backlink outreach strategy.
3 Tips for Successful Backlink Outreach
Tip #1: Set SMART Goals
Goal setting sets you up for success by giving you a clear sense of direction and a measurable roadmap so that you can tackle critical steps to reach your desired result.
To this end, we recommend setting SMART goals, which—as many of you will know—stands for specific (S), measurable (M), attainable (A), relevant (R), and time-bound (T).
Specific (S)
Are your goals clear? Answer the who, what, where, when, and why's in your backlink outreach strategy. For example, you might ask yourself: What website niche you should reach out to for backlinks? Or who among your team or company is best suited to conduct the outreach?
Measurable (M)
What is your indicator of progress in quantifiable terms? For instance, you might set yourself a monthly target of successfully acquired backlinks per month based on how many website owners you've set out to contact.
Attainable (A)
Are your goals achievable? For example, would reaching out to 100+ website owners per week be possible, given your workload? Can you delegate the outreach duties or lower your set targets to make them more attainable?
Relevant (R)
Have you checked if all the sites you're reaching out to are high-quality? Do you need to review again and weed out the low-quality ones? Is your strategy striking the right balance between quality and quantity in backlinks, and is it based on your SEO needs as it should be?
Time-bound (T)
How timely do your outreach and follow-ups need to be? Do you have deadlines set for yourself?
Tip #2: Create Tailored Content
While external site owners may appreciate your willingness to provide content to them for free in return for a backlink, you can boost their likelihood of accepting your offer by optimizing your content to match their needs.
An integral part of your content creation process, thus, should be to thoroughly analyze their content to identify content gaps and avoid duplicate content, all while learning and adopting their writing style to maintain their brand voice.
A simple way to do so is by observing how they organize their content: Are there any categories or sub-categories they haven't written about yet?
Other questions to guide your ideation process include:
What types of content are they producing? (i.e., are they writing long-form articles, listicles, and/or reviews?)
Are there topics at an angle that they haven't explored before? Note it down!
Tip #3: Build Rapport in Your Outreach
When conducting your outreach, you must remember that you're reaching out to a person at the other end of your email or call, so avoid sounding like a cold or automated message.
Instead, you should evaluate ways to improve your outreach attempts or further personalize your emails to appeal to external site owners (they can sniff out lazy outreach from a mile away!) and foster a long-lasting relationship from there.
The best place to start is by building trust with them from the get-go—i.e., your first interaction. For example, upon reviewing their blog or social media posts, it's a good idea to share your thoughts and insights and interact with them in their post comments section or chat box—just like any genuine user would.
In doing so, you can make them aware of your expertise in their field and leave them the impression that you made a real effort to understand their content and connect before you ask for their help.
***
While a long process, accumulating high-quality backlinks can have positive effects on your overall website ranking, traffic, and branding. But remember that practice makes perfect, so while conducting your outreach, be sure to learn the strengths and weaknesses from each attempt!
Ready to maximize your digital marketing in Asia?