6 TIPS TO SUPERCHARGE YOUR SEO OUTREACH FOR LINK ACQUISITION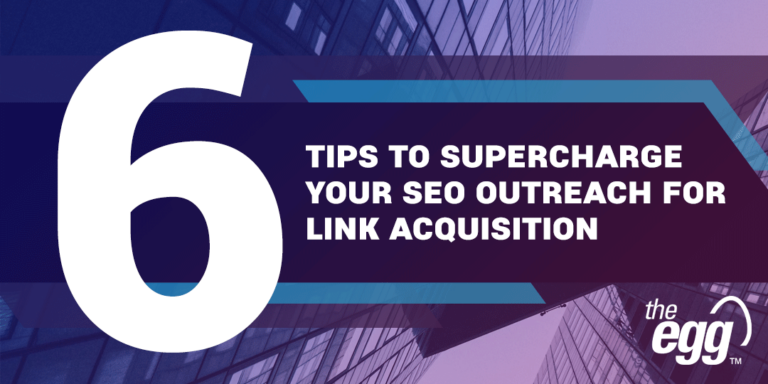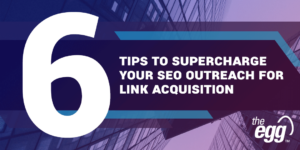 Backlinks, or inbound links, are among the holy grails of off-site SEO—why? The more high-quality ones you have linked to your site, the more they signal to search engines that your content is considered trustworthy by users.
Think of them as votes of confidence in your content and the value and quality they offer for a particular search query.
If your site contains more backlinks, search engines can infer that your content is worth linking to, and therefore, also worth ranking higher on its search engine results pages (SERPs).
But how do you obtain more backlinks? That is where backlink outreach (or link building) comes into play. In this guide, we'll delve into the world of SEO outreach and provide you with 6 powerful ways to make your SEO outreach campaign more successful.
WHAT IS SEO OUTREACH?
First thing first. What exactly is SEO outreach?
At its core, SEO outreach is the practice of contacting website owners or authority figures in your niche to request backlinks to your site. These backlinks can be in guest posts, reviews, directories, or other formats. By obtaining these links, you can not only enhance the reputation and credibility of your website but also increase your chance of ranking for your target keywords.
WHAT IS AN SEO OUTREACH PROCESS LIKE?
A typical SEO outreach campaign involves four key steps. By optimizing or automating these steps, such as having a pitching template ready for personalization, you can significantly reduce the workload involved.
Link Prospecting. This step requires thorough research to identify the right websites to reach out to. You can do a manual search, leverage your existing contacts, or utilize tools to find relevant prospects.
Craft a compelling message to establish a relationship with your prospect and request a link. Using a pitching template as a starting point and customizing it for each prospect can streamline the process.
Content Creation. In some cases, you may need to contribute a guest blog post on the prospect's website to earn backlinks to your own site. Remember, the content you create should be valuable and relevant to their audience.
Follow Up. It's common for site owners not to respond after the initial contact. To increase your chances of receiving a response, be proactive and send follow-up emails to remind them about your request.
WHAT IS A COMMON PITFALL IN MOST SEO OUTREACH EFFORTS?
An outreach attempt can be sending cold emails to external site owners asking if you can write a guest post for their blog in return for a backlink, or letting them know that a resource on your website could provide their readers more insight.
But while most marketers know the benefits of backlink outreach, many won't help but feel discouraged when they receive no reply from site owners to whom they reached out. The simple truth is: As strangers, they do not, and will not, care about your SEO performance, but that is only natural.
Instead, you should embrace the fact that backlink outreach is a long game—here, patience is truly a virtue. After all, most website owners are busy with their own schedules and will prioritize their work and personal needs. On top of that, you're likely not the only person sending emails to them for backlink opportunities. So, if it takes a while for them to get back to you, don't take it too personally.
With that said, let's now delve into how you can set yourself up for more success in your backlink outreach strategy.
6 TOP TIPS FOR SUCCESSFUL SEO OUTREACH
SEO outreach can be a challenging endeavor, and rejection is common. However, there are certain techniques you can use to enhance your success rate. Here are six top tips to supercharge your SEO outreach campaigns,
TIP #1: SET SMART GOALS
Goal setting sets you up for success by giving you a clear sense of direction and a measurable roadmap so that you can tackle critical steps to reach your desired result.
To this end, we recommend setting SMART goals, which—as many of you will know—stands for specific (S), measurable (M), attainable (A), relevant (R), and time-bound (T).
SPECIFIC (S)
Are your goals clear? Answer the who, what, where, when, and why's in your backlink outreach strategy. For example, you might ask yourself: What website niche you should reach out to for backlinks? Or who among your team or company is best suited to conduct the outreach?
MEASURABLE (M)
What is your indicator of progress in quantifiable terms? For instance, you might set yourself a monthly target of successfully acquired backlinks per month based on how many website owners you've set out to contact.
ATTAINABLE (A)
Are your goals achievable? For example, would reaching out to 100+ website owners per week be possible, given your workload? Can you delegate the outreach duties or lower your set targets to make them more attainable?
RELEVANT (R)
Have you checked if all the sites you're reaching out to are high-quality? Do you need to review again and weed out the low-quality ones? Is your strategy striking the right balance between quality and quantity in backlinks, and is it based on your SEO needs as it should be?
TIME-BOUND (T)
How timely do your outreach and follow-ups need to be? Do you have deadlines set for yourself?
WANT DIGITAL INSIGHTS STRAIGHT TO YOUR INBOX?
TIP #2: USE TOOLS TO FIND YOUR PROSPECTS
Not all links are created equal. To enhance your rankings and boost the effectiveness of your SEO efforts, you need to focus on acquiring high-quality and relevant backlinks. Therefore, it is important to identify the right outreach prospects.
While manual search and reaching out to existing contacts can be effective, utilizing tools can greatly expedite and refine this process. For example, the link research tool provided by is valuable in this regard. Its Link Gap Analysis function allows you to identify websites that are linking to your competitors but not to you, presenting excellent linking prospects. Additionally, tools like Buzzsumo and Tomoson can be invaluable for finding top influencers and bloggers.
Once you have compiled a list of potential link prospects, gather relevant data about them, such as domain authority, estimated traffic, or social metrics. By prioritizing the list based on these factors and relevance to your website, you can significantly increase the efficiency of your outreach efforts.
TIP #3: CREATE TAILORED CONTENT
While external site owners may appreciate your willingness to provide content to them for free in return for a backlink, you can boost their likelihood of accepting your offer by optimizing your content to match their needs.
An integral part of your content creation process, thus, should be to thoroughly analyze their content to identify content gaps and avoid duplicate content, all while learning and adopting their writing style to maintain their brand voice.
A simple way to do so is by observing how they organize their content: Are there any categories or sub-categories they haven't written about yet?
Other questions to guide your ideation process include:
What types of content are they producing? (i.e., are they writing long-form articles, listicles, and/or reviews?)
Are there topics at an angle that they haven't explored before? Note it down!
TIP #4: BUILD RAPPORT IN YOUR OUTREACH
When conducting your outreach, you must remember that you're reaching out to a person at the other end of your email or call, so avoid sounding like a cold or automated message.
Instead, you should evaluate ways to improve your outreach attempts or further personalize your emails to appeal to external site owners (they can sniff out lazy outreach from a mile away!) and foster a long-lasting relationship from there.
The best place to start is by building trust with them from the get-go—i.e., your first interaction. For example, upon reviewing their blog or social media posts, it's a good idea to share your thoughts and insights and interact with them in their post comments section or chat box—just like any genuine user would.
In doing so, you can make them aware of your expertise in their field and leave them the impression that you made a real effort to understand their content and connect before you ask for their help.
TIP #5: KEEP TRACK OF YOUR PROGRESS
It's important to have a clear understanding of the numbers and metrics related to your SEO outreach efforts. Tracking metrics such as the number of pitches sent, the number of links acquired, and the time invested in this task can provide valuable insights into the effectiveness of your outreach strategy.
By analyzing these numbers, you can identify what is working and what needs improvement in your outreach efforts. If you have segmented your prospects or content types for linking, it is also beneficial to track the number of links obtained in each segment. This will help you determine if certain segments are more successful than others and allow you to make adjustments accordingly.
By consistently evaluating your SEO outreach efforts, you also gain a clearer picture of your return on investment (ROI), which in turn can impact future budget allocation and strategic planning. Ultimately, tracking your input and return meticulously enables you to continuously refine and optimize your outreach process for improvement.
TIP #6: ESTABLISH LONG-TERM PARTNERSHIPS
When site owners or bloggers agree to link back to your site once, they are likely to collaborate with you again in the future. To maximize your SEO outreach results, it is important to turn these one-time collaborations into long-term partnerships.
To facilitate this, create a tracking sheet where you can record and keep track of these site owners. Additionally, ensure that every communication includes a message such as "Look forward to working with you again next time." This informs them that you are open to future collaborations when new opportunities arise. Over time, you will find that you can gain more backlinks with far less effort by nurturing these ongoing relationships.
***
While a long process, accumulating high-quality backlinks can have positive effects on your overall website ranking, traffic, and branding. But remember that practice makes perfect, so while conducting your outreach, be sure to learn the strengths and weaknesses from each attempt!
Ready to maximize your digital marketing in Asia?