To achieve higher rankings we all know that you need the best quality content and good quality in-coming links. If "Content is King", then surely "Backlinks are Queen". In terms of backlinking strategies, we also know that quality links coming from within a local market or country are potentially more valuable for SEO than having the same quality links coming in from another country.
A common method used by many SEO's to get backlinks is through directory and article submissions. In Thailand however, it is quite difficult to find good quality local directory and article submission sites. Even if you can find directory submission sites, my experience as an SEO Thailand practioner is there is a long waiting time before your website gets posted on them. Furthermore, many of the more well known article submission sites are not based in Thailand and often don't accept articles in Thai language, particularly if your website has been localized and the default language is in Thai. In fact, it can be quite difficult to do quality link building in Thailand.
The Alternative of Social Bookmarking
If you have also experienced such difficulties as mentioned above or are wishing to commence a Thailand SEO strategy, then one attractive alternative which has worked well for me and has produced results quickly is to use Thai social bookmarking services to get backlinks. Such a strategy can still be done in parallel with your article and directory submission efforts, if you still wish to pursue those.
Social bookmarking is a fast method which helps you increase traffic and backlinks at the same time. You also can get page rank (PR) from social bookmarking websites if you choose those with Dofollow settings. Moreover, social bookmarking can help achieve greater indexation from robots in a shorter period.
The Results
The graph below shows the ranking improvement results I was able to achieve recently for one of my clients' Thai websites through the use of social bookmarking.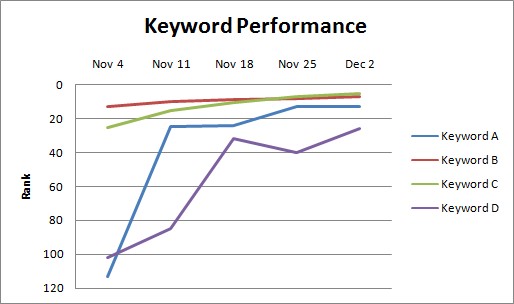 To achieve these results, I submitted their chosen Thai keywords to various Thai social bookmarking sites everyday for 4 weeks, with the rankings for every keyword rising substantially during the same period, as is shown in the graph.
The results are impressive and clearly demonstrate that social bookmarking services can have a positive impact on rankings. If you are looking to do SEO in Thailand then I strongly recommend you consider employing such a strategy.