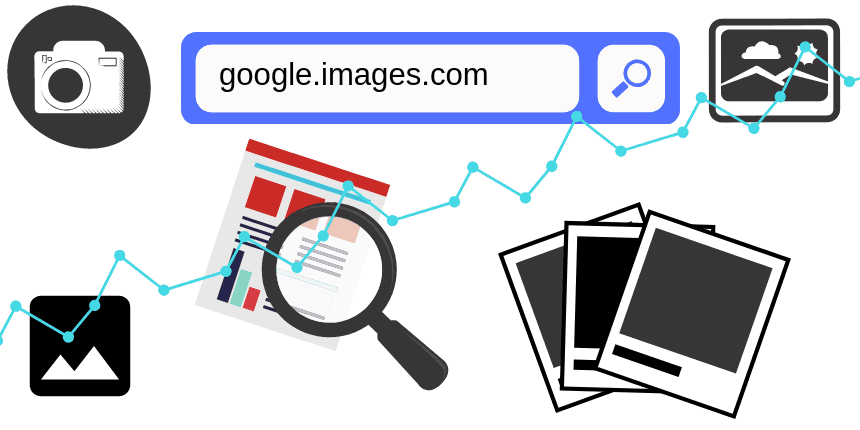 Using images correctly can help your website's SEO performance. Adding images not only helps readers understand the content, but it also indicates to the search engine that your topics are relevant. Today, let's look at how images benefit SEO.
Improved Readability
Have you ever visited a book store and picked a book to see what it is about only because its cover looks good? This is how most of us work—we are easily attracted by images.
This also applies when people click into your site through SERPs. The first glance will always be the image of the website, and while users are reading, images will also help with their understanding. In other words, images are useful complements to your content. If you look at all the best-ranking content over the web, you can almost always see that images are used within the content.
Images can help explain complicated topics, and they also make the content appear more interesting to readers—meaning that they will spend more time on your website.
Longer dwell times could be a ranking signal to Google that the page is highly relevant and useful. Moreover, readers would be more willing to share and possibly provide backlinks to the page.
Image alt text helps Google understand your page
Adding accurate image alt text will not only help Google understand your image, but it could also be a signal to search engines that your content is relevant for a topic. Image alt text can also be optimized with related keywords. In fact, Google places a relatively high focus on surrounding text. Having an image with alt text related to the topic is beneficial to the SEO aspect of the page.
Google Image Search Snippets
In addition to text and voice search, there is a significant number of people using image search on Google. Around 10.1% of all Google traffic comes from images.google.com. Therefore, if you have appropriate images with accurate keywords in the alt text, then you may capture that huge amount of traffic.
Ranking high on Google image search can also help you perform better on text search. This is because Google has been showing image result snippets on its SERPs. Therefore, the images of your website can be shown in the snippets, and this snippet could be in a relatively high position on SERPs.
Images used for Top Answer Snippet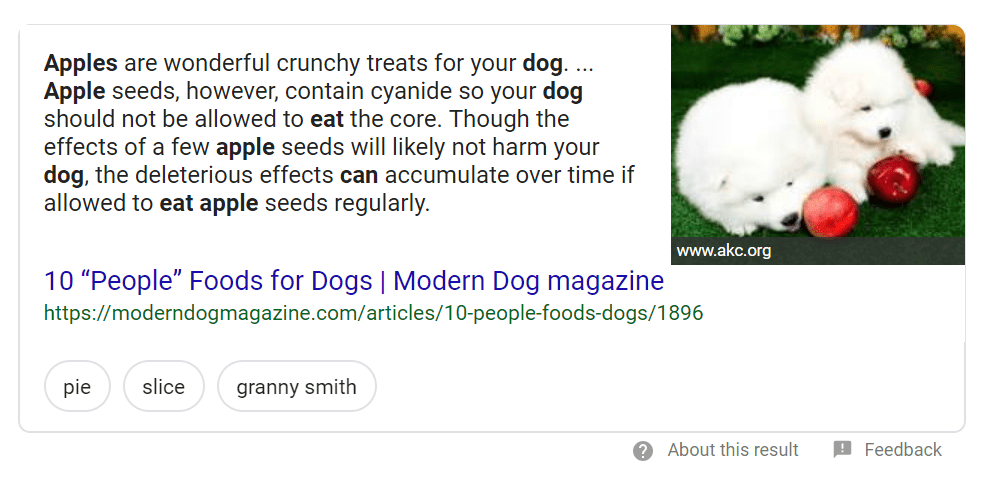 In recent years, Google has increased the use of different snippets, especially the top answer snippets you can expect to see when you enter straight-forward queries. It usually comes with the text on the left and a picture on the right—to give a short, quick answer to the searcher. The interesting part is that the text and the image can be sourced from different websites.
In the example above, the text part comes from Modern Dog magazine, but the image is sourced from akc.org. This means that, even if your page is not in position 1 for some queries' SERPs, having a good image can also lead you to appear in the top 1 position of SERPs. And the website domain URL will be shown on top of the image.
Conclusion
Images will help boost SEO performance by improving the experience of both readers and search engines.
From the searcher's perspective, content with images is more readable and has a higher chance of solving the searcher's intent. This will send helpful signals to search engines that the content is relevant to the queries and thus enforces a positive effect on rankings.
From the search engine's perspective, image alt text helps to depict the contextual meaning of the surrounding text. Search engines can also use the image whenever applicable to SERPs or image search results.
In summary, image optimization improves the overall SEO performance of your site.
Need help optimizing your images to appear higher on Google?