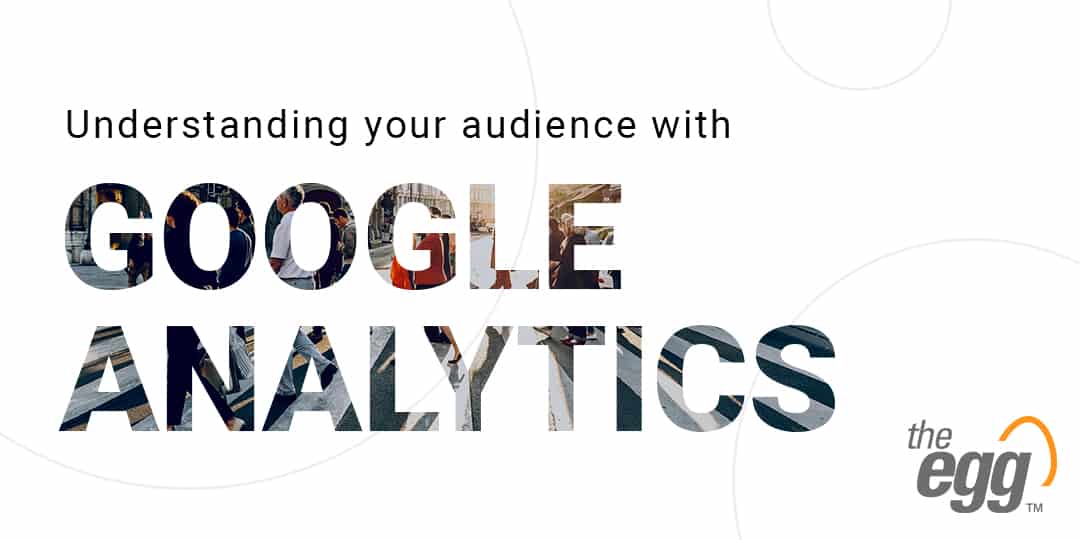 Data never lies. It is only through data that we can truly see whether we effectively understand and connect with our audiences.
As such, data analysis is increasingly important to marketers.
And because Google Analytics is a critical tool for data analysis, we've put together 3 tips on how to use the tool to better understand your audience.
Google Analytics Tip 1: Start with segmentation
Segmentation—isolating and connecting with the right audience and market—is key for businesses to understand audiences and meet user needs.
Most companies don't just target one group, but rather seek to attract different audiences who often have vastly different characteristics, intentions, interests, and demographics.
Of course then, to optimize for target audiences, you must be able to perform segmented analysis.
And Google Analytics allows you to do just that. You can create audience segments of a specific age, gender, interest, and more.
The most powerful component of the Google Analytics segmentation feature is that you can compare different segments at once. For example, you can look at groups of users who converted and groups of those who didn't to better understand the various factors that affect conversion behaviour.
There are default segments and custom ones that you can create.
To create a custom segment, simply click Create New Segment. You have a wide range of segmentation choices, including language, age, gender, location, interests, and more.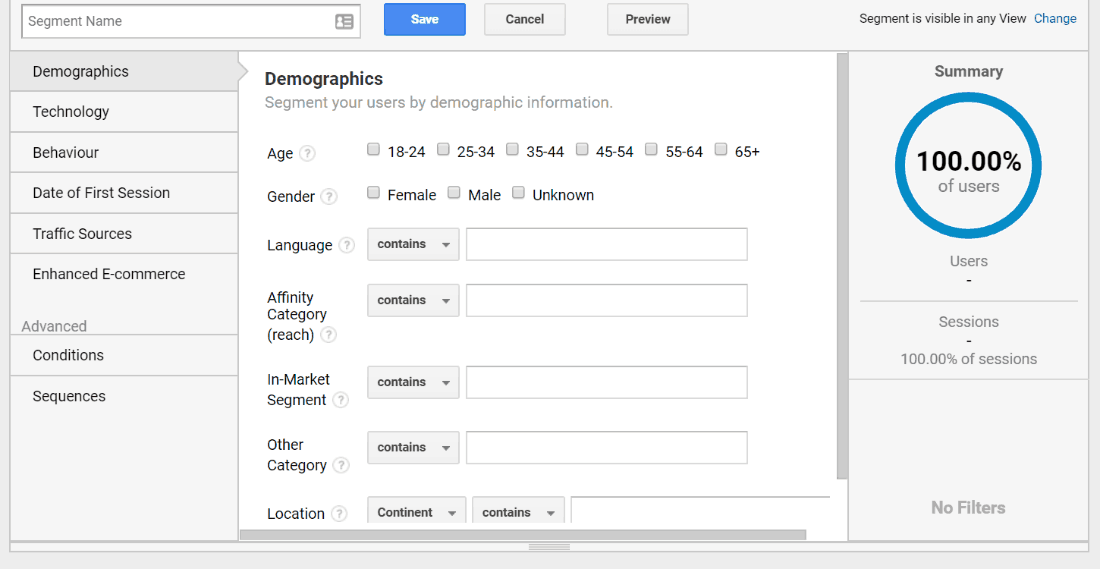 To set a default segment, click System, and choose the criteria that you wish to see.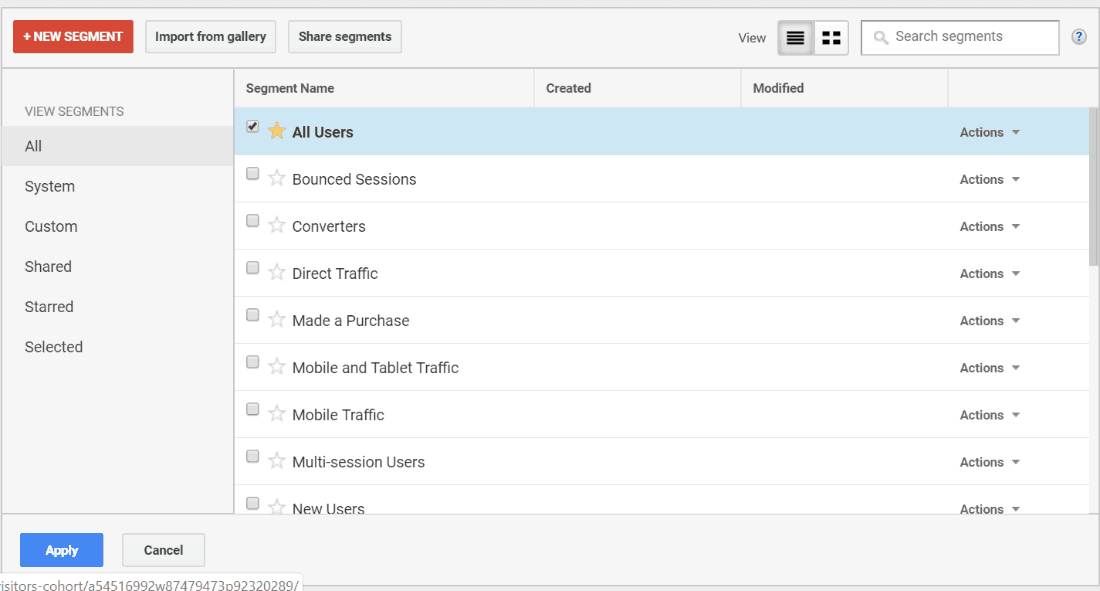 Google Analytics Tip 2: Leverage multi-channel funnel reports
The foundation of marketing is to promote your products, services, and brand to as many high-conversion-potential people as possible. This generally means engaging in cross-channel marketing. It's important then to track which channel led to a conversion. This insight helps you better allocate your marketing time and budget, as you know which marketing channel is the most effective.
Google Analytics helps you analyze and add value to your audiences' multi-channel, multi-dimensional purchasing path through 5 key reports:
Overview
Assisted conversions
Top conversion paths
Time lag
Path length
Overview Report
This report shows click-assisted, impression-assisted, and rich media-assisted conversions, so you can see how each marketing campaign contributes to conversions before purchase. There are several views that you can select for this report.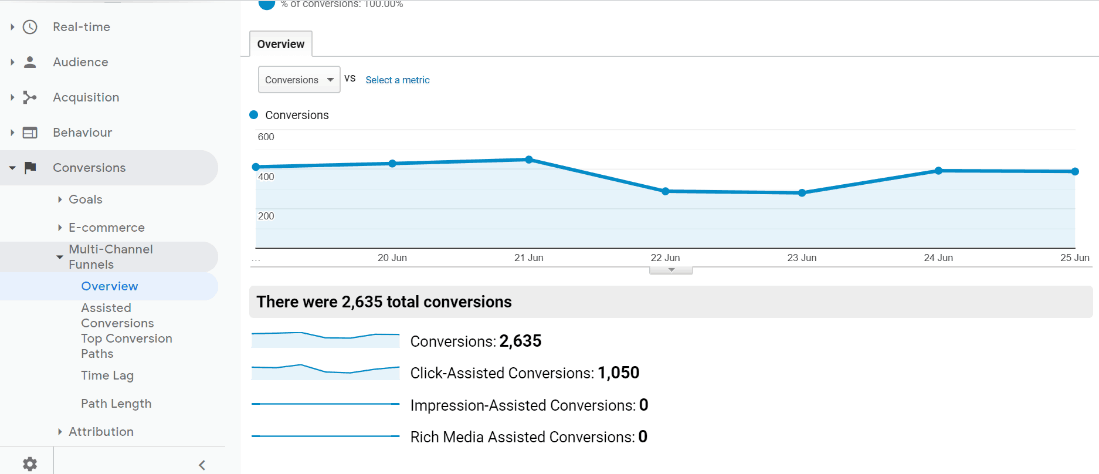 Assisted Conversions Report
This report shows the number of assisted and last-click conversions made by each channel. The higher the number on a channel, the more that channel assisted with your conversions.

Top Conversion Paths Report
To visualize and optimize the most effective conversion path, this report shows 1) the different paths that push your users to convert; and 2) the number of conversions on each path. Essentially, it shows the unique paths that lead to conversions.

Time Lag Report
This report primarily shows the time lag in days between campaign launch and conversion, the number of conversions, and the conversion value.
In the example below, there was no time lag between launch and the first 1,929 conversions at a value USD $554.18.
Essentially, if it takes too long for users to convert, then you can consider how to speed up the conversion path, by rethinking the effectiveness of the marketing campaign.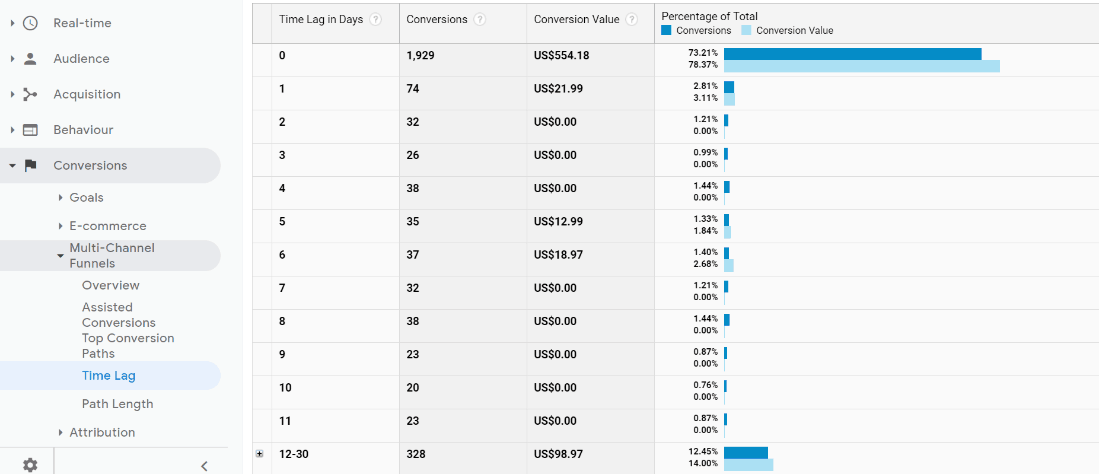 Path Length Report
This report shows the interactions that bring users to the conversion stage.
The example below shows 1 path length with 1,585 conversions at a value USD $469.73.

Google Analytics Tip 3: Analyze and understand your audience
To satisfy user need, we must be able to understand user behaviour. And Google Analytics allows us to do that by analyzing active users, benchmarking, and custom reports.
Active Users
Google Analytics allows you to see the number of active users on your site at a given time over the past 1 day, 7 days, 14 days, and/or 28 days.
With this data, you can monitor your active users' traffic and optimize your site accordingly.

Benchmarking
Benchmarking allows you to perform an anonymous competitive analysis to understand how your performance compares to your competitors. This report will show you key data like sessions, percentage of new sessions, users, etc. in a channel, location, and/or device report:
Channel Report
This report compares your channel data to the benchmarks for each channel.
Location Report
This report compares your data to the benchmarks of the traffic of your selected country.
Device Report
This report compares your device data to the benchmarks of device traffic.
Custom Reports
Custom reports allow you to view an event, action, and dimension together in one report.
To do so, however, you must setup your own custom report structure:
Choose the report format.
Add at least one dimension and one metric.
Save your custom report.
Additionally, you can add a filter to screen the results.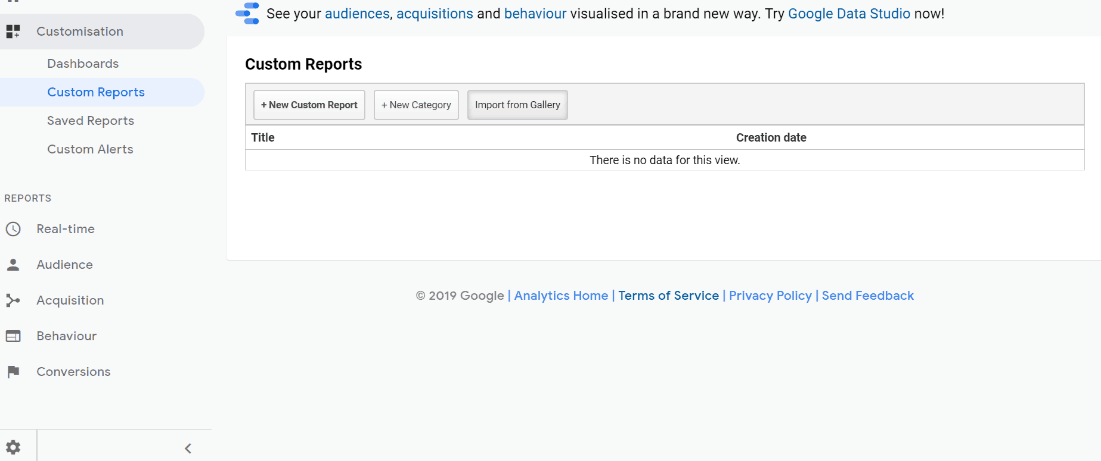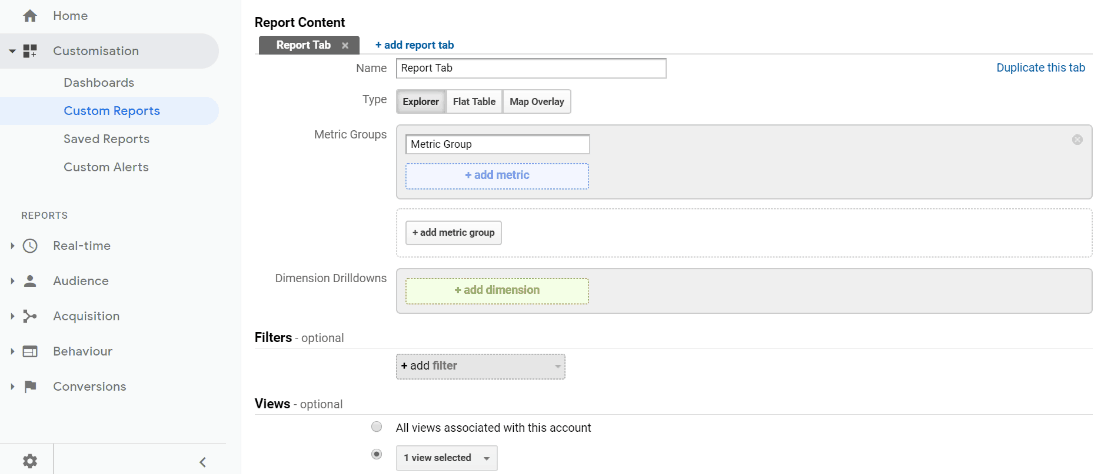 It is critical for marketers to understand their audiences. Google Analytics gives great insight into user behavior so you can better analyze your audiences and optimize your website to meet their needs.
Need help analyzing audience behavior and optimizing your site with Google Analytics?