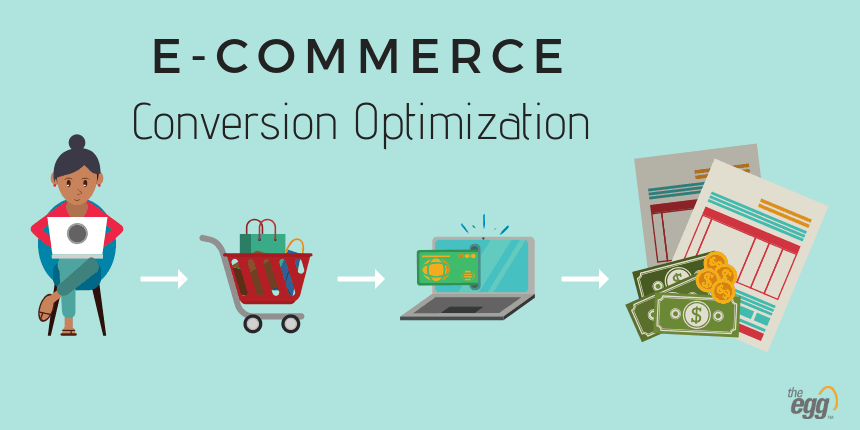 Website conversion optimization should be a priority for all e-commerce business owners. Of course, it's well-known that this process improves conversion rates and revenue, but did you also know that conversion optimization makes your users happier? Happy users will return to shop at your store and hopefully even tell their friends about the great experience you provide.
Many webmasters leave money on the table by not listening to their users and not following conversion rate optimization best practices. This article offers 5 research-backed conversion optimization tips to improve your online store's conversion rate.
For best results and to prove the impact of implementing these best practices on your website, we recommend you use A/B testing. We include a bonus tip at the end of the article to help you get started with A/B testing.
1. Remove automatically rotating carousels
Fancy-looking website features may not always be what's best for the user. A great example of this is the commonly seen automatically rotating image carousel, which is proven to reduce the usability of your page.
You can find automatic carousels on the homepages of many web shops. Here's what's wrong with using revolving carousels on your homepage or landing pages:
Rotating carousels remind users of banner advertisements (as these usually move as well), which can lead them to ignore the carousel. This is called banner blindness.
Movement is inherently distracting to the human eye and can reduce the visibility of other items on the page.
Non-native speaking, low-literacy users and users with motor-skill impairments can have difficulty reading and clicking on information if it only appears briefly.
Having too many messages on the page dilutes the value of the overall message.
Users generally like to be in control. This includes deciding when things move around.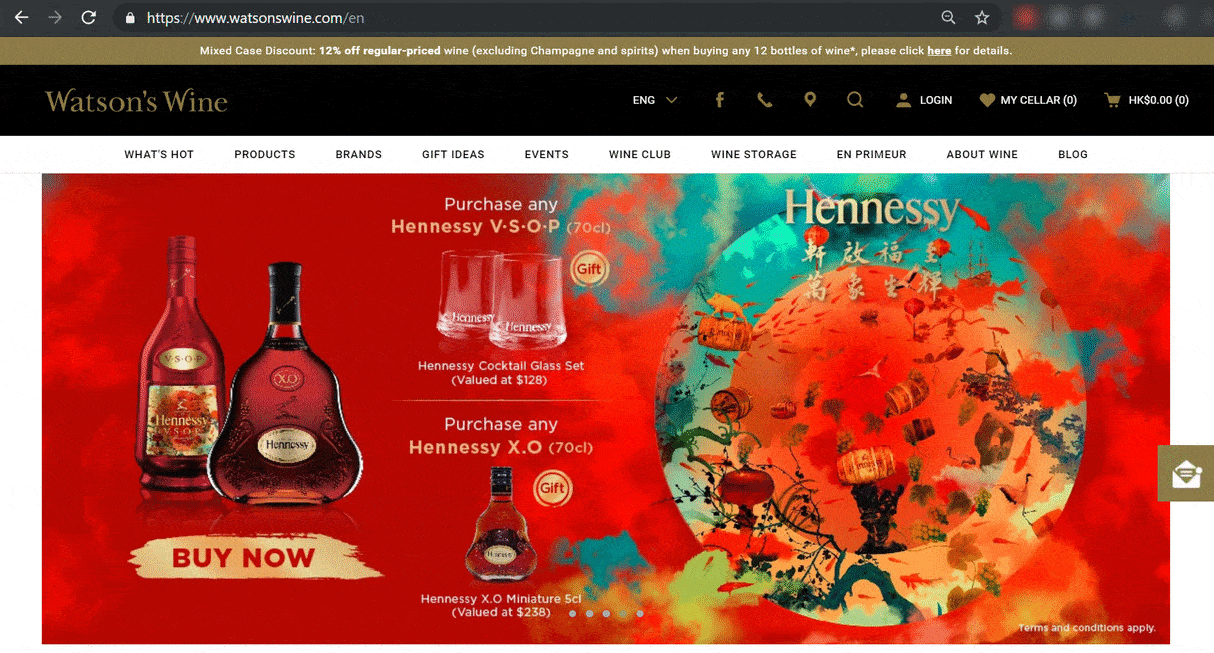 Watsonswine.com's automic carousel rotates every 5 seconds, leaving users no time to check out each of the promotions
The bottom line is that when using an image carousel, you should only show new panels when users explicitly ask for it. If they don't, the carousel should stand still to allow users time to fully read and absorb all the information displayed. This means avoiding automatic carousels entirely.
What to A/B Test: Replace automatically rotating carousels with user-initiated carousels.
Metrics:
Bounce rate of the page
Engagement with carousel
2. Rephrase your CTAs to be descriptive
Users don't like to read web content. The average user will bother reading only 20% of the written content on your page. That's less than a fourth of your entire page. Instead of reading, users like to scan your page.
The good news is that this means your CTAs are more likely to be noticed than other content, thanks to their brevity and eye-catching format. This also makes it critical to use actionable—not "empty"—words as the click text on your CTAs.
The bad news is that empty words are unfortunately a common pitfall. Words like "Shop," "Next," and "Continue" are overused and do not grab your users' attention.
The key to writing calls to action is to ensure that they are actionable, enticing, and indicative of the next step. Your CTAs should always answer 3 questions:
What should I do?
Why should I do it?
What happens next?
Don't waste your precious 20% on empty words. Rewrite all cookie-cutter CTAs to be descriptive. Start with the CTAs on your homepage and key landing pages, and then move on to other CTAs found across your site, for example in forms.
What to A/B Test: Rephrase generic CTAs to be actionable, enticing, and reflective of the next step.
Metrics:
Clicks on the CTA
Bounce rate of the page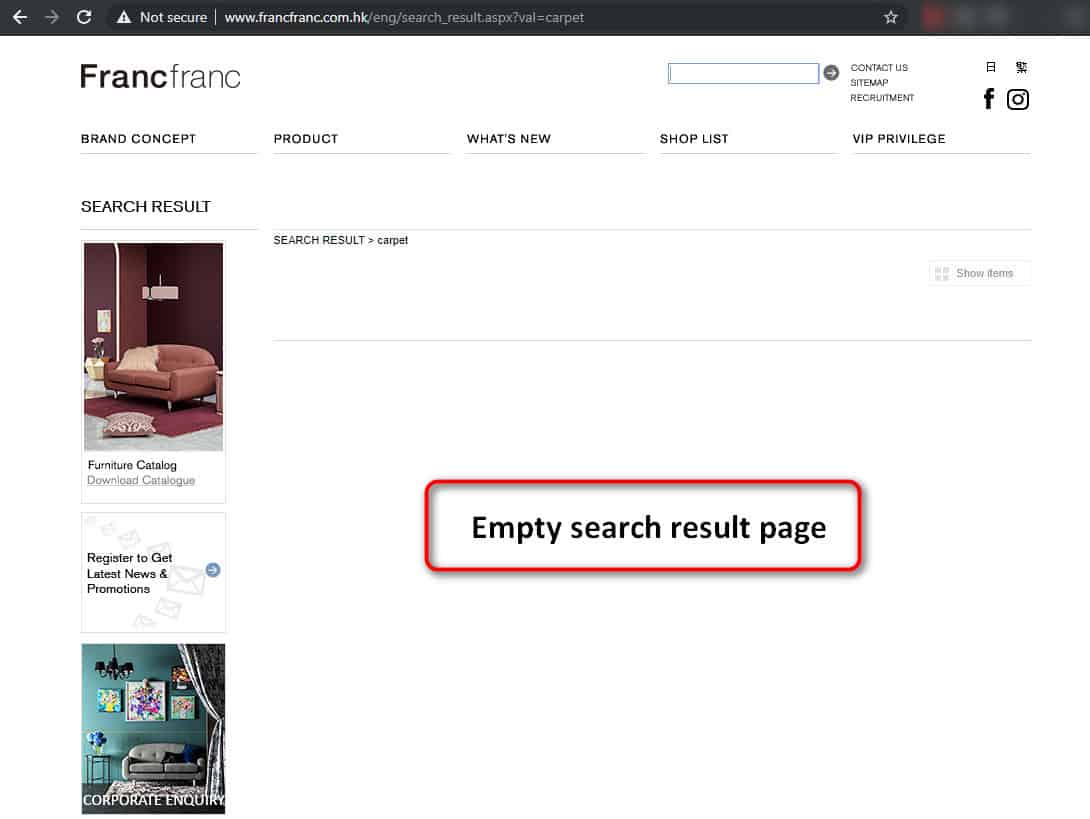 Francfranc.com.hk returns an empty search result page when searching for 'carpet', rather than showing related results (rugs) or asking users to search again
A solution is to ensure your site search always returns a result, which can direct users to other relevant pages, even when you don't offer exactly what they were looking for. A good approach is to create search landing pages that direct your users to the most popular product categories, ongoing sales and promotions, and related products, or ask them to enter a new search.
If the item your user is looking for is temporarily out-of-stock, you can create a landing page that informs the user when the item is expected to restock. On this page, you can offer for them to sign up for email updates on the product status.
These are just a few examples of how you can effectively guide site searchers to the next step.
What to A/B Test: Optimize your internal site search so that it always returns results for any query.
Metrics:
Bounce rate on traffic with site searches
Search depth (number of pages viewed after a search)
4. Use auto-suggestions in your site search
Now that you've seen how important site search is for e-commerce, here's one more high-impact modification you can make to your site search functionality.
About a quarter of your site search users will go back to refine their search term. A common cause is the misspelling of words. Users often don't know how to spell something properly, such as personal names (think of book authors), cities, and countries, but also plenty of other words.
Regional differences in naming conventions or the return of inadequate search results can also lead to search refinement. With auto-complete, you can help your users and guide them towards the keywords that return the best results. This will lead to fewer refinements—and happier users.
Implementing auto-complete also has the added benefit of speeding up the overall search experience. Users want to finish their mission—to find what they're looking for—as fast as possible.
This means that they want you to understand their needs by helping them type as little as possible, something that Google has mastered over the years and embedded in our searching habits. For best results, the auto-complete function should return results for as little as 3 characters entered in the search bar and continue to return the most relevant results as users keep typing.
To bring it up a notch, you can even supplement your auto-complete with images. Remember that purchase intent is very high among site search users. Visualising product offerings to your searchers can further improve the user experience and conversion rate, but only if the recommended results are relevant to the query.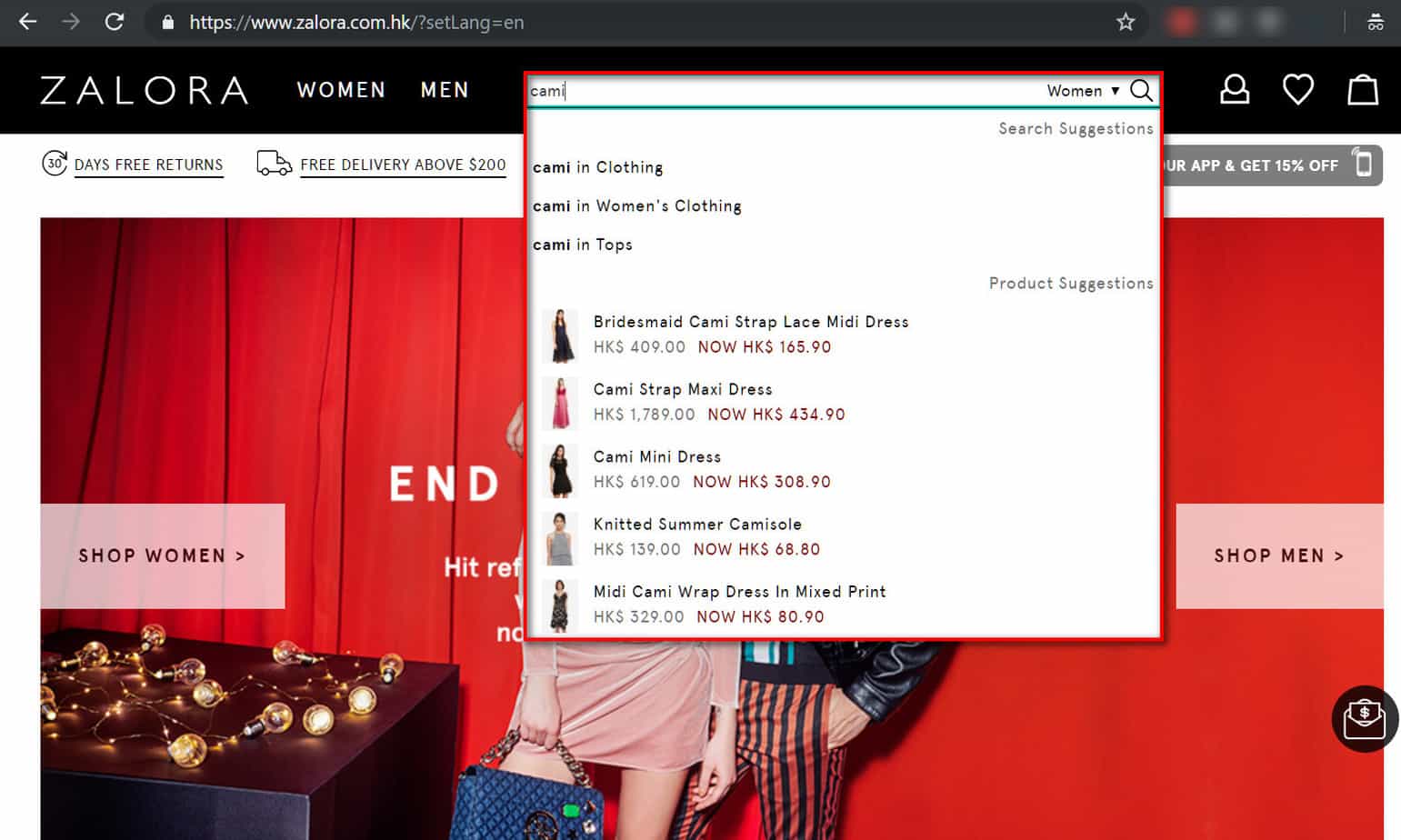 Zalora.com.hk does a great job with its site search, returning relevant search suggestions as well as product results with images, complete with pricing and discounts
There are many free solutions that can help you create a user-friendly site search experience. For example, you can download EasyAutocomplete, a jQuery autocomplete plugin, for free and install it on your site. WordPress users also enjoy access to a range of plugins with different features.
What to A/B Test: Implement auto-suggestions in your site search functionality.
Metrics:
Bounce rate on traffic with searches
Search depth (number of pages viewed after a search)
5. Allow users to check-out as a guest
Getting your users to add items to the cart is a relatively more manageable task, but getting them to complete the cart check-out process is challenging to say the least. The global average rate of cart check-out completion is only 31.2%. Anything you can do to lower the cart abandonment rate will prove extremely valuable to your business.
One of the core culprits of cart abandonment is forcing your users to sign up to your site before they can even begin the check-out process. This common practice of asking users to create an account is the reason why 34% of users abandon your site at check-out. The sign-up process is seen as time-consuming and annoying and adds to the user's ever-growing pile of usernames and passwords to manage.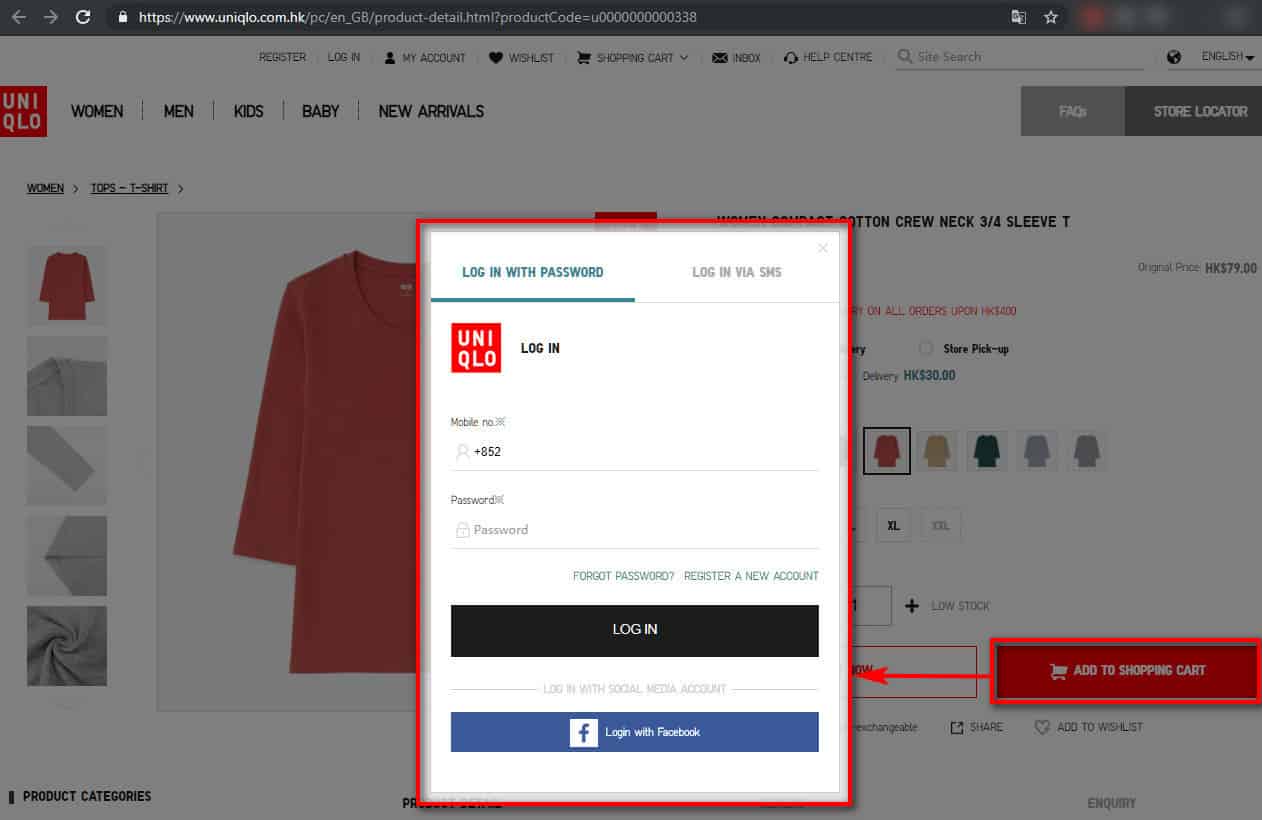 Uniqlo.com.hk forces users to log in when clicking 'ADD TO SHOPPING CART' or 'BUY NOW', creating a barrier to purchase
A simple solution to this problem is to allow users to check out as a guest. This means that they do not have to register for an account to check out. If desired, you still have the option of allowing users to create an account during the guest check-out process (for example, by asking them to create a password), once the initial entrance barrier is removed.
What to A/B Test: Implement a feature that allows your users to check out as a guest.
Metrics:
Conversion rate
Exit rate during check-out process
Bonus Tip: Get started with A/B Testing
What works for one site may not work for another. You should always use A/B testing when implementing any of the above conversion rate optimization tips. This will help you measure the impact of the change (did it really work?) as well as give you the opportunity to share and sell your results to other parties involved (why should I approve this change?).
Check if your CMS offers A/B testing functionalities, or take a look at these tools to help you get started:
This is Google's free and easy-to-use tool for running simple A/B tests on your website.
Great for existing users of the Adobe Marketing Cloud, Adobe Target helps you to test, optimize, and personalize your site.
Optimizely is an industry leader among optimization tools and offers highly targeted A/B testing functionalities.
Kameleoon offers full stack and client-side A/B testing along with a free starting plan.
It is important to go about website conversion optimization with an open mind. You may find that certain features that you thought were right for your site ended up hurting your conversion rate. Trial-and-error is a normal aspect of conversion rate optimization, which is why it is so important to use A/B testing to verify your ideas. Don't be afraid of "bad" ideas—there are none! Put yourself in your user's shoes, stay open-minded, keep experimenting, and in no time, you will find yourself with growing sales numbers.
If this article sparked your interest in conversion optimization, make sure to check out our article on designing user-friendly contact forms.
Do you need help with conversion rate optimization or want to learn what else we can do to improve your site?