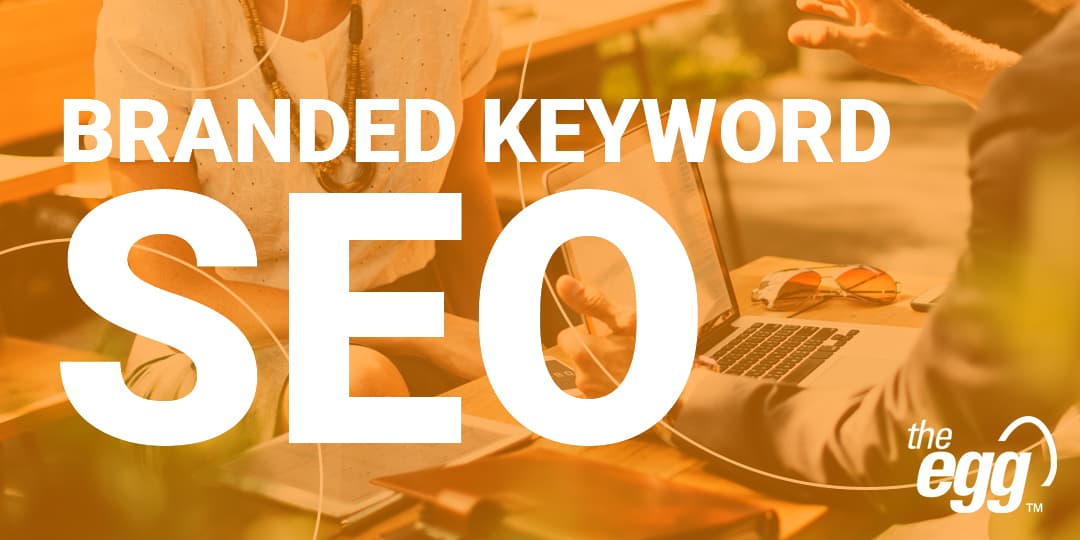 When doing SEO, people tend to optimize for keywords that do not contain their brand name.
This is understandable, because non-branded keywords—those that people would typically use to find your product or service—help reach new clients, customers, and users.
However, it is also beneficial to optimize for branded keywords, since these can be just as significant a traffic driver as non-branded.
In this article, we will explain what branded keywords are, the importance of optimizing for branded keywords, and tips for optimization.
What are branded keywords and non-branded keywords?
Branded keywords are search terms that contain a company's name. A straightforward example is the query "The Egg Company."
Branded keywords can also go from generic to long-tail—for example, terms like "The Egg Company blog" and "The Egg Company careers."
In addition to a company's name, names of other branded components can also be branded keywords. For example, "iPhone," "iPad," and "Mac" are branded keywords for Apple.
Non-branded keywords are search terms that do not include brand terms or names, such as the queries "SEO agency in Hong Kong" or "smartphone," "tablet," or "laptop."
Why is it important to optimize for branded keywords?
Depending on how established your company is, there are 2 reasons why optimizing for branded keywords is important:
If your business is well-established, then branded keywords should be your major source of organic traffic and conversions.
If your business is not yet well-established, then branded keywords are critical to establishing brand awareness and credibility.
When people type a brand name into a search engine, we call it a navigational search. A navigational search allows users to access results directly related to the brand terms searched. This type of search has higher conversation rates, because branded searches show greater search intention.
If your business is already well-established, then SEO (particularly branded keyword SEO) is the glue binding your other marketing strategies to your brand with helpful, supportive information online.
For example, when people see your billboard, TV ad, or newspaper ad, they are likely to search for more information about you online using your brand name, and well-optimized content for your branded keywords compels more users to convert.
If your business is new or not yet well-established, then you should also optimize your content for branded keywords to develop and manage your brand image.
For example, when people want to find detailed information to determine the trustworthiness of a brand, the first thing they do is search online. If they can't find relevant, quality content, will they trust that brand? The answer is most likely no.
Regardless of whether you are a small brand or a big one, branded keywords should be optimized to build awareness, manage image, and compel consumers to convert.
Branded Keyword Optimization Tip #1: Don't forget Google My Business
Often, when people talk about keyword optimization, they focus on just the 10 hyperlinks that appear on Google's search engine results page (SERP) but ignore the many other features appearing on the page.
However, when optimizing for branded keywords, there is a critical Google SERP feature that can't be missed: Google My Business, which is your company profile that appears when people search for your branded keywords.
For example, when we search "The Egg Company," our business profile appears on the top right of the SERP. The profile includes basic company information, including address, business hours, and phone number. Such information can be added and controlled in Google My Business.
Google My Business provides an efficient way for your customers to contact you after searching for your branded keywords. You can set up Google My Business via https://www.google.com/business/.
Branded Keyword Optimization Tip #2: Use hreflang so users can find you in their preferred language
If you are running a multinational company and your website has multiple versions in different countries and/or languages, you'll want to help searchers access your website in their preferred version—for example, a traditional Chinese website with content localized for Hong Kong people.
So, how can you optimize your website so that Google will show the preferred version? The answer is implementing hreflang, a tag attribute that specifies the language used on a specific webpage. Moreover, it can also tell Google which country the on-page content is localized for.
Hreflang is a line of code that should be included in the HTTP header. This is how it looks:
<link rel="alternate" href="http://example.com" hreflang="zh-hk" />
One language code and one region code can be input. In the example above, the hreflang attribute tells Google the webpage is in traditional Chinese and its content is localized for Hong Kong.
***
Optimizing for branded keywords is like harvesting low-hanging fruit. It requires comparatively less effort and resources to rank for branded keywords (as opposed to non-branded), but it can bring great value if you're well-optimized for them.
Want to optimize your content for your branded keywords?