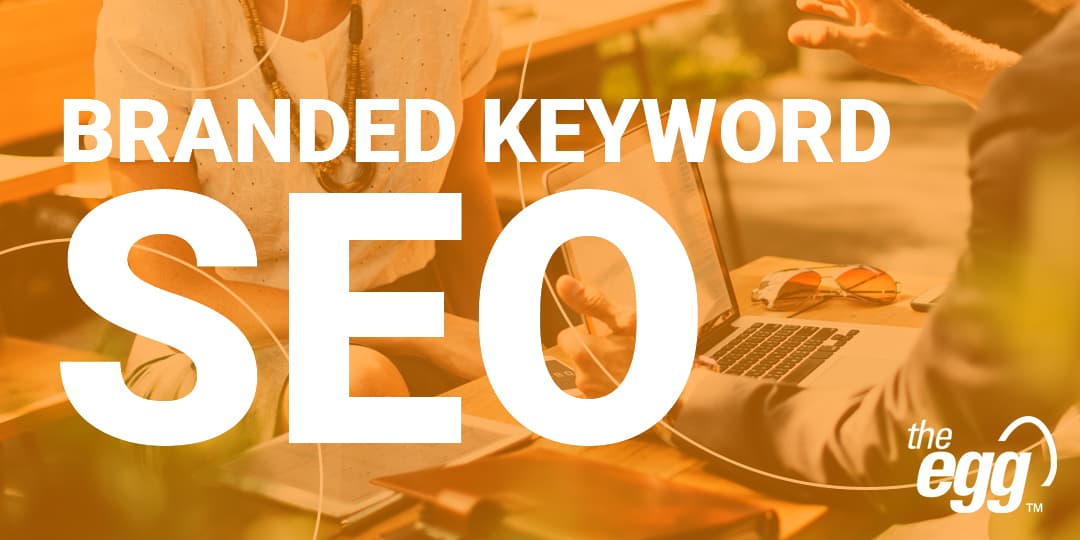 When doing SEO, people tend to optimize for keywords that do not contain their brand name.
This is understandable, because non-branded keywords—those that people would typically use to find your product or service—help reach new clients, customers, and users.
However, it is also beneficial to optimize for branded keywords, since these can be just as significant a traffic driver as non-branded.
In this article, we will explain what branded keywords are, the importance of optimizing for branded keywords, and tips for optimization.
What are branded keywords and non-branded keywords?
Branded keywords are search terms that contain a company's name. A straightforward example is the query "The Egg Company."
Branded keywords can also go from generic to long-tail—for example, terms like "The Egg Company blog" and "The Egg Company careers."
In addition to a company's name, names of other branded components can also be branded keywords. For example, "iPhone," "iPad," and "Mac" are branded keywords for Apple.
Non-branded keywords are search terms that do not include brand terms or names, such as the queries "SEO agency in Hong Kong" or "smartphone," "tablet," or "laptop."
Why is it important to optimize for branded keywords?
Depending on how established your company is, there are 2 reasons why optimizing for branded keywords is important:
If your business is well-established, then branded keywords should be your major source of organic traffic and conversions.
If your business is not yet well-established, then branded keywords are critical to establishing brand awareness and credibility.
When people type a brand name into a search engine, we call it a navigational search. A navigational search allows users to access results directly related to the brand terms searched. This type of search has higher conversation rates, because branded searches show greater search intention.
If your business is already well-established, then SEO (particularly branded keyword SEO) is the glue binding your other marketing strategies to your brand with helpful, supportive information online.
For example, when people see your billboard, TV ad, or newspaper ad, they are likely to search for more information about you online using your brand name, and well-optimized content for your branded keywords compels more users to convert.
If your business is new or not yet well-established, then you should also optimize your content for branded keywords to develop and manage your brand image.
For example, when people want to find detailed information to determine the trustworthiness of a brand, the first thing they do is search online. If they can't find relevant, quality content, will they trust that brand? The answer is most likely no.
Regardless of whether you are a small brand or a big one, branded keywords should be optimized to build awareness, manage image, and compel consumers to convert.
BRANDED KEYWORD OPTIMIZATION TIP #1: identify your brand keywords
Your first step toward mastering brand keywords optimization is gaining a thorough understanding of what are your branded keywords. It's natural to feel acquainted with the most obvious terms associated with your brand. However, you'd be amazed by the diverse range of keywords people input in search engines to discover you.
To gain deeper insight into your brand's unique keywords, you can use the following tools and approaches:
1.      Google Suggest
Start by typing your company's name into the Google search bar, but do not press enter. A list of related keywords uniquely tied to your brand will surface. These are not random suggestions, but keywords dictated by people's previous search behaviors.
Explore further by accompanying your brand name with any of the 26 letters. This will trigger Google to surface a list of keywords beginning with your brand name, followed by words or phrases that start with the selected letter. This approach ensures a wider range of branded keyword discovery linked directly to your business.
2.      Related Searches
Another source for branded keywords is "Related searches", located at the bottom of the Search Engine Results Page (SERP). Once you initiate a search for your brand name, take a moment to examine these related search terms.
Similar to Google Suggest, "Related searches" are actual search queries that have been typed by users. This can serve as a gold mine of keyword data, providing invaluable insight for how people search your brand.
3.      Google Search Console
Log onto your Google Search Console, go to Performance Report, and select "QUERIES". Here you will be able to find all the top keywords that have driven traffic to your website. Once you export the list, use filters to find all queries that include your brand name. Be aware – typos are a common plague in search queries, so it's recommended to use Regular Expressions (Regex) in your filter command.
4.      Google Alerts
Set up Google Alerts so you can be notified when your brand name is mentioned. It allows you to continuously monitor how the digital world is referencing your brand, products, and services.
WANT DIGITAL INSIGHTS STRAIGHT TO YOUR INBOX?
BRANDED KEYWORD OPTIMIZATION TIP #2: choose what branded keywords to target
With your branded keywords revealed, an important step is to discern which ones to target. Two circumstances are worthy of your special attention:
The Underperformers: Single out those branded keywords wherein your website fails to secure the #1 slot on the SERP. Craft high-quality, relevant content around these keywords. This association will give an inherent edge to your content, making it more likely to outrank other webpages vying for prominence with your brand keywords.
The Misfits: Inspect for instances where your content ranks #1 for a branded keyword but address inadequately or incorrectly the user's search intent. Your guide to spotting these anomalies is once again the Performance Report in Google Search Console. Scrutinize branded queries boasting high impressions but garnered low clicks, thus reflecting low Click Through Rates (CTR).
BRANDED KEYWORD OPTIMIZATION TIP #3: optimize your pages
Having chosen your target brand keywords, it's time to optimize your content. If you find your pages struggling to achieve #1 position for certain keywords, it's the green light for the creation of fresh, engaging content. Conversely, if your current content is ranking high but failing to address search intent correctly, adjust it to make sure that the page with the right intent ranks #1 for the keywords.
But remember, excellent content is only half of the battle won. Equally essential in branded keywords optimization are page speed and user experience. Picture a scenario where your website clinches the #1 spot for a brand term, only for the user experience to be marred by slow loading speeds. Such experiences will not only lead to a plummet in website visit but also risk tarnishing your brand image. Therefore, make sure your pages that rank for branded keywords are fast and provide good experience for users.
BRANDED KEYWORD OPTIMIZATION TIP #4: ANSWER QUESTIONS ABOUT YOUR BRAND
Occasionally, you may observe a 'People also ask' box among the search results for your brand name. Far from being an obstruction, it is a prime opportunity for you to gain insightful knowledge about what users ask about your brand and increase your real estate on the SERP.
Tap into each question and analyze whose answers Google deems the most trustworthy. This process uncovers opportunities for you to provide that much-coveted top-quality response in your own content.
Want to take it a notch higher? Construct a dedicated FAQ page or section in an ask-and-answer format on your site. This might induce Google to choose your website for the 'People also ask' feature, showcasing your brand authority and bolstering your visibility.
Branded Keyword Optimization Tip #5: Don't forget Google Business Profile
Often, when people talk about keyword optimization, they focus on just the 10 hyperlinks that appear on Google's search engine results page (SERP) but ignore the many other features appearing on the page.
However, when optimizing for branded keywords, there is a critical Google SERP feature that can't be missed: Google Business Profile, which is your company profile that appears when people search for your branded keywords.
For example, when we search "The Egg Company," our business profile appears on the top right of the SERP. The profile includes basic company information, including address, business hours, and phone number. Such information can be added and controlled in Google Business Profile.
Google Business Profile provides an efficient way for your customers to contact you after searching for your branded keywords. You can set up Google Business Profile via https://www.google.com/business/.
Branded Keyword Optimization Tip #6: Use hreflang so users can find you in their preferred language
If you are running a multinational company and your website has multiple versions in different countries and/or languages, you'll want to help searchers access your website in their preferred version—for example, a traditional Chinese website with content localized for Hong Kong people.
So, how can you optimize your website so that Google will show the preferred version? The answer is implementing hreflang, a tag attribute that specifies the language used on a specific webpage. Moreover, it can also tell Google which country the on-page content is localized for.
Hreflang is a line of code that should be included in the HTTP header. This is how it looks:
<link rel="alternate" href="http://example.com" hreflang="zh-hk" />
One language code and one region code can be input. In the example above, the hreflang attribute tells Google the webpage is in traditional Chinese and its content is localized for Hong Kong.
***
Optimizing for branded keywords is like harvesting low-hanging fruit. It requires comparatively less effort and resources to rank for branded keywords (as opposed to non-branded), but it can bring great value if you're well-optimized for them.
Want to optimize your content for your branded keywords?
Ready to maximize your digital marketing in Asia?