A Comprehensive Guide to Bing SEO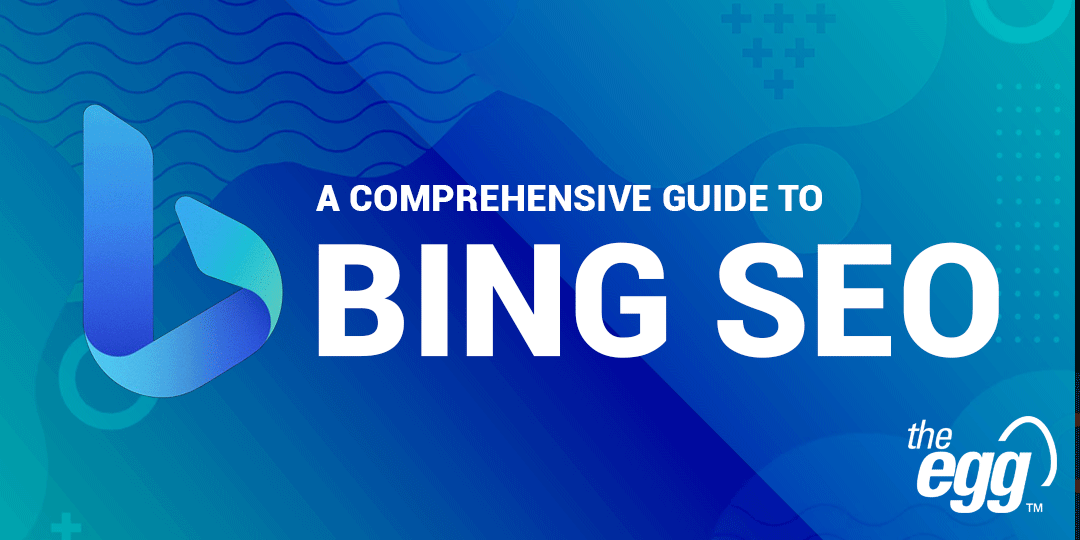 With Microsoft making significant strides to incorporate AI into Bing Search, it is becoming increasingly important for marketers to focus on and optimise for this search engine that's fast growing in popularity.
Learn more about Microsoft Bing and discover how you can optimise your site to rank higher organically on Bing Search.
A Comprehensive Guide to Bing SEO
Table of Contents
What is Microsoft Bing?
Launched in 2009, Bing is a search engine owned and operated by Microsoft that grew to become the second most popular search engine in the world.
Why do you need to optimise for Bing?
Optimising for Bing can help to increase your organic traffic and reach a wider audience.
While Google still holds a majority of the market share, Bing still holds a significant portion of the search engine market, especially if you include Yahoo, which is powered by Bing. According to Statista, Bing held 8.2% of the global search engine market in March 2023. While this may seem like a small number compared to Google's 85.5%, it still represents billions of monthly users and visits worldwide!
Furthermore, there is also a huge potential for Bing's user base to grow, especially with the hype surrounding its integration with AI since the start of 2023.
Ignoring Bing would mean a huge missed opportunity for marketers.
Is Bing SEO different from Google?
For the most part, optimising for both Bing and Google are the same as the fundamental principles of SEO still apply. There were key differences between the two search engines, such as how Bing prefers exact match keywords while Google is able to understand synonyms and semantically-similar phrases, and Bing placing more emphasis on social signals than Google.
However, the ranking algorithms and search results pages of both Bing and Google are constantly improving and changing, especially with the rapid advancement of AI, so it is difficult to pinpoint the exact differences in their current ranking systems.
How do I get Bing to crawl & index my content?
To get Bing to discover and index your content, you need to ensure that your website is accessible and properly optimised. Here are some steps you can take:
Create and submit your sitemap on the Bing Webmaster Tools Sitemap tool, and ensure that the sitemap is up-to-date by refreshing it at least once a day.
Make sure that your website has a clear and logical structure with clear text-based navigation menus and internal links.
Avoid orphan pages. All pages should have at least one other crawlable page linking to it.
If you want new updates on the site to be crawled and reflected quicker, use IndexNow API or Bing URL or Content Submission API. Alternatively, you may add the page to your sitemap or manually submit your updated URLs in Bing Webmaster Tools.
Your website should not have an excessive number of pages. Improve crawl efficiency by avoiding duplicate content and mobile-specific URLs, and using canonical tags for pages with the same content but different URLs (e.g. same URL but with different parameters).
Use redirects appropriately so Bingbot can discover your content. Pages that have moved to a new URL permanently should have a 301 redirect set up for at least 3 months. Temporary redirects for short durations (e.g. less than 1 day) can use a 302 redirect. Canonical tags cannot be used in place of redirects for content that has moved to a new location.
Increase crawl frequency and allow Bingbot to crawl your site deeply using Webmaster Tools' crawl control feature.
Besides returning a 404 http code, you can specify the pages that you wanthttps://www.bing.com/webmasters/help/crawl-control-55a30303 to remove from the search engine results page (SERP) using Bing Control Removal and Page Removal tools for quicker action.
While Bingbot can render JavaScript, there are limitations. Dynamic rendering is recommended instead.
Create and place robots.txt in your root directory so that Bingbot can skip crawling the less helpful content on your site.
How do I get Bing to understand my content?
Getting Bing to crawl your site is the first step. The next question is: how can you make sure that Bing understands your content so they can help you show up in the SERP for relevant queries?
Content
Always create content for users. Your web pages should contain high-quality, relevant, and engaging content that's easy for users to navigate and find the information they need. Here are some tips:
Conduct keyword research to find out what users are searching for and create content that answers their questions.
Pages should be rich in content – avoid thin content such as those that mainly shows ads and affiliate links, or redirects visitors to other sites quickly.
Do not plagiarise. Your content should be unique. If you wish to publish syndicated content, be sure to use either the canonical tag (rel="canonical") or alternate tag (rel="alternate") to indicate the source.
Optimise image and video content by ensuring they are in a supported format, are accessible, and include descriptive alt text, titles, file names, captions and/or subtitles.
Avoid placing your content in Flash or JavaScript as they are less discoverable.
Make your content accessible to all users. One tip is to listen to your content using a screen reader, not just to check that your content reads well, but also to ensure that alt texts are accurate and helpful, and to identify other issues like navigation and reading order.
HTML tags
Using the right title and headings can be helpful for both readers and search engines to make sense of the hierarchy of content. Ensure that your alt attributes and HTML elements such as <title>, <h1> to <h6>, <p>, <a href>, <meta name="description">, and <meta name="robots"> are accurate and descriptive.
Secondary content (CSS, JavaScript)
In your robots.txt, allow crawlers to crawl and access your CSS and JavaScript files. Blocking it can impact the rendering and indexing of content.
Microsoft Edge
Ensure that your pages load well and appear in Microsoft Edge browser without issues. Upon page load, searchable content should be visible and there should be no pop-ups.
Semantic markup
Tools like Schema.org, RDFa, and OpenGraph, allow you to indicate and specify information about your web pages, increasing your chances of appearing on the rich features of Bing SERP. You can use the URL Inspection tool to verify your schema markup.
Bing ranking factors: How do I get Bing to rank my content?
Algorithms are always changing and ranking improvements are not guaranteed. But search engines will always prefer high-quality content that's created for and helpful to users.
Our best bet to rank well is to continue applying the fundamental SEO best practices and optimise for all factors listed in the official Bing Webmaster Guidelines:
User engagement
Bing takes into account user engagement signals such as click-through rate, bounce rate, and dwell time. Even social signals (e.g. likes and shares) on social media platforms are taken into consideration, hence it's important to have a well-rounded marketing strategy that includes social media as well.
These factors help Bing determine how users interact with your website and content. Content with higher engagement will naturally rank better, hence you should always focus on creating compelling and relevant content that encourages users to stay on your site and explore further.
Relevance
Create content that matches the intent of your target audience. Conduct keyword research to understand the language and terms that your audience uses, and incorporate them throughout your page and in any anchor text pointing to your page. However, be careful not to overdo it to avoid getting penalised for keyword stuffing.
Bing has also evolved to understand semantically similar words, so synonyms and abbreviations are recognised as well.
Quality and credibility
When Bing evaluates the quality and credibility of a website, it takes into account the purpose of the site, usability, presentation, and factors that indicate authoritativeness. These factors include the reputation of the author and site, citations to credible data sources, completeness of content, and transparency of authorship.
Grow and maintain high-quality backlinks to your site and keep producing high-quality, well-researched content that showcases your expertise.
Freshness
Naturally, Bing prefers fresh content over outdated ones. Ensure the content on your pages are always up-to-date. There are exceptions, of course, for evergreen content. But there's no harm in doing a thorough review of your content at regular intervals to make sure the information is still accurate.
Location
Bing personalises the results you see on the SERP by taking into account location factors like the country and city the user is located in, the language of the page, where the page is hosted, and the location of other visitors to the page.
As an organisation, you should ensure your website has accurate local business information like address and contact details. Also, register your business with Bing Places for Business and optimise your listing to improve visibility in local search results.
Page load time
Slow page load times can affect ranking. Visitors may leave your website before the content has even loaded, which are indicators of poor user experience or unhelpful content, leading to poorer rankings.
Here are some best practices to improve your page load speed:
Optimise your CSS, JavaScript and HTML code by removing any unused code, and unnecessary characters, comments, and formatting
Use a compression tool to reduce the size of your CSS, HTML, and JavaScript files
Retain the quality of images but make sure they are not larger than they need to be and are in the right file format
Avoid and minimise the use of render-blocking JavaScript
Reduce redirects and avoid long redirect chains
Use browser caching so the browser does not have to reload the entire page for returning visitors
Improve server response time by fixing performance bottlenecks like slow database queries or a lack of adequate memory
Use a content distribution network (CDN) to distribute the load of delivering content so users have quicker and reliable access to your site
Improving the Bing search experience with additional features
Bing search has evolved over time and the SERP is increasingly rich with features that improve the search experience.
Here are some of the interesting Bing search features that you can aim to rank for:
Answers
Besides blue links, Bing may provide an answer to users' questions on the SERP itself. Answers to factual questions like "how long is the great wall of china" are straightforward. For other questions, Bing may look at multiple search results before returning a summarised answer, making sure to link to the information sources.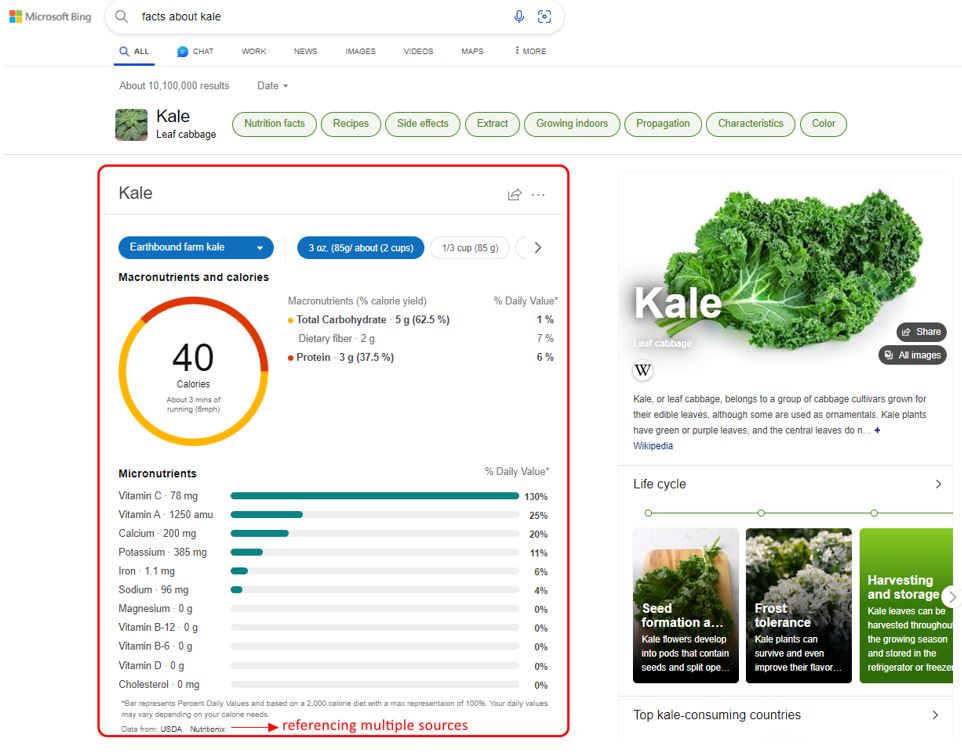 Users may also search for information about your business. Update your site to ensure it always reflects the most up-to-date and relevant information. Claim and verify your listings on Bing Places for Businesses. Note that Bing may also reference information from third-party content like review sites to enhance user experience.
WANT DIGITAL INSIGHTS STRAIGHT TO YOUR INBOX?
Maps
The Bing Maps function shows users a list of locations that are relevant to their query, or pinpoints a particular address. To show up in Bing Maps, businesses can register and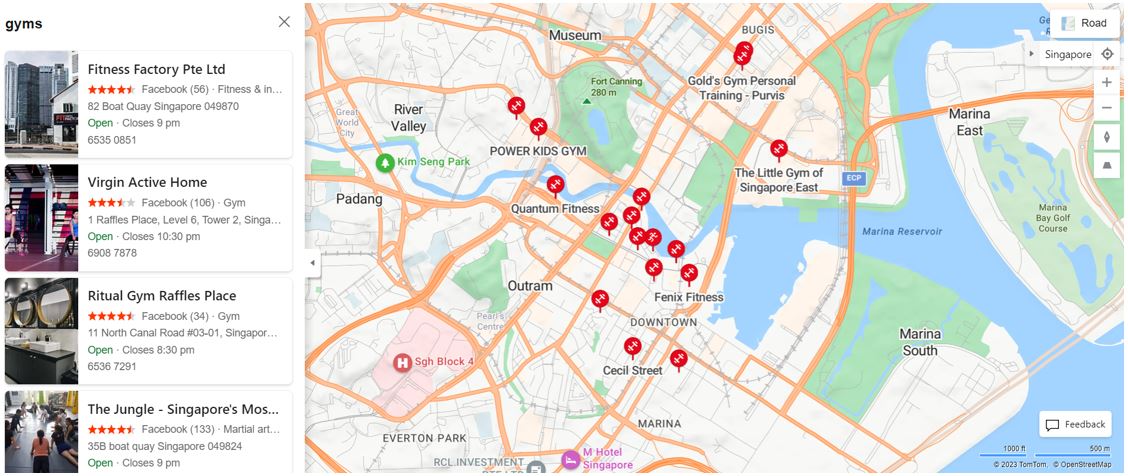 Images and Videos
Bing displays images and videos on both the main search results page, and in the image and video verticals. Ranking factors for images and videos are similar to other content (e.g. relevance and engagement), and businesses should follow the best practices like providing descriptive and accurate metadata.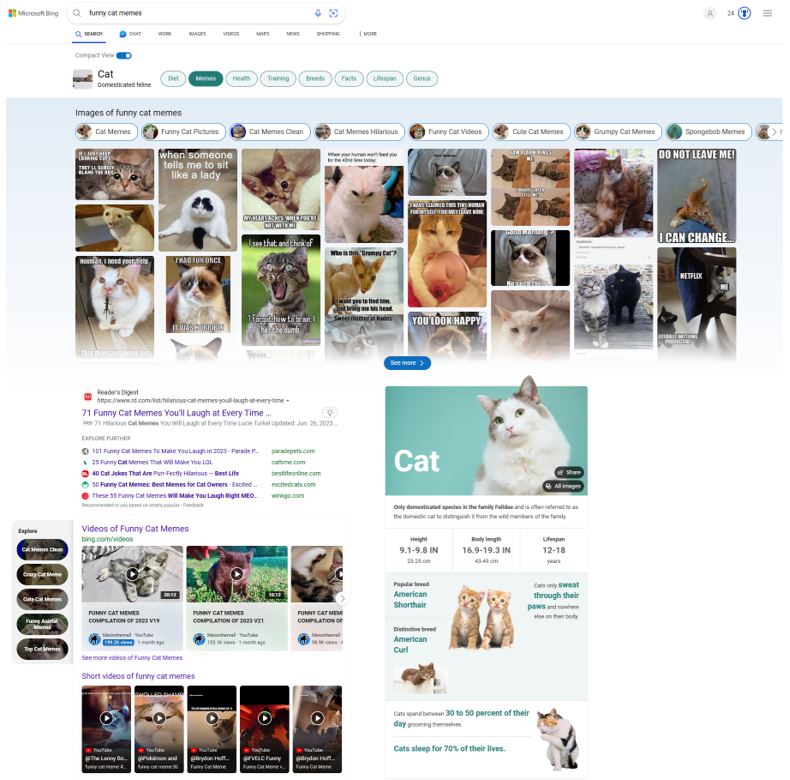 News
News may show up in both the main Bing SERP, as well as in the news vertical. Interestingly, Bing also has a dedicated news home page, Bing News, that has different news categories and a search feature where users can specifically search for news content. For content to appear in Bing news search results, it must follow the Bing News Publisher Guidelines in the Bing News Publication Hub.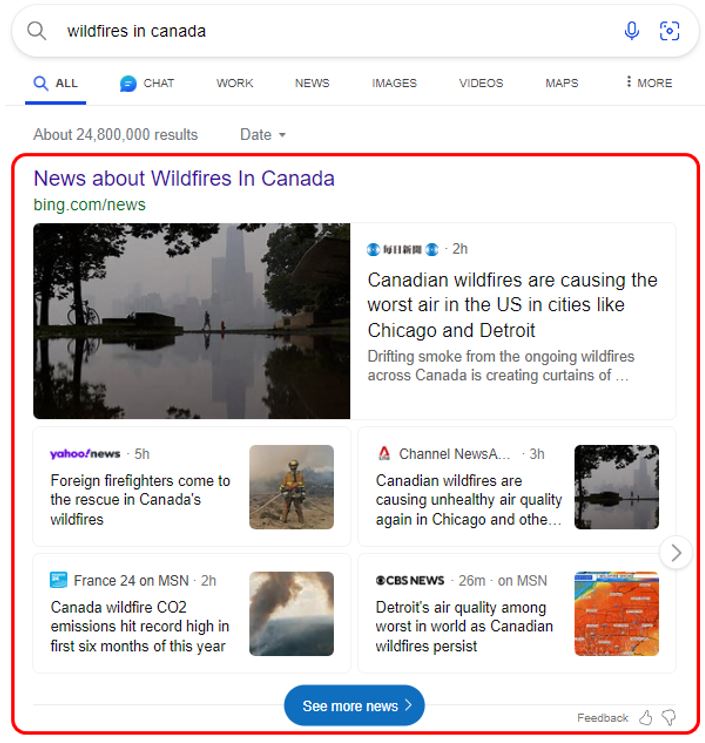 Shopping
To enhance shopper experience, Bing Shopping is a separate vertical with different filters available such as brands, prices, colours, and more. The products and ads that users see on the Shopping vertical may be personalised for users who consent to the collection and usage of personal data.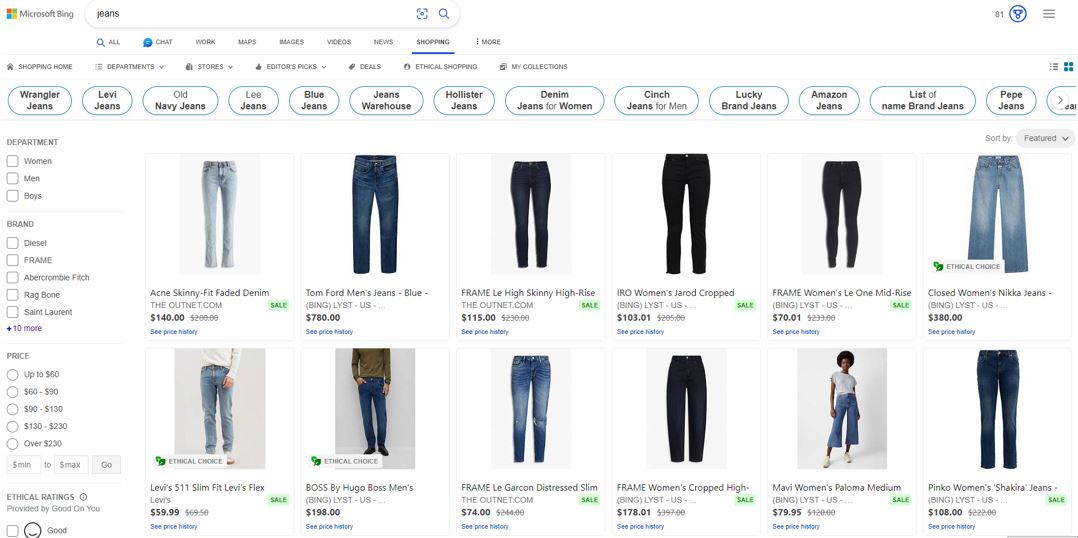 Ranking, however, does not solely follow the same 6 factors as other content, but may be influenced by payment from sellers who are participating in the Microsoft Shopping program.
Conversation Mode & Bing Image Creator
With the integration of GPT-4 into Bing, the new Bing now has additional SERP features like the conversation mode and image creator.
Based on the search query, Bing conversational mode will generate a coherent and relevant reply in natural language. To show up in conversation mode, optimise your content in a similar way as you would to rank on the main SERP.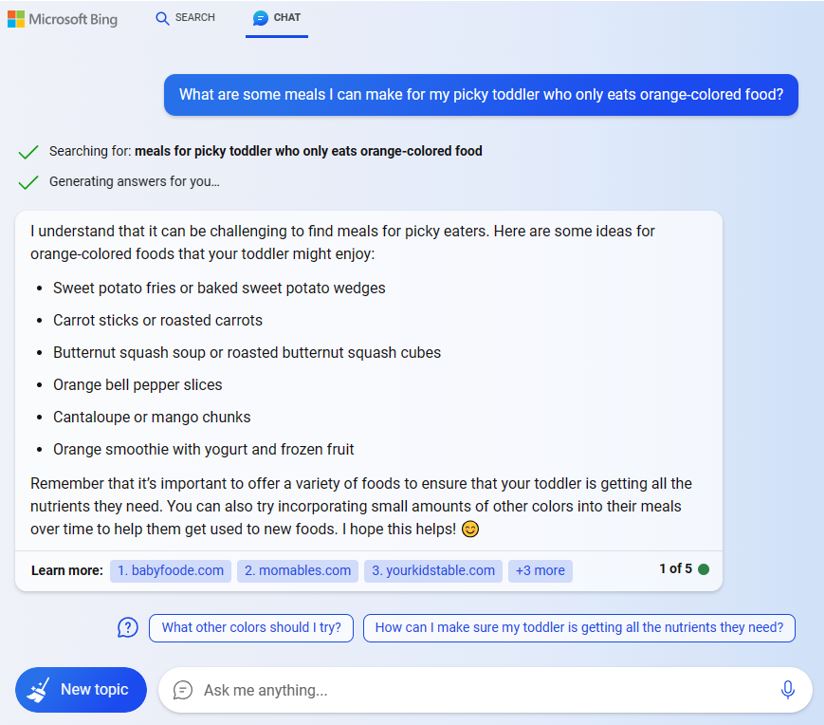 Bing Image Creator will generate an image that matches the user prompt.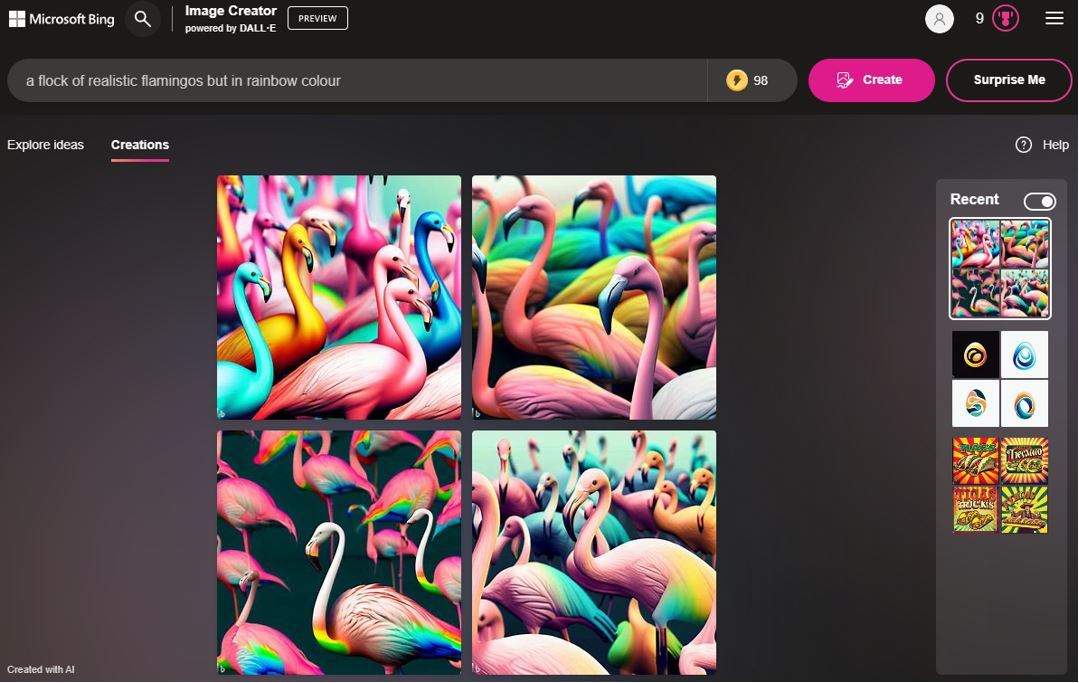 Resources for Bing marketers
Here are useful resources you can refer to when optimising for Bing and for a better understanding of how Bing works:
How can marketers approach SEO in the age of Bing Chat?
With Bing Chat, the way users search will change as well. An increased focus on long-tail keywords and adopting a conversational tone are just some of the things marketers may need to start taking note of.
As large language models (LLM), search engine algorithms, and other up-and-coming technology advances and evolves, it is crucial for marketers to keep up with changes in the industry and adapt their marketing strategies accordingly.
Ready to maximize your digital marketing in Asia?