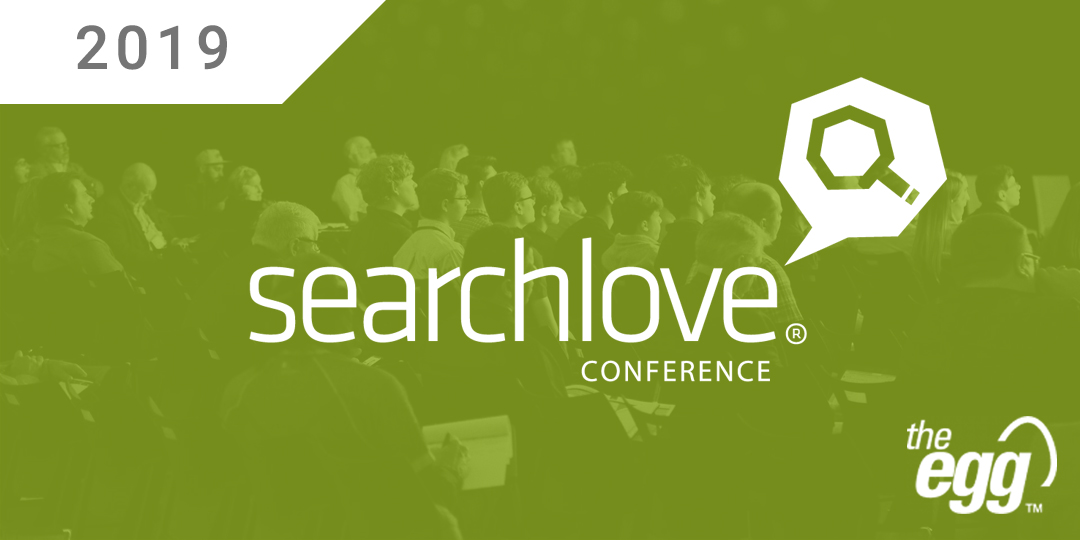 In October 2019, we attended SearchLove in London—an annual conference by Distilled that brings together practitioners in online marketing and search.
The 2-day event was packed with insider insights on key industry topics, from content and analysis to the latest developments and SEO tools.
We walked out with actionable tips, and we've put them together for you here: 5 learnings from SearchLove 2019 that you can implement today to improve your SEO.
SearchLove 2019 Takeaway 1: Rank on local search
Local Backlinks
If you want your site to rank on local search, chances are you've already thought of localizing your content. One thing you might have missed, however, is how backlinks are valued differently on local search.
At SearchLove 2019, Greg Gifford explained that links from other businesses in the local vicinity are more valued than links from non-local sites, even those with higher domain authority. So try to get backlinks from authoritative and relevant sites that are in your vicinity.
Knowledge Panel: Google My Business
Another way to gain more local visibility is by creating a Google My Business listing. A Google My Business listing shows up on the knowledge panel and Google Map when someone searches your business name or category.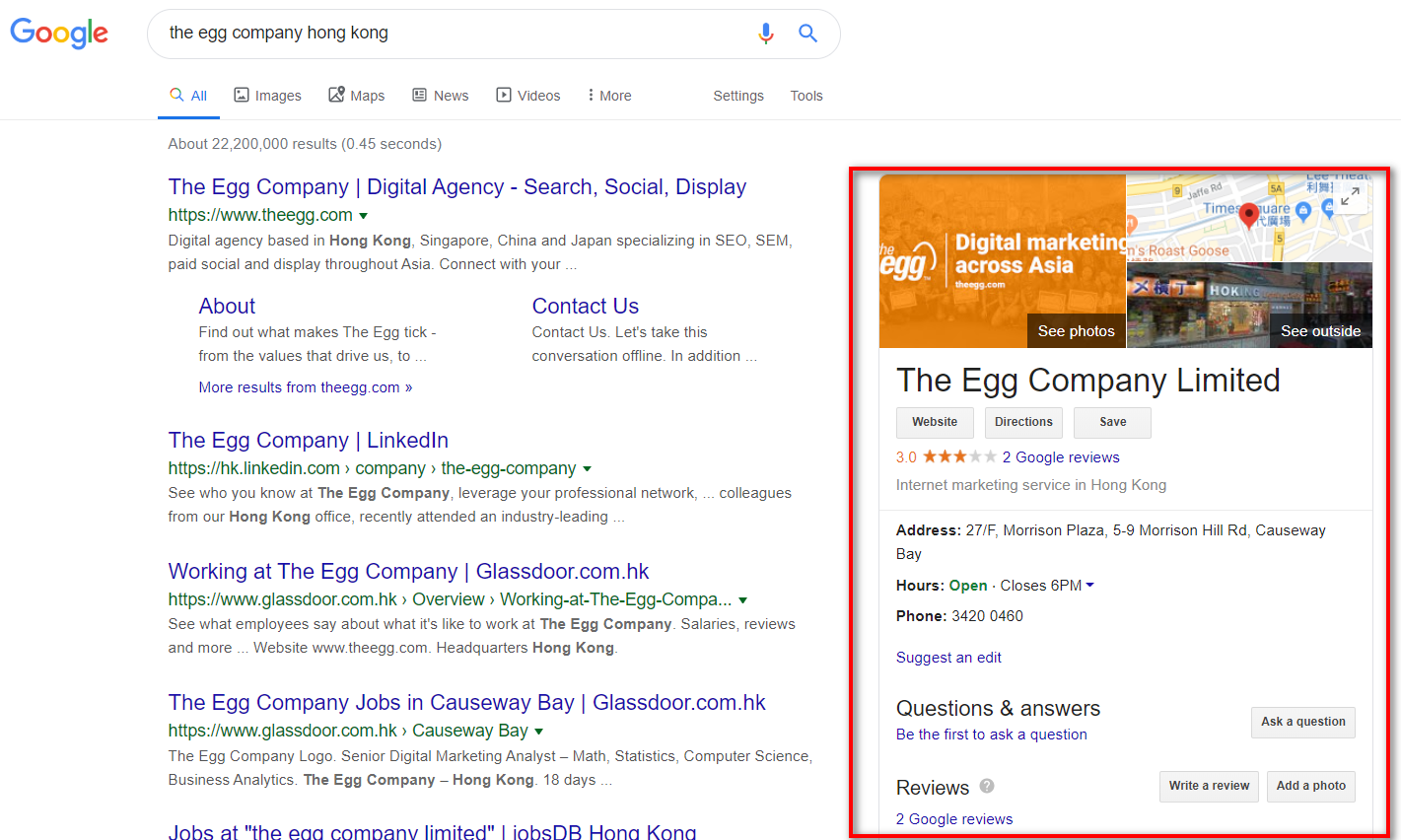 Google My Business Listing on the Knowledge Panel
Google My Business aggregates reviews from Google and other third-party sites. You can check which sites Google pulls reviews from and encourage your customers to leave reviews on those sites and/or directly on Google.
Knowledge Panel: Q&A
Additionally, you can target to get Q&As for your business and/or service on the knowledge panel.
Essentially, anyone can ask and answer questions about your business. The Q&A that gets the most upvotes will appear on the knowledge panel.
Given this, you can create FAQs about your business/service and upvote your answers so that your official response shows up as the preferred answer on the Knowledge Panel, thus giving you more visibility on the SERP.
SearchLove 2019 Takeaway 2: Optimize conversion rates from existing traffic
Luke Carthy suggested that there's a missed opportunity in not satisfying user needs from existing traffic.
Let's use e-commerce as an example. How many people visit an e-commerce site but cannot find what they're looking for? This is where custom crawl comes in.
Tools like DeepCrawl, Sitebulb, and Screaming Frog allow you to crawl and extract status-200 URLs that your site creates when someone searches or filters to an empty result.
Upon finding these no-result pages, group the search terms that appear on the URL parameter to gauge common searches that are not part of your product offering. You can then think of how to improve user experience by suggesting other products.
Crawling competitor's sites can give you some idea of what to suggest to your customer. For instance:
Are the recommended products an alternative or a complement to the main product?
Are the recommended products priced higher or lower than the main product?
SearchLove 2019 Takeaway 3: Optimize keywords for ranking
We all want to rank for our target keywords. However, while compiling a list of target keywords, more is not always better.
Dr. Pete Myers emphasized that Google understands semantic variations, for instance, word forms (playing vs play), plural vs singular, and misspellings. Therefore, you don't need to include all of your keyword variations to target them.
So, how should you optimize content for your target keywords?
Several speakers suggested that marketers should optimize based on user intent. Search intent is typically categorized into 3 buckets:
Navigational
Informational
Transactional
Stacey Mcnaught suggested breaking these categories down to a more granular level by observing the SERP. For example:
Informational search: Are users looking for a simple fact, an educational piece to solve a problem, or a solution comparison?
Navigational search: Are users looking to visit a website or a physical place?
These observations can guide you to create content that matches user intent. For instance, if a user is performing an informational search, you shouldn't target the keyword using a transactional product page.
Certain search intents also generate certain universal search results. Informational searches generally generate the Featured Snippet and People Also Ask, while a navigational search for an in-person visit generally triggers a Knowledge Panel.
Knowing these differences enables you to create content that best serves user intent, hence increasing your possibility of ranking.
SearchLove 2019 Takeaway 4: Create a user-centric site
One way to create a user-centric site is to get input straight from end-users themselves. You don't need to interview hundreds of users. You only need to interview enough people to hit a saturation point, which is when answers start to repeat, and you cannot find new patterns. Even interviewing just 5 will give you more information than interviewing none at all.
Sarah Gurbach gave some steps to carry out insightful and actionable qualitative research:
Define your objective.
Ask open-ended questions, such as what information would have been helpful but was missing? Asking for negative reviews usually requires people to think more about their answer.
Observe and let users talk you through how they search and navigate your site. Tools like Validately, UserTesting, and Userzoom can help.
Quantify hypotheses discovered through qualitative research: e.g., search volume, PPC data, and conversion data.
SearchLove 2019 Takeaway 5: Improve the EAT of your content
Google algorithms are continuously striving to improve search results by ranking sites with high expertise, authority, and trust (EAT). This holds even greater importance for content that affects someone's health or financial well-being.
Below are some tips to improve your EAT components according to Marie Haynes:
Display contact information and policies that concern users clearly (e.g., return policy, refund instructions, etc.). This means placing the information above the fold or having clear navigation that leads to such information.
Cite sources for your claims, and your content shouldn't contradict any scientific consensus.
Leverage on authors to build authority, for instance by getting backlinks to them from high authority sites.
***
There are many more insights we learned from the jam-packed 2-day conference. But we hope these 5 actionable tips are useful to give you a head start on improving your SEO.
Need help selecting and prioritizing SEO tactics to implement on your site?