3 Reasons Why Your Old Content Needs a Refresh (And how to Update Them)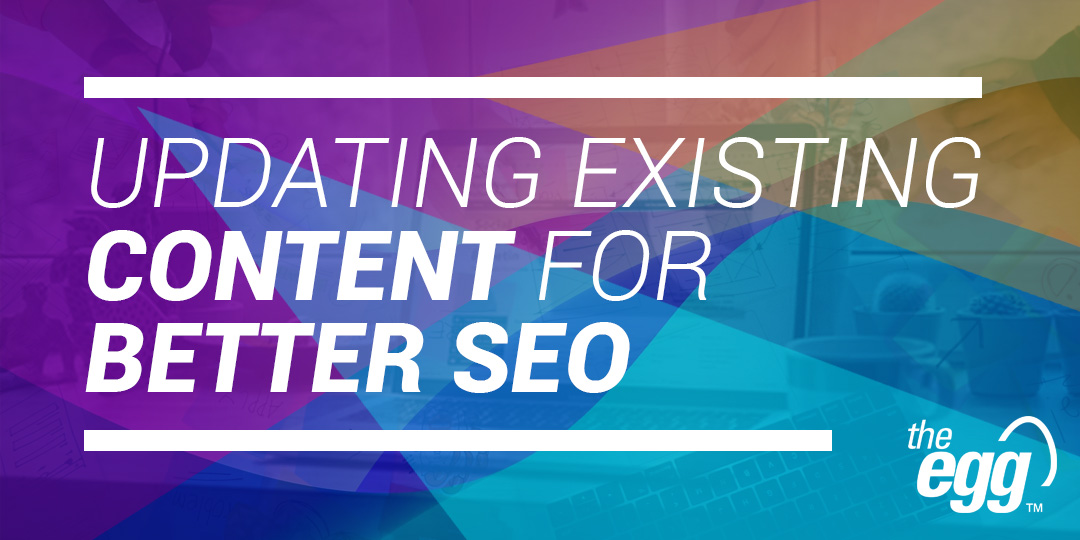 Content is one of the main pillars of digital marketing success: Its significance in brand awareness and lead generation is what makes content marketing paramount to the inbound marketing strategies of so many companies today.
And while many teams focus on pumping out new content, you mustn't overlook the positive effect optimizing your existing content can have on your SEO and the overall content maturity of your website.
After all, chances are you have a clutter of old content on your site—like news articles, blogs, case studies, listicles, etc.—that you haven't updated in a while since they were published. In that timeframe, however, your target audience (and not to mention Google's crawler) have likely visited those pages—if outdated and unoptimized, they may be hurting your potential to rank higher on Google.
Here, discover three key reasons why you should be updating your content regularly, and how to execute effective content maintenance on your website.
Why should you update your content?
Reason #1: Maximize Your Content Reach
Consistent high-quality content creation can be hard work and time-consuming for many companies, large or small. For sizeable or multinational companies, content creation might involve multiple departments and be quite bureaucratic from ideation to publication, sometimes including additional back-and-forth editing and compliance checks on top of keyword research and content writing.
By contrast, smaller teams may find themselves short-handed and short on time to produce content that can compete with more popular blogs in their niche.
Making updates to your existing content, on the other hand, takes less work than creating something from scratch and increases the effectiveness of your SEO efforts and, in turn, your search ranking potential.
Reason #2: Keep Your SEO Up-to-Date
We live in a rapidly changing world—but on the Internet, things change even faster. This is certainly the case with keyword search volumes, which can sway volatilely depending on user interest and trends over time. Thus, you should update keywords in your existing content to ensure they are relevant to be able to attract valuable traffic.
It's critical to remember that alongside quality, "freshness" of content is also one way Google's algorithm evaluates whether to rank your site higher on its SERPs.
Let's say you run a fashion blog website and posted an article in 2020 titled "The Most Fashionable Items of 2020", which was a big hit. Now, fast forward to 2022. Do you think its popularity as a now-dated piece of content would carry over to today? Unless your content is evergreen (i.e., continually relevant for readers over a long period of time), then probably not.
To ensure your content does not become irrelevant, you should regularly optimize your headlines, images, and main body with the latest news, facts, and figures wherever appropriate. Don't forget to also update your backlinks: Linking to reliable and up-to-date sites can pass "freshness" to your site.
Similarly, updating the metadata (like header tags) and meta description of your old webpages changes the way they show up as Google search results, which in turn can increase your click-through rate (CTR). A prime example of this is to do with the publish date: If the date shown on your search result is more recent, it leaves a much better impression on audiences than if it is from several years ago.
Reason #3: Another Chance at Accuracy
Although we advise always running accuracy checks before publishing content, careless mistakes relating to grammar or typos may still arise—we're human after all. But in most cases, mistakes—no matter how minor—can affect the user experience and, sometimes, result in negative perceptions of your brand. In turn, users may shy away from staying on or revisiting your webpages.
Thus, optimizing your old content is another chance at accuracy: You can recheck for any spelling or grammatical errors in your content, as well as in your page metadata and meta descriptions.
WANT DIGITAL INSIGHTS STRAIGHT TO YOUR INBOX?
How to update your existing content?
Step 1: Choose the Right Pages to Update
Selecting appropriate pages to update is the first (and most crucial) step in your content maintenance strategy to ensure the effectiveness of your efforts at the very outset.
Here are some types of pages you might consider updating:
Already-Ranking Content: These pages used to perform well before but have since seen their traffic and search ranking drop from their previous highs. Since they have ranked well before, taking them back to the top of search results would be easier than doing the same for content that wasn't popular in the first place.
High Traffic, Low-Converting Pages: These are pages with the potential to generate more leads once their contents are optimized to encourage a user action, like a signup.
Low Traffic, High-Converting Pages: These are pages with the potential to generate more leads once their contents are optimized with high-ranking, low-competition keywords to attract traffic. Similarly, you could focus on updating pages that rank decently for several different keywords but not favorably for any particular one.
Step 2: Conduct New Keyword Research
As mentioned, the popularity of keywords can change over time, and a keyword or phrase that was popular before might not boast the same search volume today. Therefore, when updating existing content, another round of keyword research is critical for better understanding your users' current interests and habits.
Doing so also lets you add additional keywords (including secondary keyword opportunities) that you might have missed before but boast high traffic potential.
Step 3: Updating the Content
The final step is to update the actual content. A good practice is to keep tabs on what your SERP competitors are doing and try to one-up their content.
While reviewing your existing content, analyze what can be improved to make it more up-to-date and comprehensive. This can include:
Adding in new research or data to make your content more credible. Similarly, you can replace existing visuals (feature images, graphs, tables, etc.) with newer ones that complement your newly gathered information.
Checking for broken links in your content
Linking to new posts from your old content where appropriate to bolster internal linking
Reviewing your grammar, spelling, and writing
Using the fashion blog example, it would be a good idea to update the article "The Most Fashionable Items of 2020" in a couple areas. For instance, you could rewrite the headline to reflect the latest trends of the current year, say "The Most Fashionable Items of 2022", which will cater to long-tail keyword searches where people specifically look for this year's content.
Within the body text itself, you could remove some of the fading fashion items from 2020 with newer ones that are hot in 2022. After all, fashion blog readers are more likely to be interested in what's trending to feel inspired.
***
Ultimately, updating your existing content forms only part of your blogging strategy: It's still crucial to maintain a two-pronged approach and post fresh content regularly to draw in more audiences and outpace your competitors.
Ready to maximize your digital marketing in Asia?