Google Ads in 2022: Boost YouTube Conversions with Video Action Campaigns
YouTube's rise to video behemoth has seen it evolve into a key entertainment hub that inspires action—whether that's users searching how-to tutorials, connecting with other viewers, or discovering their next purchase.
But as customer journeys become more complex, overcoming information overload and shrinking attention spans has never been more critical for brands in the advertising space.
To help brands engage with this highly captive audience, Google evolved and scaled the best features of its direct response video solution, TrueView for action, to more places—both on and off YouTube—with Video action campaigns. And starting early 2022, all existing TrueView for action campaigns will automatically upgrade to Video action campaigns.
Here, to prepare for the upgrade, let's explore how Video action campaigns work so that you can boost conversions and improve your campaign performance.
What are Video Action Campaigns?
With longer headlines to articulate your brand, Google's Video action campaigns are highly influential for driving conversions across YouTube's high-traffic ecosystem, including its home feed, watch page, watch next feed, and Google video partners.
In fact, according to Google, Video action campaigns can drive 20% more conversions (per dollar) compared to TrueView for action, making it a cost-effective solution for most advertising budgets.
In particular, video action campaigns are ideal if:
You want to use video to drive action (I.e., conversions) for your business, product, or service.
You're looking to increase campaign scale and efficiency or improve its cost-per-action (CPA).
You already use conversion tracking in your campaigns.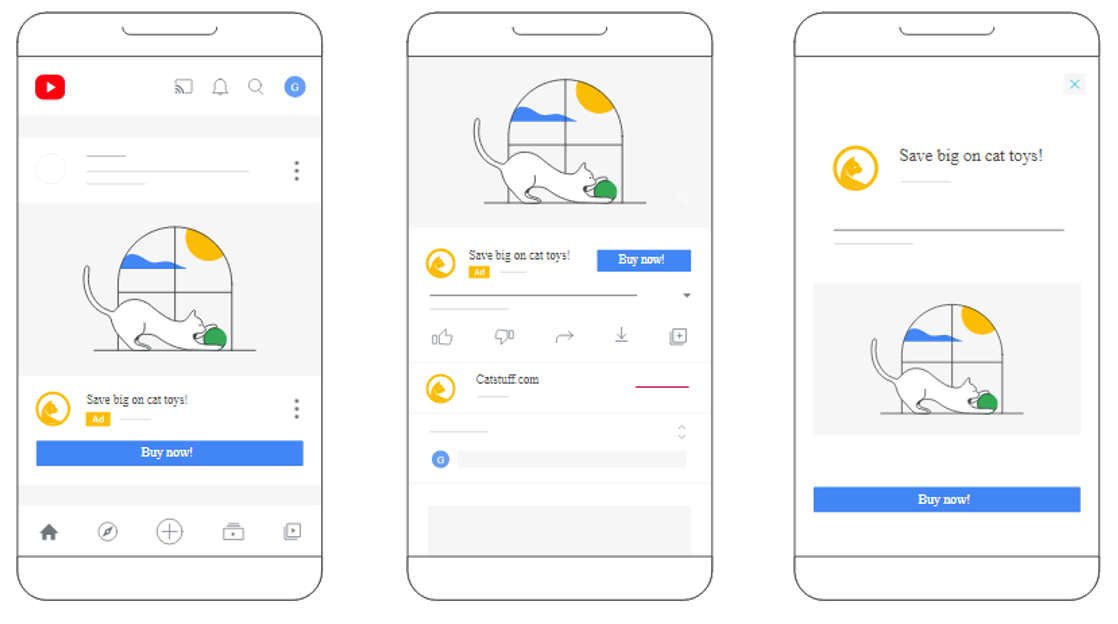 Video Action Campaigns: Ad Headlines on YouTube's home feed (left), watch page (middle), and Google Video Partners
To get started, head over to Campaign Setup on your Google Ads account and create Video action campaigns using the responsive ad group type.
Ads don't need to be created from scratch either. You can use Google Ads' new copy and paste feature to copy your existing TrueView for action ads—which will run until only early next year—and paste them as Video action campaign ads.
Check out Google's guidelines and requirements to learn more about creating a Video action campaign.
How do Video Action Campaigns work?
Video action campaigns use the skippable in-stream and video discovery ad formats, where ads can use a call-to-action (CTA), headline (both short and long), and a description in the creative.
Important note: The video you include in your Video action campaign should be at least 10 seconds long.

Video discovery ads (left) and skippable in-stream ads (right)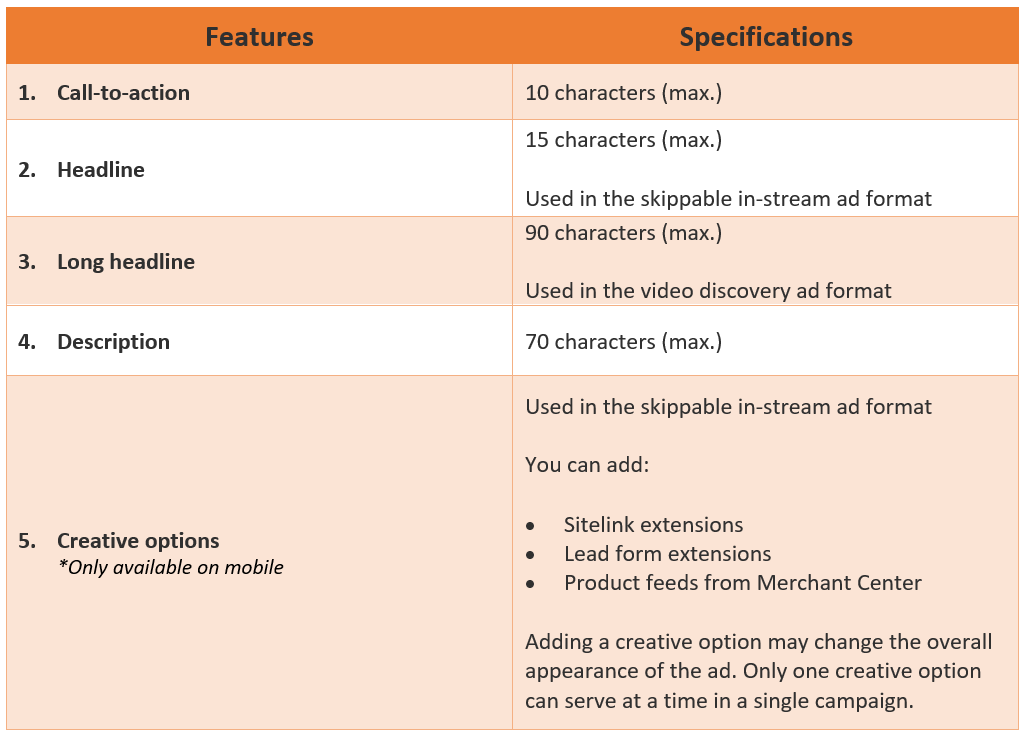 Video action campaigns: Ad features and specifications
In addition to these features, you can add extensions like sitelinks, lead forms, or product feeds to your campaign to draw customers deeper into your conversion funnels.
Note that some advertising options aren't supported on both ad formats included in Video action campaigns. Contextual targeting, for instance, is supported for in-stream ads but not for video discovery ads that appear on YouTube's home feed.
3 Key Benefits of Video Action Campaigns
1.     Greater brand exposure
Video action campaigns help drive more conversions with lower CPAs while expanding campaigns to run on more places both on and off YouTube.
2.     Reach more potential customers
Regardless of your audience targeting, the combined inventory from YouTube's ecosystem (home feed, watch pages, etc.) means that you can scale your campaign without the hassle of setting bids and budgets per inventory source.
3.     Optimized audience targeting with machine learning
Video action campaigns are propelled by Google's advanced machine learning capabilities. This means your ads will be uniquely served where they'll perform best—whether that's when your customers are scrolling their home feed or watching their favorite video creators.
***
By early 2022, Video action campaigns will replace TrueView action campaigns as Google's direct response video solution.
So, to stay ahead and continue driving conversions during this transition and beyond, you should set up and optimize your Video action campaigns early on to get the most out of your advertising spend.
Ready to maximize your global paid media strategies?