Facebook Removes Thousands of Detailed Targeting Options: Here's What You Can do About it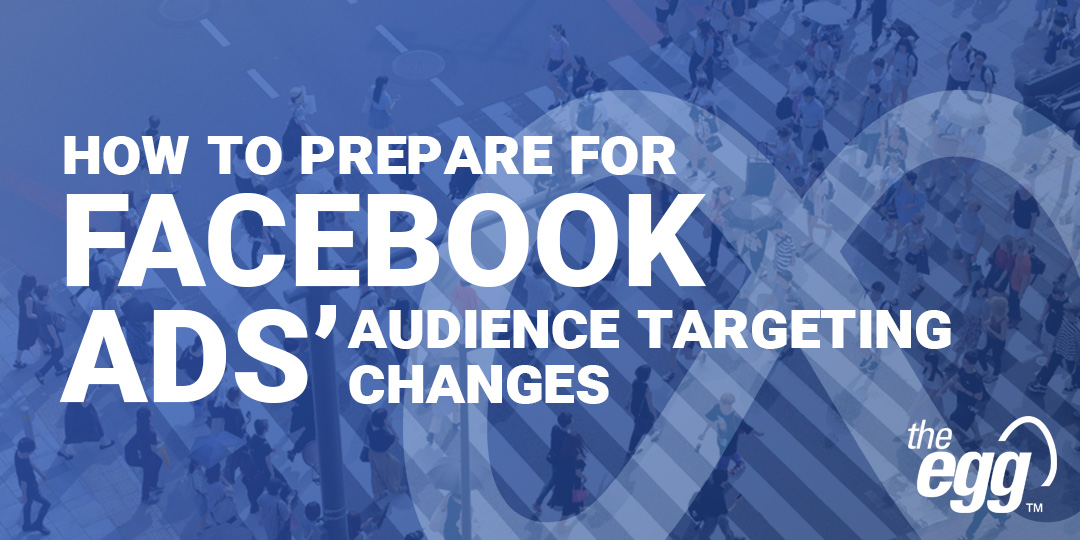 In January 2022, Facebook—now called Meta—removed thousands of detailed targeting options that related to topics some people may deem sensitive, including labels referencing health, ethnic affinity, political affiliation, religion, or sexual orientation. For example:
"Lung cancer awareness" (referencing health causes)
"LGBT culture" (referencing sexual orientation)
"Jewish holidays" (referencing religious practices and groups)
Detailed targeting is a function located within the Audience section of Facebook ads that lets you filter the groups of users that Facebook shows your ads to.
However, to align with ever-evolving personal data regulations, Facebook has decided to remove targeting options surrounding sensitive subjects to avoid potential issues with underrepresented groups in the future. This decision also comes at a time of pressure piling on Facebook from civil rights experts and policymakers to better match evolving expectations of how advertisers reach users on the platform.
In this article, learn how Facebook's update might affect you and explore four alternate ways to target ads surrounding sensitive subjects to Facebook users.
Facebook's Removal of Detailed Targeting Options: Does it Matter to you?
Since most of the detailed targeting options that Facebook removed relate to health causes, political beliefs, religious faiths, race, and sexual orientation, it probably has a limited impact on most businesses. But if your company has incorporated any of these topics into its brand messaging or creatives, the update could affect how you target your audience.
In particular, it will likely affect how social care companies—like charities, non-profit organizations, and allied health services—with low marketing budgets address the social issues that are critical to raising awareness in their field.
So, if this applies to you, what Facebook targeting tools can you use instead?
How Else Can You Target Facebook Users?
Facebook said it remained "committed to helping small businesses, non-profits, and advocacy groups reach their audiences" and has recommended the following targeting options for advertisers to continue maintaining their ad performance on the platform.
And although these tactics might not fully compensate for the targeting flexibility and scope offered by the now-deleted targeting options for sensitive topics, they will at least help your campaign continue running. If you're an experienced advertiser, you might already be deploying these tactics in your Facebook ads strategy!
Facebook's Engagement Custom Audiences
Facebook's Engagement Custom Audiences option lets you target ads to people who previously engaged with your brand with actions that Facebook uses to gauge interest in your brand, including:
Users who have spent time watching your videos on Facebook
Users who have opened or completed a form in your lead ads
Users who have opened your Canvas on Facebook
Users who have interacted—e.g., liked, commented, or clicked on links—on your Facebook page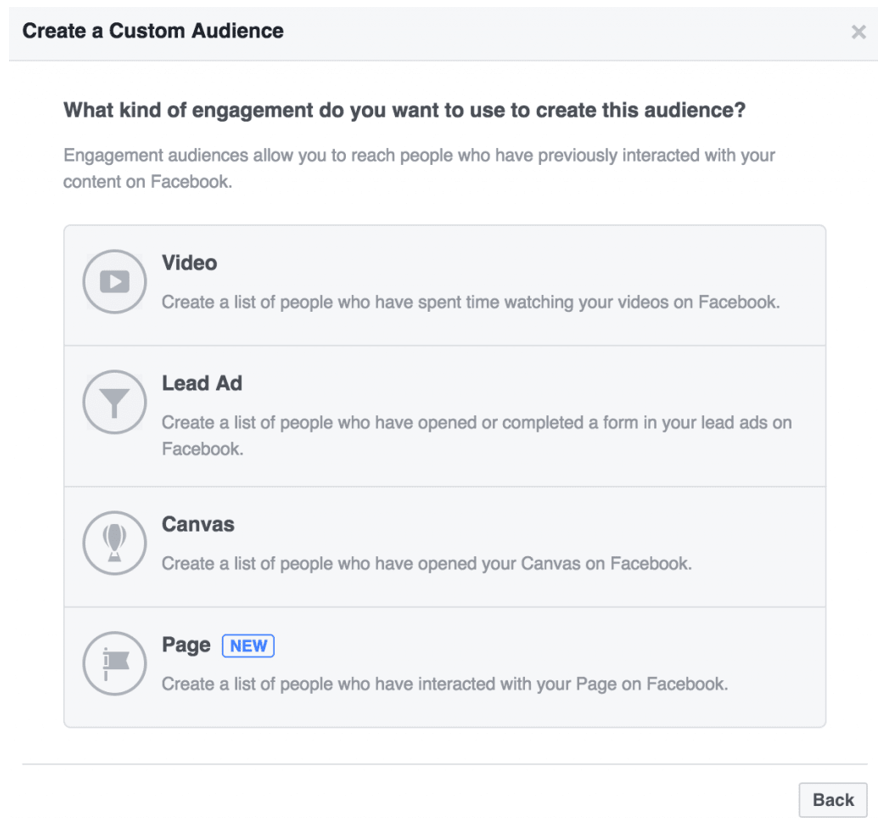 Facebook advertisers can target users who previously engaged with their brand via Engagement Custom Audiences
Facebook's Lookalike Audiences
Creating Lookalike Audiences lets you reach new Facebook users who share similar demographics, behaviors, and interests as your current audience and are, therefore, likely to respond to your ads. To do so, you'll need to create a source audience—for example, your Custom Audience (including Engagement Custom Audience)—who you feel best characterizes your target market for Facebook to start serving your ads to them.
When creating your Lookalike Audience, you can also select how closely you want your Lookalike Audience to match your Custom Audience—the bigger the range, the broader your audience.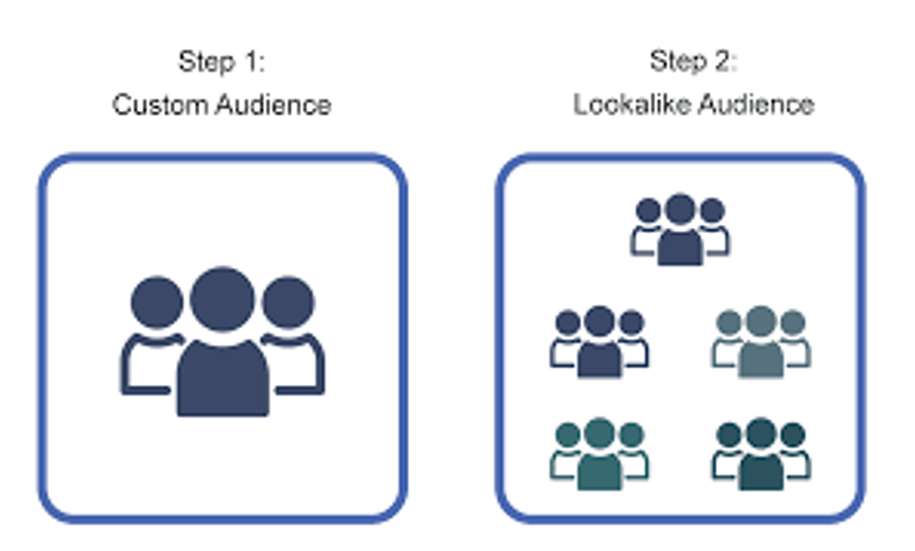 If you have a Custom Audience, you can target similar Facebook users who would likely be interested in your brand with Lookalike Audiences
Facebook's Website Custom Audiences
Facebook's Website Custom Audiences is a targeting option that matches your site visitors with users on Facebook using the Facebook pixel—a piece of code that collects Facebook ads conversion-tracking data on your site.
Since it lets you track what actions users took when they visited your website or specific webpages, you can create and optimize ads to retarget any group of visitors with targeted Facebook ads. And just like with Engagement Custom Audiences, you can select your Website Custom Audience as your source audience when utilizing Facebook's Lookalike Audiences.
For example, you could run a remarketing campaign to reach users who visited your website in the last 30 days or visited a product page without completing a purchase and encourage them to return to your website when they have higher intent to do so.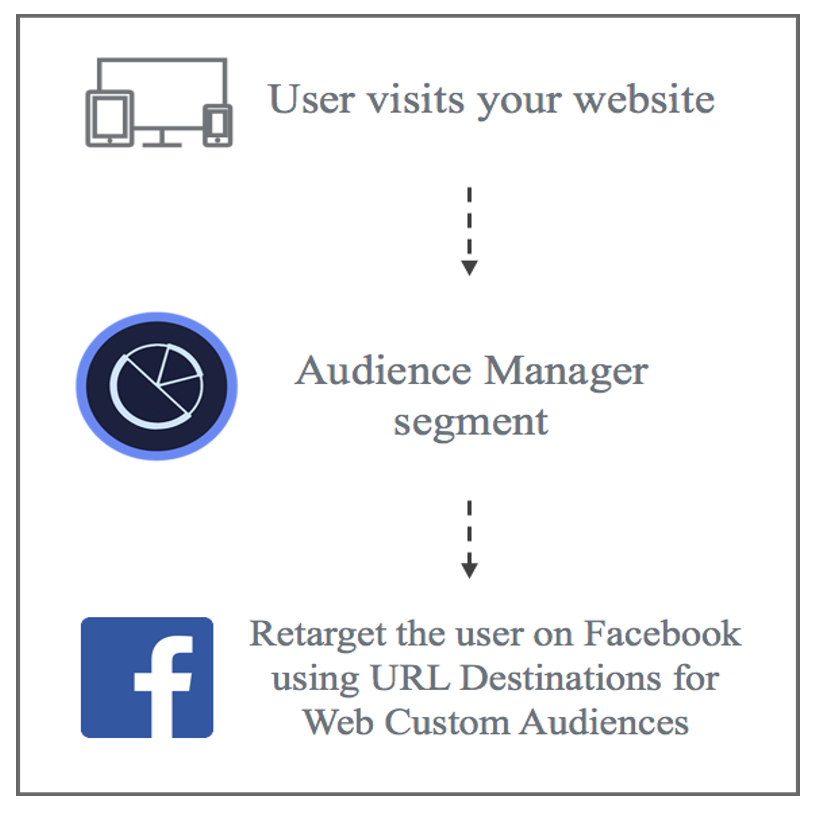 How Facebook ads retarget users via Website Custom Audiences
Facebook's Location Targeting
Facebook's location targeting lets you target users based on their city, community, or country and is widely used by brick-and-mortar businesses to reach potential customers within their proximity.
Similarly, if you run an online store, you can target Facebook users who live within your delivery area and, in turn, avoid wasting your budget serving ads to users outside this range.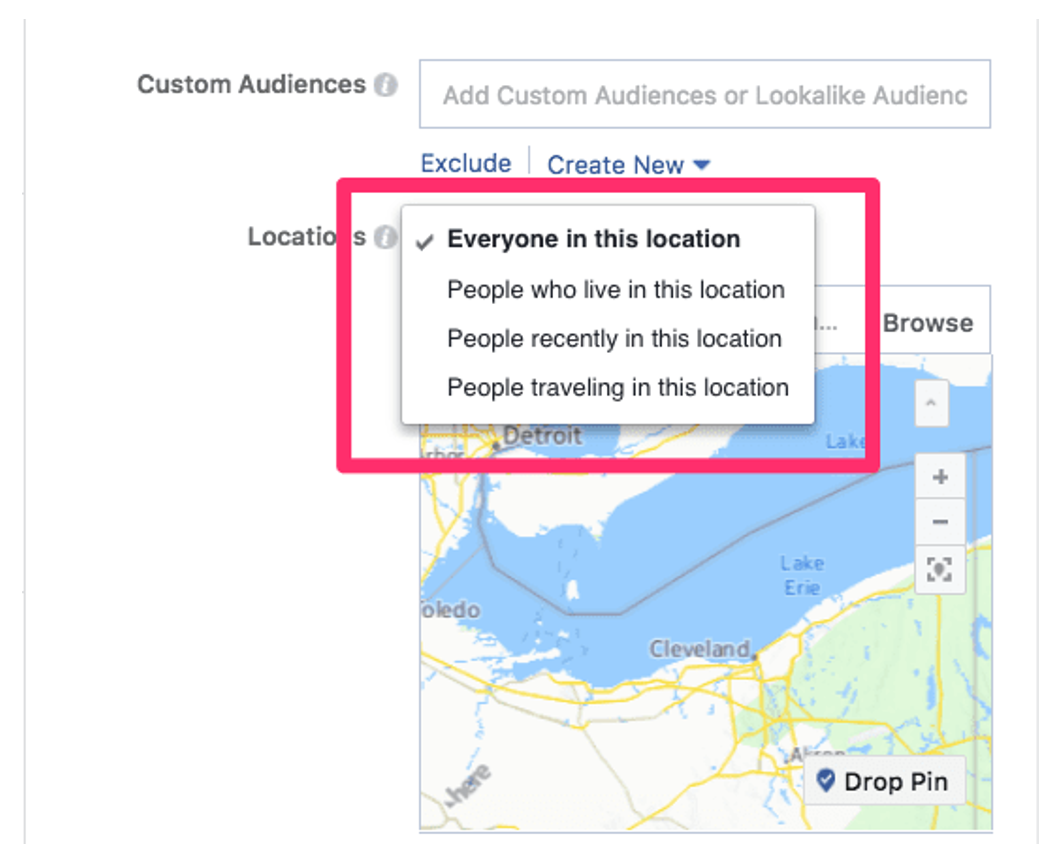 Additional filters to specify who you want to target with Facebook's location targeting
WANT DIGITAL INSIGHTS STRAIGHT TO YOUR INBOX?
Bonus Recommendations for Audience Targeting
As the online discourse on privacy issues continues to increase, you can expect more drastic changes to how digital marketers use data to reach audiences. In particular, with top internet browsers looking to stop supporting third-party cookies by 2023, perhaps the biggest impact will be felt in the digital ads space.
Thus, as digital marketers, we must learn to adapt quickly and deploy alternative audience targeting strategies where appropriate, for example:
Collaborate with KOLs, Celebrities, or Organizations
An alternative to some of the removed detailed targeting options is to run collaborative campaigns with key opinion leaders (KOLs), celebrities, or larger organizations on Facebook that share the same audience as you.
KOLs can help expose your brand to their target audience, letting you reach engaged users who are likely to be interested in your business—or even niches that you never knew existed before.
With such an engaged audience, you're ensuing relationships with them can be long-lasting, and the longer they are retained, the stronger their impression of your brand becomes—this makes it all the more easier to turn them from mere customers into loyal followers.
When shortlisting KOLs to collaborate with, remember to audit them—both online and offline—as those whose personalities and values align closest with your brand are the most suitable for collaboration. You may even consider working with influencer marketing agencies specializing in matching brands with KOLs based on specific briefs.
Build Your Own Customer Database
First-party data will become increasingly critical to advertising campaigns as third-party cookies look set to fade. Therefore, building your own database should be a priority consideration for companies of any size.
For example, collecting your prospects' email addresses will allow you to run targeted email marketing campaigns to a niche audience, as well as leverage the Custom Audience targeting options from major social platforms like Facebook.
Another mitigation strategy is to strengthen your inbound marketing efforts—like content marketing and SEO—alongside your push marketing activities to maintain direct contact with consumers and build brand equity.
***
In light of this update, advertisers should consistently adopt and test different combinations of Facebook ad strategies to see what best supports their marketing objectives. At the same time, we must also look ahead and prepare for the changes to come in the online privacy space.
So, as Facebook's ad platform continues evolving, it is prudent that you stay on top of its updates to improve your campaign performance.
Ready to maximize your global paid media strategies?