A Comprehensive Guide to YouTube's Audio Ads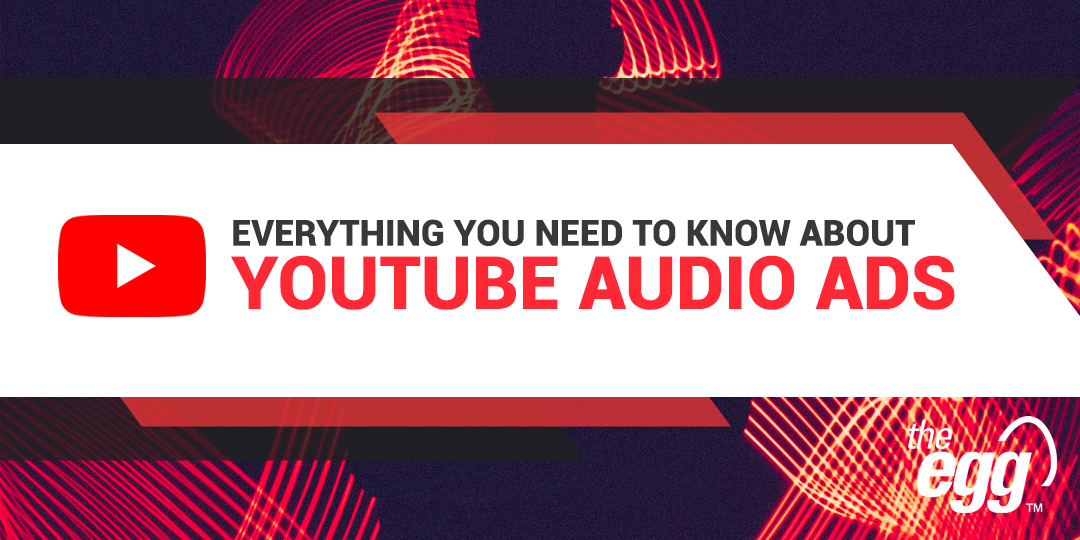 In October 2022, Google rolled out its audio ads to all advertisers, which aims to help them deliver optimal ad experiences and extend reach to users streaming music and podcasts on YouTube.
While predominantly video-focused, YouTube has long been a favorite destination for music lovers and podcast listeners, and is among the top 3 most-popular platforms for listening to podcasts.
In fact, YouTube Music boasted an 8% share of the global music-streaming subscription market for much of 2021—impressive considering Google was not long ago the laggard in this space. And while still on top with around 31% market share, Spotify is gradually losing ground to its closest competitors, including YouTube Music.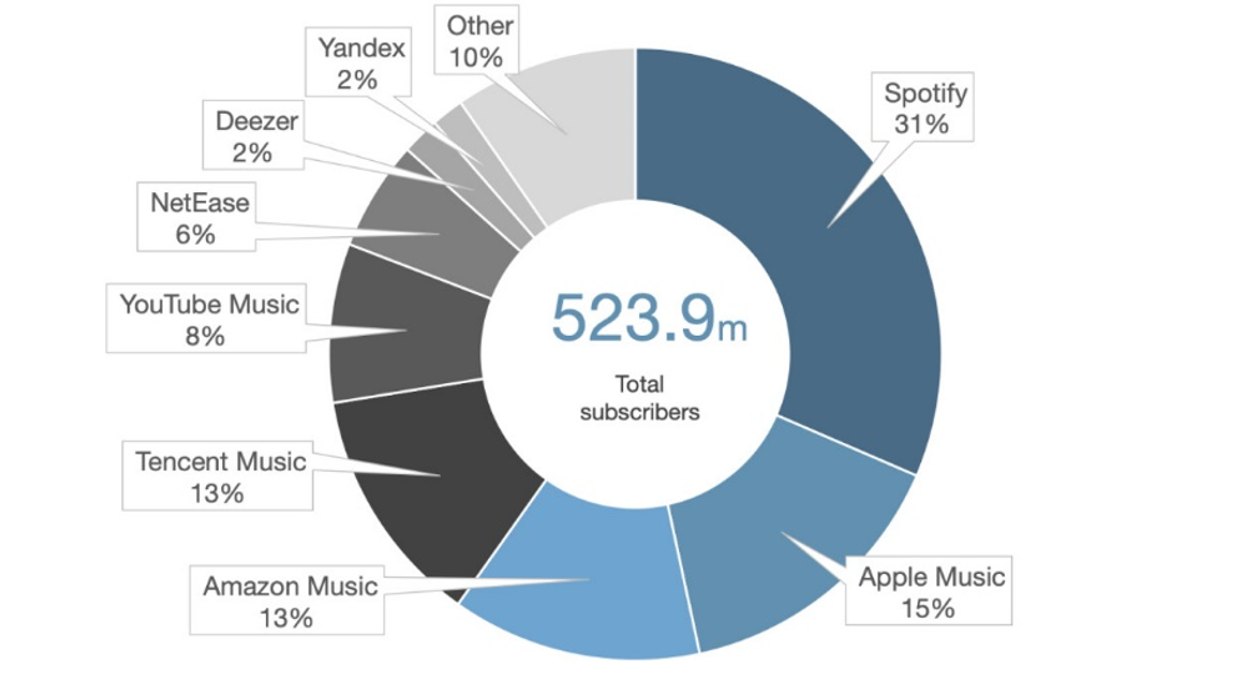 Global music-streaming subscription market in Q2 2021 (Source: MIDiA)
With new targeting options for audio ads, advertisers on YouTube are now equipped with the tools and reach to engage users that also use the platform as an auditory versus strictly video medium.
Ready to succeed with audio ads? Here's what you need to know about Google's audio ads and how to get the most out of them in your YouTube advertising.
Note: Audio ads are now available globally in Google Ads and Display and Video 360.
How do YouTube Audio Ads work?
YouTube audio ads are similar in structure to the platform's video ads and share the same targeting options and bidding strategies—that's one less new thing to learn if you're already familiar with video ads! Campaigns and goals can also be set up and managed from your Google Ads account.
While a voiceover is the standout feature of audio ad format, they usually display a visual component—like an image or animated graphic—on-screen as the voiceover is playing, almost like any regular video ad. This helps advertisers deliver an optimal ad experience to YouTube users no matter how they consume audio content on the go, whether they happen to be only looking at their screen, exclusively listening to audio, or both.
The fact that Google's audio ads run on a cost-per-mile (CPM) basis—where advertisers pay a set bid per 1,000 impressions—is another similarity it shares with Google's video ads. As is the case with audio ads, CPM is ideal for campaigns focused on heightening brand awareness or promoting a specific message.
With a CPM-based audio ad campaign, the click-through rate (CTR) may matter less since the exposure from having your ad prominently placed on a high-traffic website—in this case, YouTube—helps promote your brand, regardless of whether visitors click on it.
Here is an example of a YouTube audio ad.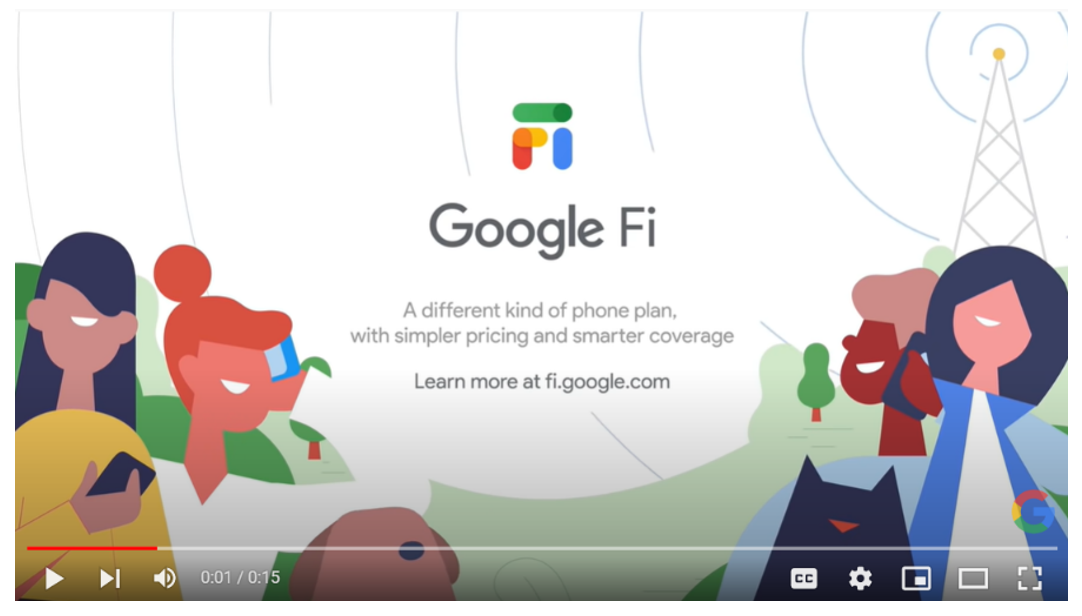 A YouTube audio ad with simple text and animation components
Audio-based creatives are also easy and affordable to produce relative to other formats. On top of that, Google's audio ads offer simple ad buying and campaign setup, streamlined audience targeting and measurement, and more available inventory at a low cost to extend advertisers' reach.
Where do YouTube Audio Ads appear?
Audio ads currently only appear on podcast or music content (there's the option to limit targeting to either), with the latter comprising targeting options based on the following genres:
EDM
Rap & Hip Hop
Made for Audio Music
Should you use YouTube Audio Ads?
If your audience research signals that your target audience matches YouTube's demographics and interests, then: YES—audio ads are worth trying out if your goal is to reach new audiences and promote your brand on the platform.
The cost to reach these audiences with audio ads tends to be lower than for video ads. Not to mention that audio ad campaigns lend themselves to budget-friendly advertising, requiring simpler visual components that translate to lower production costs.
Google's simplified campaign setup and buying process for audio ads is also a significant draw for many brands. The cross-familiarity between YouTube's video and audio ads means creating audio campaigns on the same platform will be relatively easy to learn, while remarketing efforts will be simpler to execute via Google Ads.
WANT DIGITAL INSIGHTS STRAIGHT TO YOUR INBOX?
Getting Started With YouTube Audio Ads
How to Setup YouTube Audio Ads
Sign into your Google ads account
Navigate to Video Campaigns from the menu on the left
Click the plus ("+") button
Select New Campaign
Choose Brand awareness and reach as your campaign objective
Select Video as your campaign type
Next, select Audio as your campaign subtype
Click Continue, and voila! You're now ready to input your bid and budget details as you would with any campaign.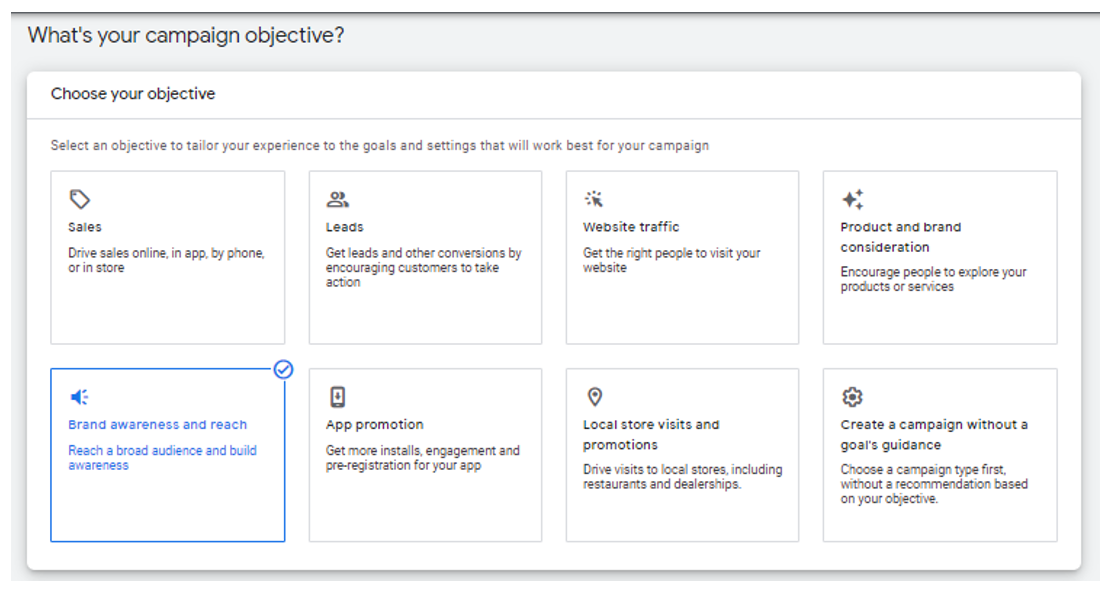 Choose 'Brand awareness and reach' as your campaign objective

Select 'Video' as your campaign type

Select 'Audio' as your campaign subtype
How to Create Your First YouTube Audio Ad
Once you've entered the bid and budget details, set the targeting parameters for your ad group so that you can start reaching relevant audiences
To use made-for-audio or podcast lineups, add the lineup you want as a placement
Next, add the lineup to your ad group by selecting a video content ID from the provided table
Select New Video Ad
Add the URL for the YouTube video you uploaded via the editor provided
Edit the copy in your ad
Once completed, select Create campaign
YouTube Audio Ads Specifications
Like with YouTube video ads, your audio ad must be uploaded onto YouTube and should follow the following specifications:
Ad length: 15 secs max.
File size (Video + Audio): 128GB max
Video resolution: Anywhere from 426×240 (240p) up to 3840×2160 (2160p)
Aspect ratio: 16:9 widescreen
4 Best Practices for YouTube Audio Ads
Want to find success with YouTube audio ads? Before you whizz off to test them in your campaigns, let's delve into the "how" of audio ads and review best practices for a more efficient setup.
Audio should play the leading role: While the ad still has an image or animation component, remember that audio—and crafting your message as succinctly as possible in under 15 seconds—should be the focus.
Be specific but interesting: Since audio ads run only on music or podcasts, it's critical to capture your audience's attention in the 15 seconds your ad can play. Thus, be clear and specific with your message and pick a friendly, authentic voice to deliver it. For the voiceover, Google recommends aiming for 40 words in the message.
Include a call-to-action: For optimal brand recall and to encourage your audience to take the desired action, add a call-to-action to redirect them to one of your landing pages, or try including an offer specific to audio listeners.
Conduct A/B testing: As part of your campaign optimization, test and compare results from your different audio ad creatives or target audience groups to see what works best for you.
***
Ultimately, leveraging YouTube's audio ads can be a cost-effective way of amplifying your brand message to more users on the platform—and at a fraction of the cost compared to other formats like video.
Ready to maximize your global paid media strategies?