A Complete Guide to Advertising on Facebook, LinkedIn, Google, and YouTube in 2022
Facebook, LinkedIn, Google, or YouTube: Which Platform Should You Advertise On? – APAC in 3 – Episode 09
One of the biggest questions marketers face is: "Which ad platform should I spend my money on?"
With competition rife and algorithms undergoing seemingly constant upgrades, it can be overwhelming to determine how to allocate ad budget across Facebook, LinkedIn, Google, and YouTube.
While Google is the world's largest advertising network, more than 70% of marketers who advertise on social platforms like Facebook, LinkedIn, and YouTube for over a year report boosts in sales.
So, creating a sustainable paid media strategy begins with understanding the benefits of each platform and what they can provide for your marketing goals.
For a quick overview, check out APAC in 3 (EP 09) to discover targeting options, ad formats, advertising costs, and optimization strategies for Facebook, LinkedIn, Google, and YouTube to help you generate demand and attract leads across Asia and around the world.
And for a deeper dive, read the full article below.
Facebook. LinkedIn. Google. YouTube. Which platform should I advertise on?
Before deciding which platform to use, you must have a clear idea of who you want to target and what their intent entails.
It comes down to the role of the platform. And we can categorize these roles in two camps—platforms on which users search for content and platforms on which users are recommended content:
Facebook (aka. Meta) has 2.9 billion monthly active users (MAU) and LinkedIn has 800 million members. This makes them two of the world's most popular content recommendation engines—i.e., where users are primarily recommended content in their feeds rather than searching for it via the in-built search function.
Processing a staggering 3.5+ billion daily searches, Google is the world's #1 content search engine—i.e., where users directly search for the information they need.
Drawing 2 billion logged-in visitors per month, YouTube—the world's second-most visited website—straddles content recommendation and content search, with people being recommended related videos but also using the in-built search function.
Now, let's explore how to advertise on Facebook, LinkedIn, Google, and YouTube.
How to Advertise on Facebook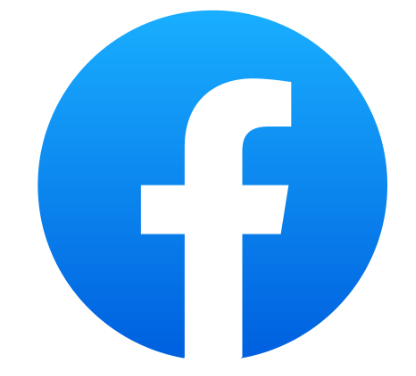 Facebook's behemoth userbase of 2.9 billion users and powerful targeted ads make it among the best platforms to advertise your products or services, especially when 75% of Gen Z-ers and 48% of millennials made purchasing decisions influenced by social media ads in 2021.
What's more, compared to other social platforms, consumers are 50% more likely to buy something they've seen on Facebook, which means you can get creative with your ads and test them against each other to see which resonates best with your target audience.
The relatively high 9-10% average conversion rate for Facebook ads speaks volumes about its massive influence.
To fully leverage Facebook's advertising, however, it's vital that you understand its different ad types and targeting options.
What are Facebook's targeting options?
Facebook advertising lets you target audiences based on the following main criteria:
Location: Target users based on their city, community, or country
Demographics: Target users based on their age, gender, education, job title, ethnic affinity, and more
Behavior: Target users based on their device and prior purchases
Connections: Target users based on their interactions with Facebook pages, events, and groups
Interests: Target users based on their interests and hobbies
Once you've identified an audience group that responds well to your ads, Facebook lets you save that audience for future campaigns.
Similarly, you can create Lookalike Audiences to reach new people who share similar interests, demographics, and behaviors as your current customers and are, therefore, likely to respond to your ads. Before doing so, you'll need to create a source audience comprising between 1,000 to 5,000 existing customers who you feel best characterize your target market.
Then, when creating your Lookalike Audience, you can use a range to choose how closely you want your new audience to match your source audience—the bigger the figure, the broader your audience.
Important note: From August 2021, many targeting options—including Custom Audiences and Lookalike Audiences—are no longer able to target ads to users under 18 globally, 20 in Thailand, or 21 in Indonesia. Thus, there's no need to be alarmed if your ad sets that use these targeting options for reaching younger demographics see a decrease in audience size.
To further narrow down your audience, Facebook provides an audience definition gauge located to the right of the targeting fields that generates a potential audience reach number derived from your selected properties.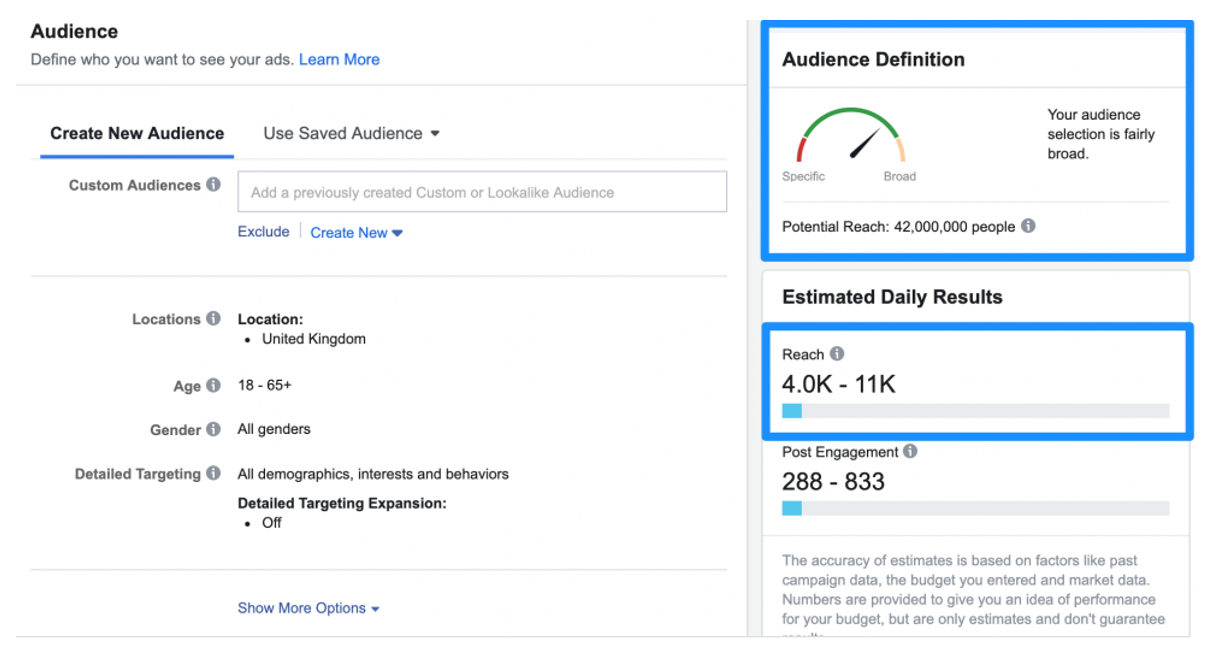 Facebook's audience definition gauge
Ultimately, how narrow or specific your audience is should depend on your primary objective: If your goal is to drive leads, you'll likely want to target a smaller pool of specific people whom you know will be interested in converting on the particular offering. Alternatively, if your goal is to build brand awareness or promote a widely appealing offer, you'll likely want to target a more general audience.
What Are Facebook's Ad Formats and Features?
At the time of writing, Facebook officially provides four ad formats, along with ad variations—namely stories and instant experience ads—that are compatible with them.
Facebook Image Ads
Facebook image ads comprise a single image that can feature across various ad types, placements, and aspect ratios. This is a versatile choice for most of your conversion funnel, but not as ideal for product demos or displaying multiple products.
Pro Tip: If you need to include text in your ad images, try using less/smaller text, ensuring that most text falls within the body instead of directly in the ad's image. According to Facebook, bombarding your prospects with too much text can hurt your conversion rates and lead to a higher cost-per-lead.
Facebook Video Ads
Facebook video ads comprise short, single videos that drive high engagement but are relatively time-consuming to produce compared to images. These include slideshows comprising 3-10 images or a single video, which are ideal for businesses that strive for attention-grabbing visuals but lack video-creation experience.
Facebook Carousel Ads
Facebook carousel ads comprise images or videos that audiences can swipe through, each with its own headline, CTA, landing page link, and description. These are ideal for introducing a product range or different facets of a service.
Facebook Collection Ads
Facebook collections ads are similar to carousel ads but are full-screen and more customizable, thereby offering users a window shopping-like experience on mobile. These are perfect for large online stores but perhaps beyond requirements for smaller brands.
Ad variations: Facebook Stories Ads and Instant Experience Ads
Facebook stories ads are immersive, full-screen experiences (made up of videos and images) that pop up between other stories that users watch on Facebook. These are great for experimenting with video effects, stickers, emojis, and audience engagement tools like polls; however, they don't appear on Facebook's main feed.
Similarly, instant experience ads, a variation of stories, are immersive mobile ads with 5-7 images or videos letting audiences interactively explore your brand, product, or service.
Note that in addition to ad format, ad placement is critical as ads can appear in six different places:
Instagram feed
Instagram Stories
Facebook desktop newsfeed
Facebook right column
Facebook Messenger
Audience network
Facebook Ad Cost Factors
The price of Facebook ads varies depending on your target audience, ad budget, and campaign objective.
Facebook Target Audience
Demographics, location, interests, and interactions with your website can all affect your Facebook ad costs.
Facebook Campaign Objectives
Previously, Facebook ad creation involved selecting a bid strategy (e.g., lowest-cost bidding, bid cap, target cost) based on your campaign objective and budget.
Throughout 2022, however, Facebook is rolling out its new Outcome-Based Driven Ads Experience (ODAX) interface to guide advertisers to the most optimal campaign setup for achieving a particular outcome—e.g., awareness, traffic, engagement, leads, app promotion, and more. For advertisers, this means less complexity in the campaign setup and more scalability of solutions.
Finally, some of the most expensive days of the year to advertise are key holiday moments for consumers, like Black Friday, Thanksgiving, Christmas, and New Year's Day. But don't let the higher advertising costs on shopping and worldwide holidays deter you—they can be lucrative sales and marketing opportunities.
How can you measure and optimize your Facebook ads?
Facebook Ads Manager is an in-built tool for creating and managing your Facebook ads, as well as reporting the performance of all your Facebook campaigns, ad sets, and ads. From an ad management perspective, you can edit settings like audiences, budgets, and placements for multiple ads, and duplicate existing ads if you wish to. To see how your ads perform, you can view up-to-date performance data and create or schedule ad reports.
Facebook also rates the quality and relevance of your ads, which can affect how much you pay—ads with a high relevance and engagement score cost less. Based on the feedback from users, Facebook gives your ads ratings out of 10, with 10 being the maximum score.
To check your ad's relevance and engagement score, simply:
Go to Facebook Ads Manager
Select the ad you wish to see
Choose the Columns dropdown menu
Click Customize Columns
Select Relevance Score
Hit Apply
Pro Tip: On average, your ads need at least 500 impressions or views before Facebook can score them.
***
How to Advertise on LinkedIn

As the world's largest professional network with 800+ million members, LinkedIn is filled with high-quality lead potential, where profile-based experience, employment, qualification, and education attributes can connect you with those that resonate with your messaging, products, and services.
What are LinkedIn's targeting options?
LinkedIn advertising lets you choose from over 20 audience attributes, some of which include:
Company size
Company name
Educational institutions
Interests
Groups
Skills
Job title
Job seniority
Although it can be tempting to pick as many targeting options as possible, this may narrow your audience too much, which can significantly limit your reach.
Another common mistake is over-targeting director and executive audiences while leaving out critical decision-makers below that level of seniority. The upper echelons of the corporate ladder are often flooded with endless waves of marketing messages and instead tend to rely on their teams to filter recommendations and even make critical decisions.
Pro Tip: Avoid hypertargeting! Instead, target individual contributors and managers but filter by years of experience to focus on experts in the field.
To guide you through your targeting process, LinkedIn's Campaign Manager also provides suggestions in the form of type-ahead (i.e., autocomplete) and suggested keywords of skills, job titles, company names, and groups. Thus, pick one or two of these suggestions to capture relevant audience members you might have otherwise missed.
And if your campaign is not getting the scale you need to achieve your goals, consider enabling Audience Expansion, which eliminates the guesswork of deciding which audiences to target. Simply check the box that says, "Help my campaign reach new audiences similar to my targeting criteria with Audience Expansion" at the bottom of your targeting selection page and Campaign Manager will find new audiences based on your selected targeting criteria.
What are LinkedIn's ad formats and features?
In your LinkedIn Campaign Manager, you can create ad campaigns with one of the following ad formats:
LinkedIn Sponsored Content
LinkedIn sponsored ads appear on LinkedIn feeds of professionals you want to target and can display as images, videos, or carousel ads. This means you can target your most valuable audiences according to profile-based user data.
LinkedIn InMail Ads (Sponsored Messaging)
LinkedIn InMail ads facilitate targeting via LinkedIn messaging, where professionals increasingly spend their time building relationships. LinkedIn InMail ads are proven to drive stronger response rates than traditional email marketing campaigns.
LinkedIn Dynamic Ads
LinkedIn dynamic ads leverage LinkedIn profile data—like profile photos, company names, and job titles—to serve personalized creatives to your target audience at scale. This makes them ideal for encouraging engagement on your LinkedIn or Showcase page, driving an action like event registration or increasing applicants by personalizing job ads to top talents.
LinkedIn Text Ads
LinkedIn text ads are simple but compelling ads with messaging customizable for your specific target audience. And since they run on a pay-per-click (PPC) or cost-per-impression (CPM) basis, you only pay for the ads that work.
LinkedIn Ad Cost Factors
LinkedIn advertising costs vary according to your target audience, campaign objective, and bid type.
LinkedIn offers three ad bidding strategies:
LinkedIn Cost-Per-Click (CPC) Ads
LinkedIn CPC ads are ideal for action-oriented campaigns like lead generation or event registration.
LinkedIn Cost-Per-Impression (CPM) Ads
LinkedIn CPM ads are the go-to model if your main goal is raising brand awareness.
LinkedIn Cost-Per-Send (CPS) Ads
LinkedIn CPS ads comprise InMail campaigns, where you pay for each successfully delivered message, and are best for targeted, personalized outreach.
LinkedIn Campaign Objectives
Your selected LinkedIn campaign objective—each with different billable events—heavily determines how much you pay to advertise on LinkedIn, as well as which ad formats and bidding strategies are available to your campaign. For instance, if you choose the Website Visits campaign objective, you are charged by impressions on LinkedIn and when someone clicks through to your website.
Below is a full list of LinkedIn's campaign objectives, optimization goals, bidding strategies, and cost factors: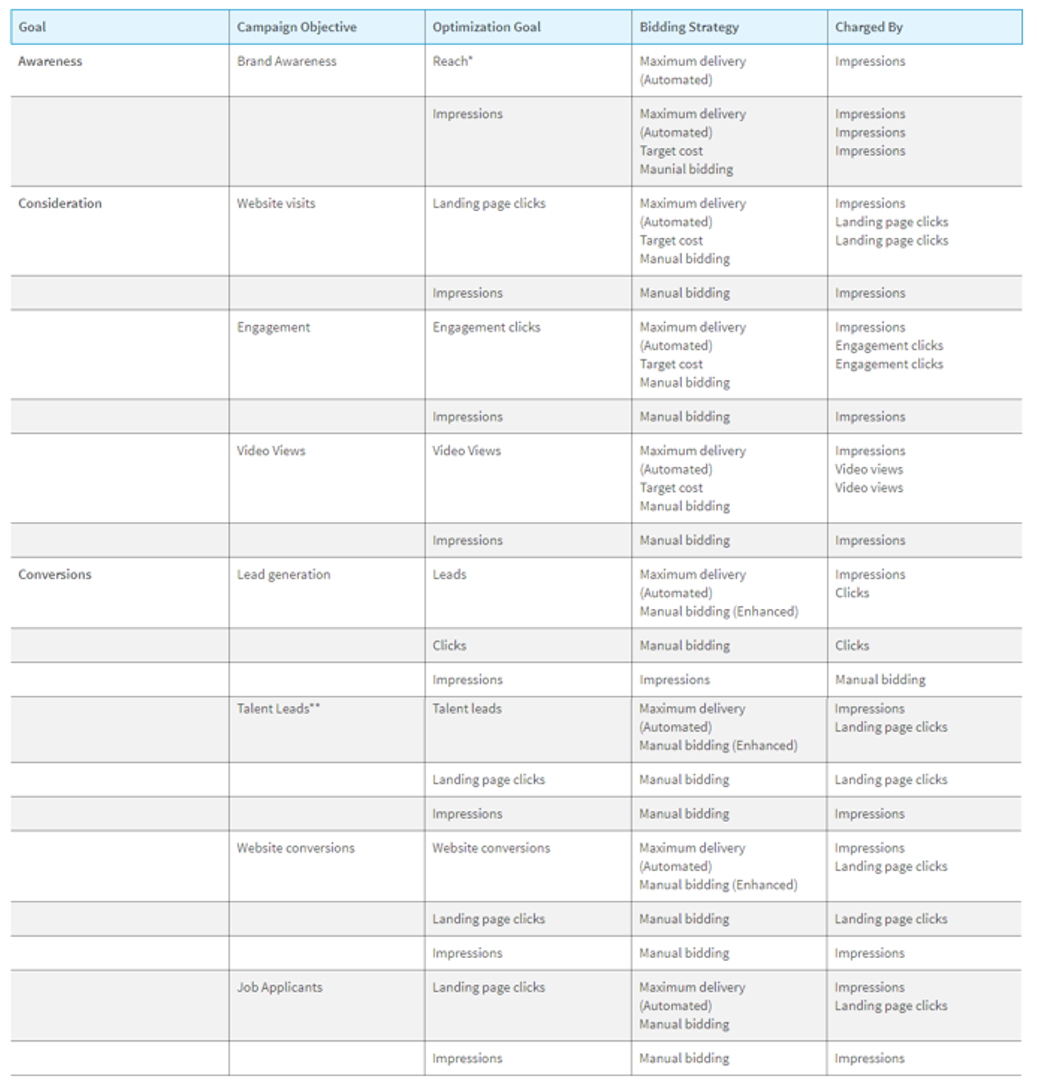 LinkedIn's bid strategies and optimization goals per chargeable event (Source: LinkedIn)
Upon launching your campaign and placing a bid, you compete with other advertisers within the ad auction who want to reach the same target audience as you. Ultimately, the cost required to win an auction generally depends on the bid and the desirability of your target audience, but LinkedIn also considers ad engagement.
How can you measure and optimize your LinkedIn ads?
Once your LinkedIn campaigns are live, you can access analytics and evaluate your ad performance via LinkedIn Campaign Manager. Here, you can track metrics like your campaign's overall impressions, clicks, budget, and social actions (i.e., organic interactions with your brand).
For more insights, click through to each campaign to see how each ad within the campaign is performing. With this data, you can edit your ads, refine your targeting, adjust your budget, and toggle ad variations on and off based on performance.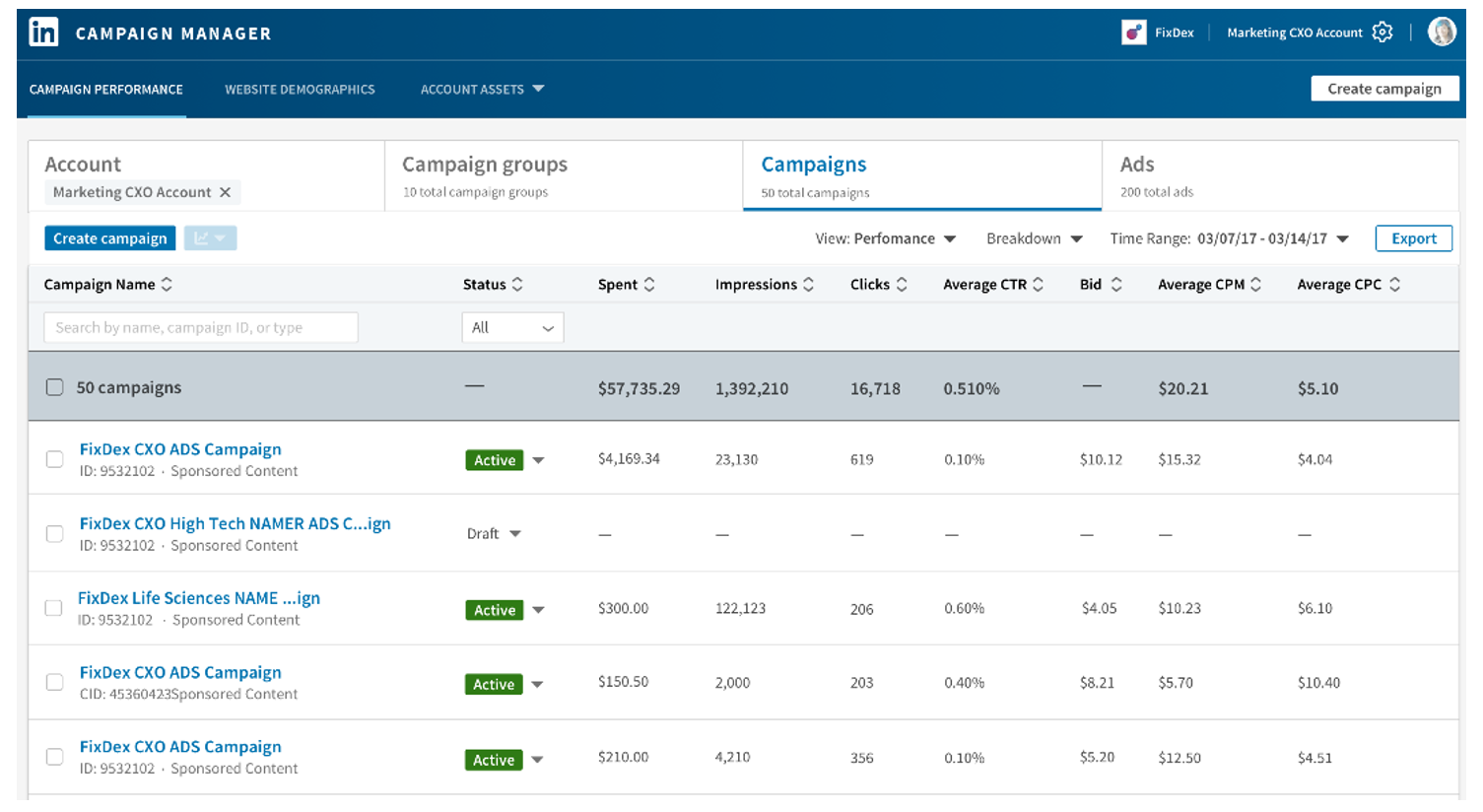 Campaign overview in LinkedIn Campaign Manager
With so many targeting combinations to choose from on LinkedIn, it can be hard to know how to target an audience that will be most receptive to your content—this is where A/B testing comes in handy. Here are some considerations for your targeting options:
Take seniority levels with a grain of salt as they vary depending on company size and even industry. Consider A/B testing against alternatives like years of experience or job function.
Incorporating industry into your targeting will focus on employees belonging to companies operating in a particular industry, which is useful if your product is industry-specific.
Pro Tip: When conducting A/B testing on your LinkedIn ads, focus more on business identifiers (job titles, industry, job function, etc.) and less on demographics.
WANT DIGITAL INSIGHTS STRAIGHT TO YOUR INBOX?
How to Advertise on Google

As the world's #1 search engine, Google has become synonymous with search and is positioned firmly at the pinnacle of the global search market with its Google Display Network capable of reaching more than 90% of global internet users across the web. And its pay-per-click advertising platform, Google Ads, enables businesses to create and run ads across a wide array of formats.
What are Google's ad targeting options?
Ad targeting is essential to a successful advertising campaign, and a well-designed ad will mean nothing if it isn't served to the right audience at the right time. To this end, Google Ads offers two main avenues for targeting your ads.
Audience Targeting
With Google Ads, you can reach people based on audience attributes, like:
Who they are
Their interests and habits
What they're actively researching
People who've already interacted with your ads, website, or app—and are likely to return
Content Targeting
You can also target based on content consumption by:
Topic: Target ads simultaneously to multiple pages under the same topic on the Display Network. To determine a webpage's central theme, Google Ads considers factors on web content like text, language, link structure, and page structure.
Placement: Target websites on the Display Network that your customers visit, which you can pre-select and appear on only relevant sites with managed placements.
Keywords: Choose keywords relevant to your product or service to target users searching for those terms.
Display expansion for search: Google Ads finds new audiences for you with a combination of automated bidding and smart targeting.
What are Google's ad formats and features?
Here are the ad formats available in a Google Ads account:
Google Text Ads
Google text ads appear at the top and bottom of Google's SERP and comprise a headline, display URL, and description. You can also provide additional information in the form of ad extensions, most notably sitelinks.
Google Image Ads
Google image ads feature attention-grabbing graphics that showcase your products or services and can appear across Google's Display Network, which encompasses over two billion websites and apps.
Google Video Ads
Google videos ads appear before, during, or after video content on YouTube, as well as on other websites and apps under Google's Display Network.
Google Responsive Ads
Google responsive ads appear as text or images throughout Google's Display Network and automatically change their size, color, and formatting to fit a particular website or app. This means you'll need to upload variations of your headline, description, images, and logos so that Google can create combinations for you.
Google App Promotion Ads
Google app promotion ads appear on Google's SERP, play store, and Display Network with the goal of encouraging downloads or interactions with your app through hyperlinks.
Google Shopping Ads
Google shopping ads comprise a product image, title, price, and link to your store and appear across Google search, image search, and shopping. You can also add more information like current promotions, product ratings, and customer reviews.
Google Call-Only Ads
Google call-only ads look like text ads but display business phone numbers. So, upon clicking on the ad, a phone call is triggered between users and your business, helping you drive leads. Note that call-only ads only appear on Google search for devices that can make phone calls.
Google Ad Cost Factors
Like on other platforms, there isn't a one-size-fits-all answer to the cost of Google Ads, but it offers attractive pricing flexibility that lets you control in real-time how much—and when—you spend your ad money.
All in all, Google ad costs can be affected by the following factors:
Industry
Customer lifecycle
Market trends
Budget
Bid amount
Keywords
Targeting settings
Ad schedule
Ad Rank
Quality Score
How can you measure and optimize your Google ads?
During the Google ad creation stage, you will be required to input your daily budget, set a location, define your target keywords, adjust general ad settings, and—of course—write your ad copy.
Once your ads are live based on your chosen keywords and campaign settings, you can easily monitor their results via the Overview or Campaigns page in your Google Ads Manager. From altering your budget to switching up your target keywords, you can modify your ads to improve their performance and pause or resume campaigns as you see fit.
***
How to Advertise on YouTube

If you're deciding how to allocate your video ad budget, YouTube has vast reach and powerful targeting capabilities that make it a valuable platform for all stages in your customer journey.
What are YouTube's targeting options?
Video campaigns run on YouTube and across the web through Google Ads, meaning YouTube's targeting options are similar to Google's. To recap:
Audience targeting: Audience targeting methods let you define demographics (age, gender, parental status), interests, affinities, and past interactions with your YouTube channel.
Content targeting: Content targeting methods let you define where you want your ads to show based on placements (channels, videos, apps etc.), topics, and keywords.
What are YouTube's ad formats and features?
If you've browsed on YouTube as a user, you're probably familiar with some of YouTube's ad formats by seeing them in action.
YouTube Skippable In-Stream Video Ads
YouTube skippable in-stream video ads occupy the entire video player and appear before or during a video, where viewers can choose to skip them after the first five seconds. Advertisers only pay when viewers continue watching the ad beyond the first 30 seconds or if viewers interact with it by clicking, whichever comes first. Your ad must be at least 12 seconds long, and we recommend keeping it under three minutes.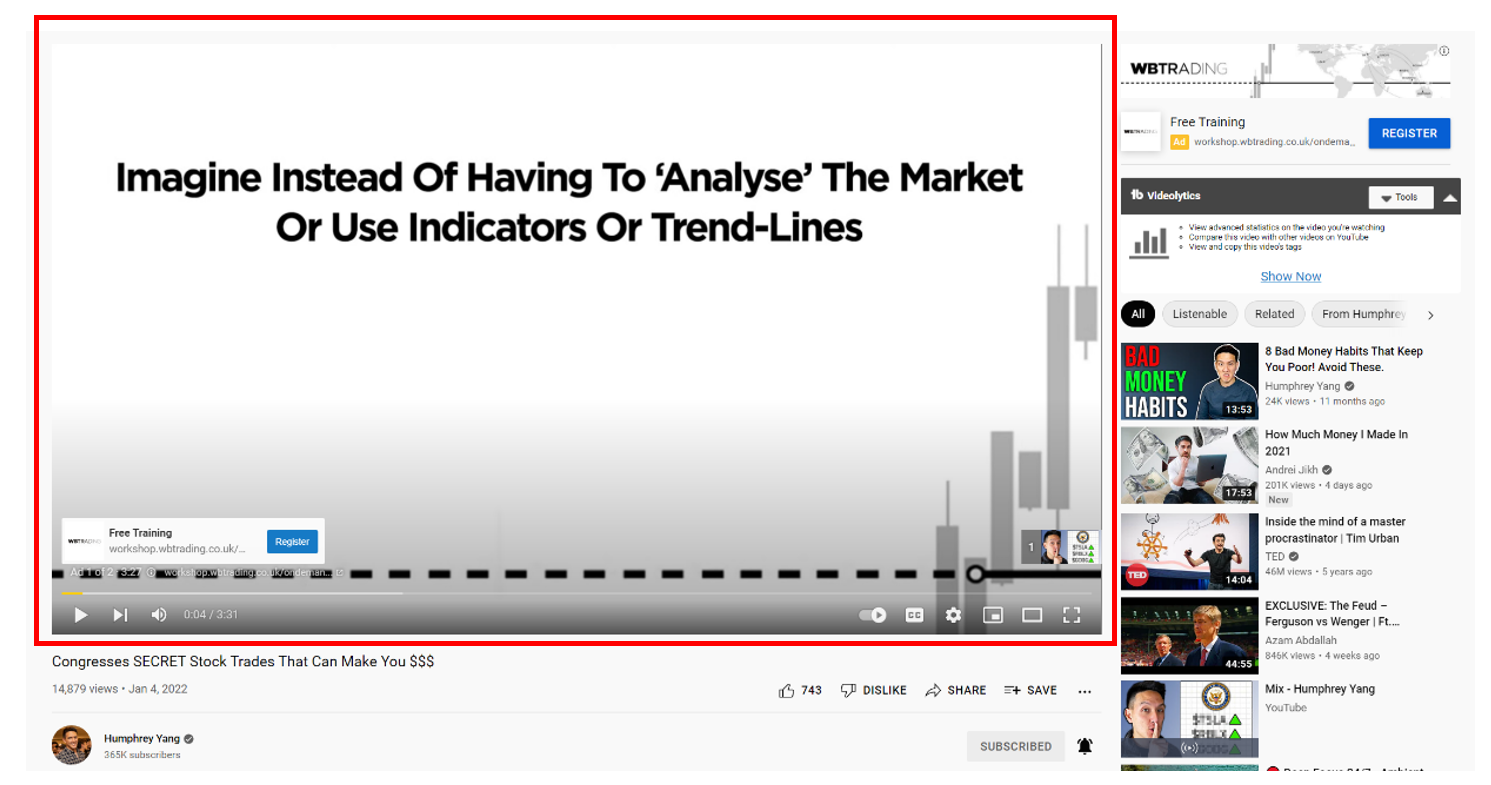 Skippable in-stream video ad from WBTrading
YouTube Non-Skippable In-Stream Video Ads
YouTube non-skippable in-stream video ads are short (usually only last a few seconds), don't have skip buttons, and must be watched before the original video content can be viewed. To fully leverage them, therefore, your creative must be enticing enough to hold your audience's attention for the full 15 seconds.
YouTube In-Feed Ads (formerly Discovery Ads)
YouTube in-feed ads appear alongside organic search results akin to the ones you see on Google's SERP, which makes sense as YouTube is now as much a search engine as a social platform. In-feed ads include three lines of text along with a thumbnail, which, upon being clicked, redirects users to your YouTube channel.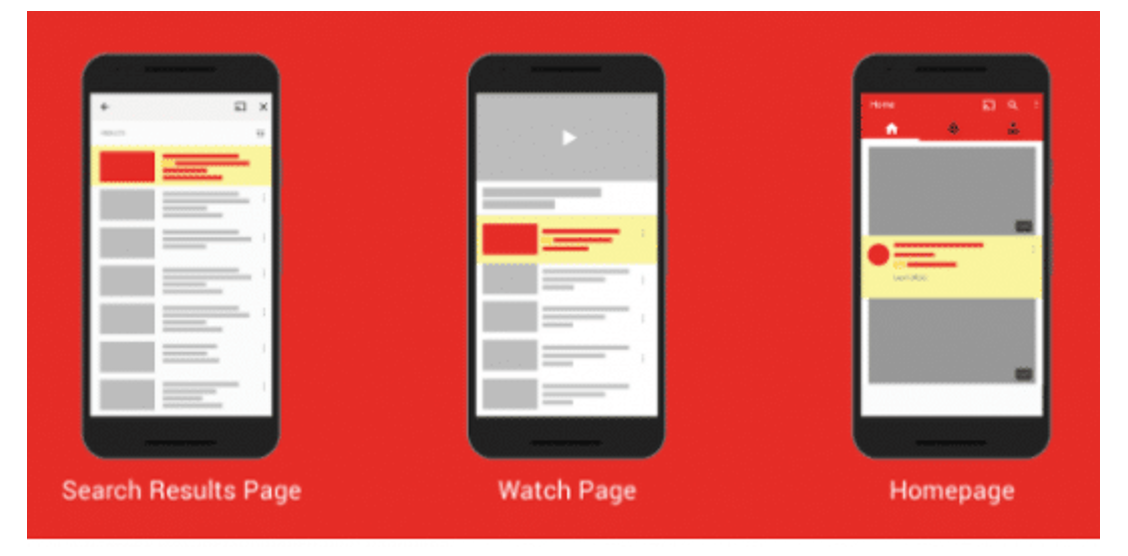 YouTube in-feed ads
YouTube Non-Video Ads
YouTube non-video ads, in the form of bumper or display ads, are ideal for advertisers with a limited budget for video creation and appear as a video overlay or to the top-right of the video player, respectively.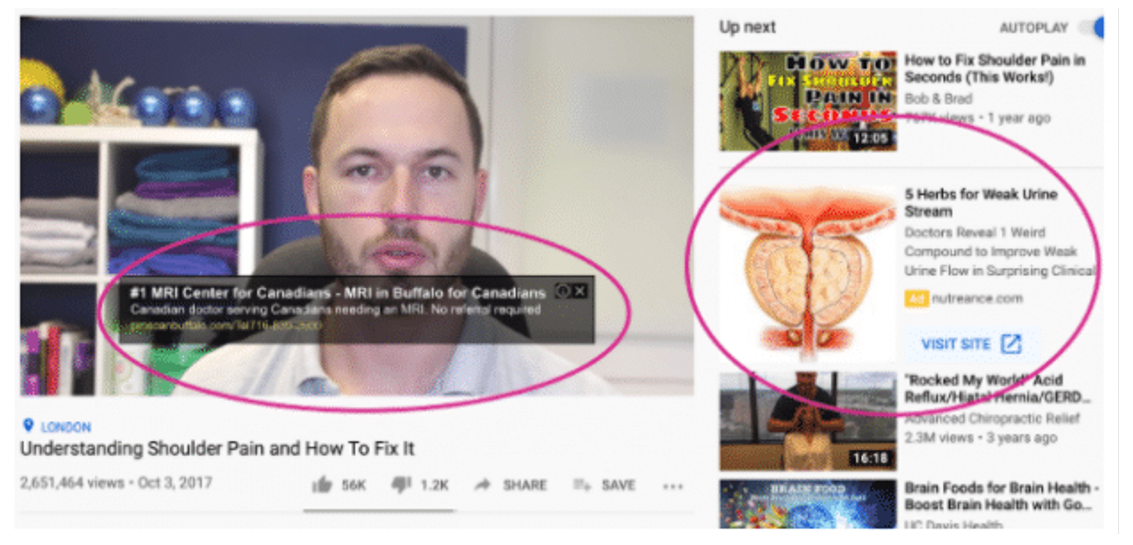 YouTube bumper and display ads
YouTube Ad Cost Factors
Critical factors determine how much YouTube ads cost, including:
Ad format
Bid
Bidding selection
Targeting options
However, some YouTube ads have different payment options based on user actions. For instance, you may pay for an ad after a user views your video content or even after watching 30 seconds of your ad. You may also need to pay more to serve ads to audiences who are targeted by many of your competitors.
So, how much should you spend on YouTube ads? There is no minimum amount for getting started as your ad spend will depend on your campaign's daily budget. Hence, it's vital that you set a maximum amount you want to spend on views to ensure you don't overspend.
How can you measure and optimize your YouTube ads?
As Google now owns YouTube, you can measure and optimize your YouTube ads through your Google Ads account.
In Google Ads, you can view a summary of your video campaign performance by selecting the Video Campaigns drop-down under All Campaigns. In this view, only the columns and features relevant to video campaign performance will populate with performance data.
Here, you'll be able to track low-performing ad placements, define your metrics and goals, and evaluate clicks and engagement performance, audience reach, and video viewership.
So, which platform should you spend your ad money?
Like all digital marketing, finding your sweet spot on social media platforms takes experimentation and exploring your audiences. Ultimately, what works best will vary depending on your business size and industry and what resonates with your target audience.
Disclaimer: All trademarks, logos and brand names are the property of their respective owners. All company, product and service names used in this website are for identification purposes only. Use of these names, trademarks and brands does not imply endorsement.
Ready to maximize your digital marketing in Asia?