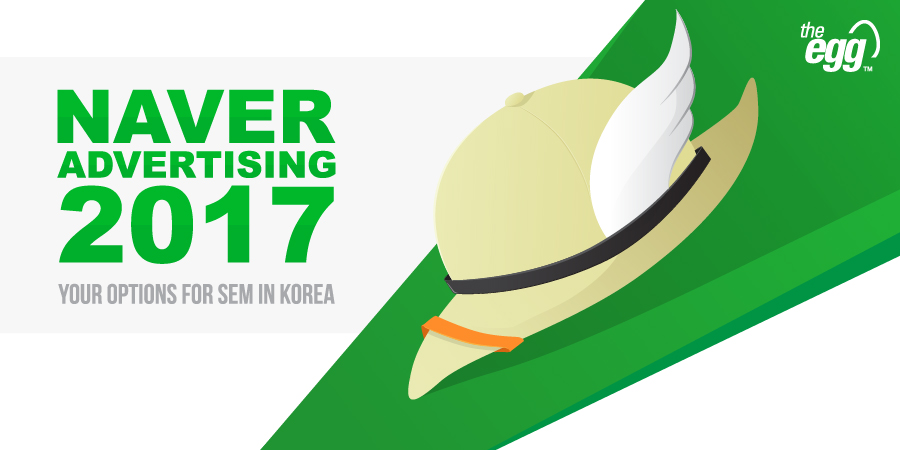 Search Engine Marketing in South Korea – the country with the fastest internet speed in the world – can be painful for global companies. Resources and information about the local search engines are meager, let alone information about advertising options on these channels.
So should companies give up painstaking efforts and simply ignore the South Korean market?
Not if you don't want to miss out on the 42 million internet users who rely heavily on the internet and are ready to turn into your customers for the promise of a better solution to their needs!
The first step to planning to is be informed of what is out there. So to get you started with SEM in South Korea, we introduce you to some of the main paid search ads available in 2017 on Naver, the most popular local search engine.
A Quick Word About Naver Ads – The Notable Updates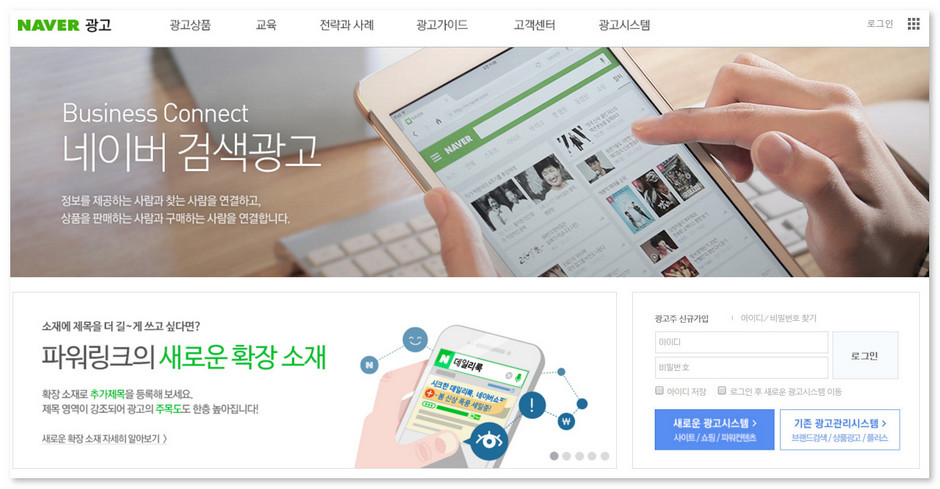 Image: Naver Search Ad Platform Homepage
Before jumping into the types of ads on Naver, there are three things we should probably share with you about Naver advertising:
The Naver Search Ad system underwent a major overhaul in mid-2016. The previously simplistic and outdated system, as of 2017 allows for more automation and is even offered in English
Not all the ads can be run on the new system yet – as of May 2017, the new system and the legacy system co-exist for different ads:
New system: Website Search / Shopping Search / Content Search Ads
Legacy system: Brand Search / Product / Mobile Optimized Ads
Each of these six ads will be covered in this article.
Text ads now follow a structure akin to Google Adwords – comprising of Campaigns, Ad Groups, Keywords, and Ad Copies.
Types of Naver Search Ads for 2017
1. Website Search Ads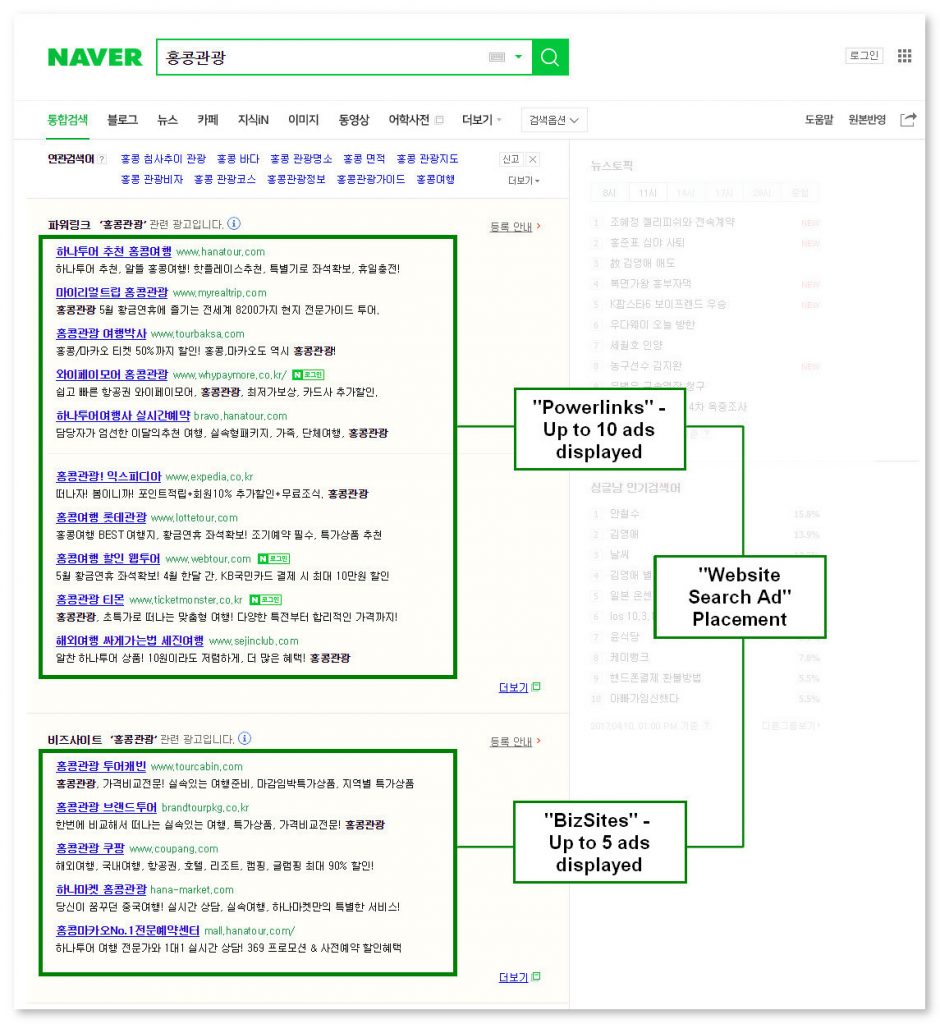 Ad Type:
Standard CPC text ads (including title, description, display URL – more options depending on ad placement) that appear on Naver search results, within Naver's own service (Naver Blog, Café, etc.) pages, and on Naver search partner sites.
To make it slightly more confusing, Naver classifies these ads into two sections, calling the top section Powerlinks (파워링크) and the second section BizSites (비즈사이트).
Ad position depends on keywords selected, keyword bids, and quality score earned during the ad campaign.
A Closer Look at the Ad:

Naver's character limits treat both single-byte characters (alphabets) and double-byte characters (Asian characters such as Korean) the same. So, for example, the words "Naver 검색광고" (i.e. "Naver search ads") has five single-byte characters ("Naver"), one space, and four double-byte characters ("검색광고"") for a total of ten characters according to Naver's count.
Description cannot contain the keyword more than twice.
Display URL must be the root domain.
Ad Cost:
While the cost really depends on the keywords and the number of keywords targeted for the ads, the minimum keyword bid starts at 70 Won (US$0.06) with the maximum bid at 100,000 Won (US$88.30). Cost-per-click (CPC) of competitive keywords can go up to 20,000 Won (US$16.70).
Why It's Great:
Ads can get significant exposure on Naver and this ad allows you to target to the exact users you want according to search terms. Opportunities may also be substantial for keywords which have few or sometimes even no competing ads.
2. Brand Search (브랜드검색)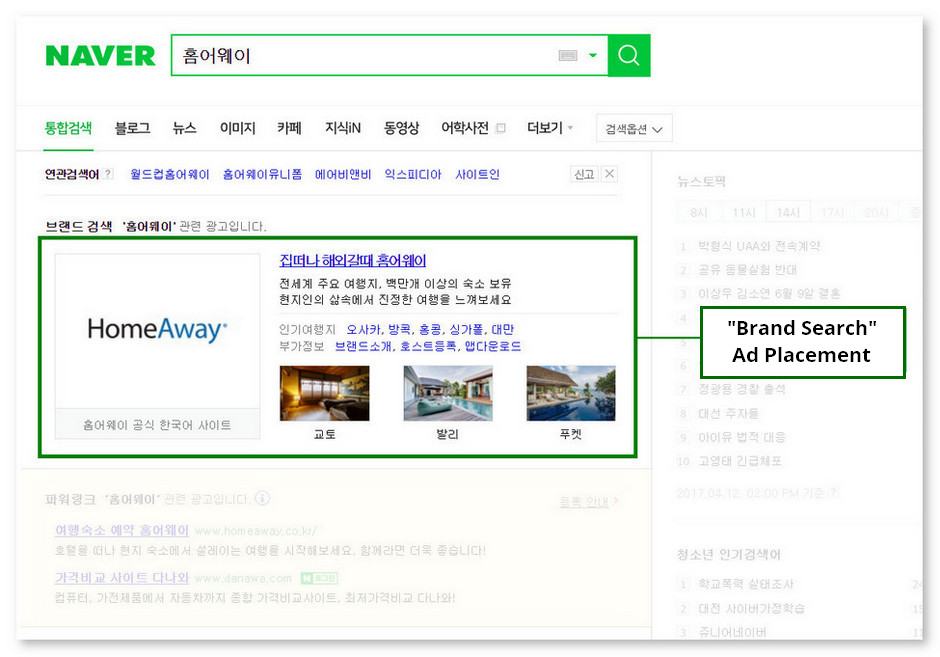 Ad Type:
The Brand Search Ad is triggered by searches on a brand keyword or keywords highly associated with the brand. Up to 30 keywords can be selected to trigger the ad. It is positioned on the Naver universal search results as the first search result for the keywords chosen, effectively guaranteeing maximum visibility on the SERP by appearing above the fold.
A Closer Look at the Ad:

There are four image components, all of which can be linked to unique URLs
Parts of the text components (highlighted in green) can also be linked
There are some very nitty gritty specifications for this ad type so if you chose to go along with this ad, make sure your agency or anyone else running the ad for you tells you all the details on image size, logo dimensions within the image, etc.
Ad Cost:
Unlike the Website Search Ad, the Brand Search Ad requires a fixed fee to be paid upfront. The minimum fee starts at around US$440 (500,000 Won) and goes up according to the combined search volumes of selected keywords for the last 30 days. The table below shows the latest charges from Naver:
| | |
| --- | --- |
| Total Search Volume | Price in US Dollars (excluding 10% VAT) |
| 0 – 8,000 | 440 |
| 8,001 – 15,700 | 880 |
| 15,701 – 22,100 | 1,320 |
| 22,101 – 29,100 | 1,760 |
| 29,101 – 36,800 | 2,200 |
Why It's Great:
There can only be one Brand Search Ad for the chosen keywords which means no competition! What's more, all other types of ads will be below the Brand Search Ad, ensuring maximum visibility of your ad. One more thing, the ad space is sizable with plenty of links you can add both on images and on the text to direct the searchers to multiple pages on your site.
3. Power Content (파워컨텐츠)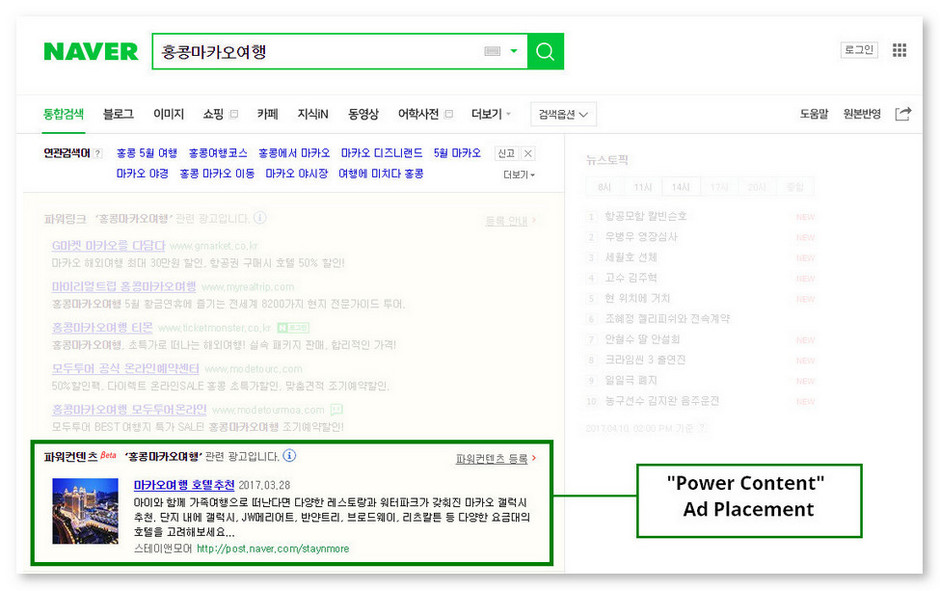 Ad Type:
The Power Content Ad is for promoting original content (blogs, Naver Post, Naver Café) for your chosen search terms. One caveat is that the keyword selection is limited to the keywords from a list provided by Naver. Up to three Power Content Ads can be displayed for each keyword, placed below Website Search Ads, if there are any.
A Closer Look at the Ad: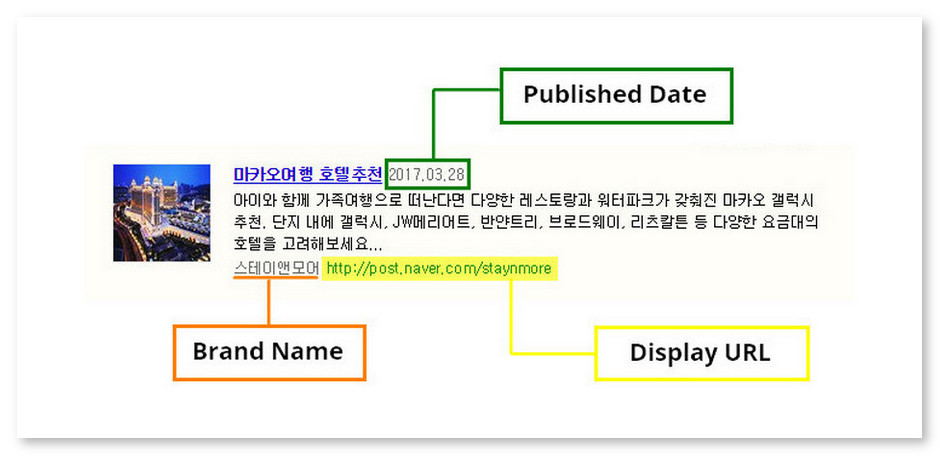 Ad Cost:
Like the costs in the section on Website Search Ad, the minimum keyword bid starts at 70 Won (US$0.06) with the maximum bid at 100,000 Won (US$88.30) and cost-per-click (CPC) of competitive keywords can go up to 20,000 Won (US$16.70). The total charges will of course depend on the keywords themselves and the number of keywords.
Why It's Great:
Even though the ad is also charged on a CPC basis like the Website Search Ad, the advantage Power Content offers is greater visibility. With the thumbnail image and the longer description space for this ad type, it is a better choice for promoting content.
4. Other Search Ad Options
4.1 Click Choice Plus (클릭초이스플러스)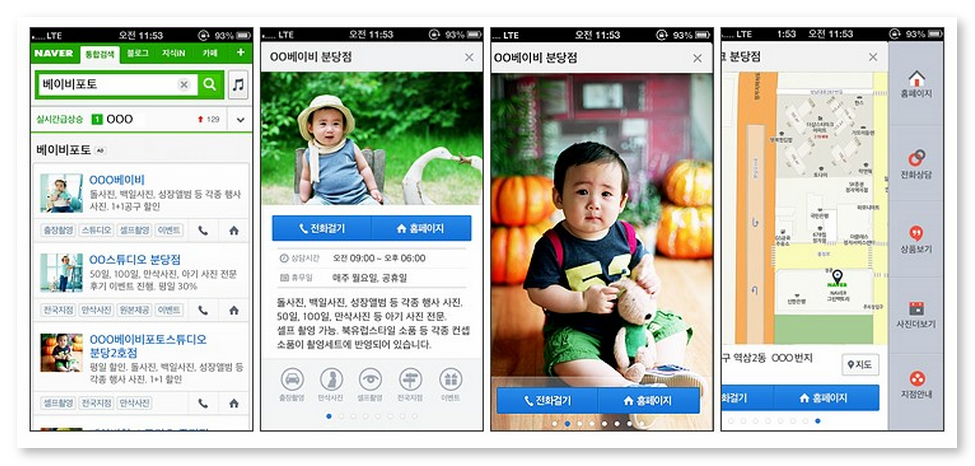 This is a mobile only ad with unique UI optimized for specific business categories. Right now, Naver only offers this for only seven B2C business sectors.
4.2 Click Choice Product Ads (클릭초이스상품광고)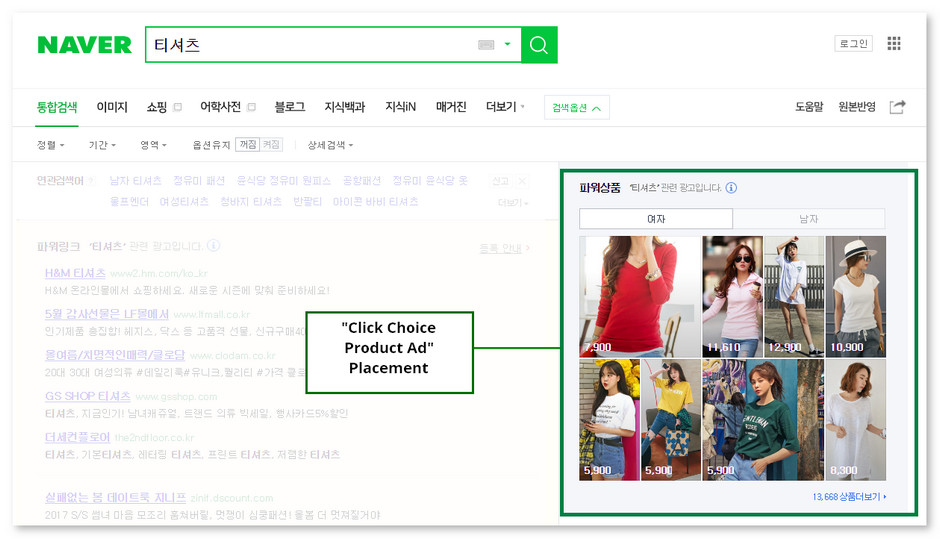 A product-featured ad for both PC and mobile focusing on product images as the core ad component. This ad is even more limited in its offerings as only businesses in the fashion industry can use it. Moreover, advertisers cannot choose the keywords to target the ads and Naver automatically selects them. Advertisers are, however, able to select negative keywords.
4.3 Shopping Search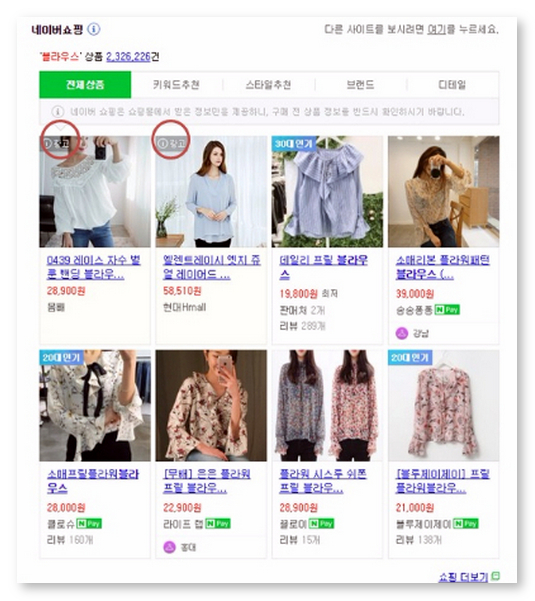 This ad takes existing products on the Naver Shopping platform and promotes them on the Naver SERP. It means that ads cannot be targeted based on keyword selections but relies on Naver to automatically place the ad depending on the information of your product registered on Naver Shopping and various factors such as search intent and purchase patterns. The ad also requires a number of setups to be eligible for it, such as registering on the Naver Shopping platform.
If you were unsure of your SEM options on Naver before, you would by now have a better idea with this introduction to get you planning for your SEM efforts for 2017. Do you now want an estimation on how much budget you would need to break into the South Korean market? Get in touch with us and find out in no time.